Dow soared 267 (near the highs), advancers over decliners 4-1 & NAZ 58. The MLP index rose 3+ to the 439s & the REIT index advanced 4+ to the 323s. Junk bond funds went up along with stocks & Treasuries had a strong rally. Oil moved higher & gold edged a little higher.
AMJ (Alerian MLP Index tracking fund)
Free Stock Trend Analysis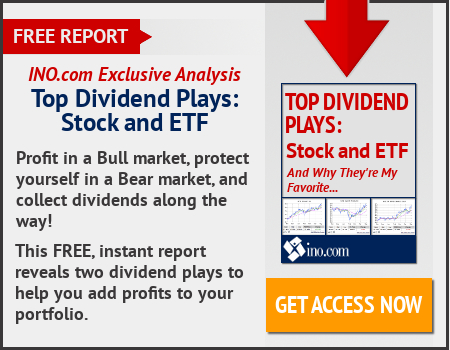 | | | | | | | |
| --- | --- | --- | --- | --- | --- | --- |
| CLM15.NYM | ....Crude Oil Jun 15 | ....59.30 | ...0.36 | | (0.6%) | |
The oil boom isn't dead after all. For the first time in 5 months, a rig in the Williston Basin, where North Dakota's Bakken shale formation lies, sputtered back to life & started drilling for crude once again. And then one returned to the Permian Basin, the nation's biggest oil play, field services contractor Baker Hughes said. Shale explorers say they're preparing to bounce back from the deepest & most prolonged slowdown in US oil drilling on record. The country has lost more than half its rigs since Oct, casualties of a 50% slide in crude prices during the last half of 2014. Now futures have rallied above $60 & a sudden return to oil fields would threaten to end this fragile recovery. While rigs are returning to some fields, total US count has continued to decline, losing 11 this week to reaching a 4-year low. The drilling slowdown may not reach a real bottom for another month.



McDonald's, a Dow stock & Dividend Aristocrat, Apr sales topped projections after declines in the US slowed, giving CEO Steve Easterbrook some momentum to work with as he implements his turnaround plan. Global same-store sales fell 0.6%, better than the estimate for a 1.8% drop. Sales at US stores open at least 13 months fell 2.3%, matching projections & improving from a 3.9% slide in Mar. Easterbrook, who took took over in Mar, unveiled a plan this week to boost sales & profitability. The changes include a leadership shuffle, cost cuts & a push to sell more company-owned locations to franchisees. Same-store sales gained 1% in Europe & fell 3.8% in the company's Asia Pacific, Middle East & Africa region. Analysts estimated a 0.2% increase for Europe & a 5.8% drop for APMEA. The company had already announced significant changes even before Easterbrook rolled out his transformation plan. In Mar, it said US restaurants would stop serving chicken raised with some antibiotics in the next 2 years. Last month, MCD said it would raise hourly pay to at least $1 above the local minimum wage for workers at the 10% of restaurants in the US owned by the company. MCD cut 7 sandwiches from its menu in Q1 to speed up service & simplify order for customers. The stock rose 1.45. If you would like to learn more about MCD, click on this link:
http://club.ino.com/trend/?symb=MCD&a_aid=CD3289&a_bid=6ae5b6f7
McDonald's (MCD)
General Motors said it will fall short of its goal of having 500K GM vehicles on US roads by 2017 powered by some form of electricity. The #1 US automaker said that lower gasoline prices & a "surge" in model offerings from all automakers contributed to the lower-than-expected sales for electrified products, including plug-in hybrids, pure electric vehicles & vehicles with the eAssist system that boosts fuel efficiency in gas-powered cars. "For our commitment to electrification, our forecasted outlook currently projects us, along with the broader automotive industry, falling short of expectations for 2017," GM said. "GM is committed to electrification ... but consumer demand for these vehicles has not kept up with our initial projections," it added. The company counted 180K electrified GM vehicles on US roads last year, up from 153K such vehicles in 2013. GM CEO Mary Barra outlined its 2017 target in Nov 2012 when she was the automaker's global product chief. At the time, Barra said the company's plans called for the eAssist system, which boost fuel efficiency as much as 25% in some gas-powered vehicles, to be on "hundreds of thousands" of vehicles annually by 2017. Electric vehicles have failed to catch on with consumers due to high prices, disappointment with electric driving range & an under-developed charging infrastructure. Low gas prices have fueled consumer demand for larger vehicles, including full-size pickup trucks & SUVs. GM is developing an all-electric vehicle, the Chevrolet Bolt, with an electric driving range of 200 miles & production is expected to start in 2016. It will sell for about $30K after a federal tax rebate. The stock went up 44¢. If you would like to learn more about GM, click on this link:
http://club.ino.com/trend/?symb=GM&a_aid=CD3289&a_bid=6ae5b6f7
General Motors (GM)
While stocks had a large substantial rally, there was more emotion than intellectual reasoning behind it. As said before, the numbers are not all that pretty. The bulls are hoping that it was just good enough to be good for the market but not so good that the Fed will raise interest rates sooner. Let's see how it plays out on Mon.
Dow Jones Industrials