Dow rose another 152, advancers over decliners almost 4-1 & NAZ was up 30. The MLP index jumped up 5+ to the 342s & the REIT index added 1+ to the 312s. Junk bond funds have good gains & Treasuries saw selling again. Oil is now pushing on 50 while gold slid lower.
AMJ (Alerian MLP Index tracking fund)
| | | | | | | |
| --- | --- | --- | --- | --- | --- | --- |
| CLX15.NYM | ...Crude Oil Nov 15 | ...49.10 | ...0.57 | | (1.2%) | |
| | | | | | |
| --- | --- | --- | --- | --- | --- |
| GCV15.CMX | ...Gold Oct 15 | ......1,146.70 | ....0.10 | (0.0%) | |
Global stocks rose for a 6th day, the best run since the end of Apr. In that period the MSCI AC World Index has jumped 6.5%, the most in almost 4 years, on expectation central banks across the world will keep monetary policy loose to combat faltering economic growth.
The gains come after the worst Q3 in 4 years. Asian & emerging market stocks also rose for a 6th day, their longest stretch in almost ½ a year. European stocks gained for a 4th day.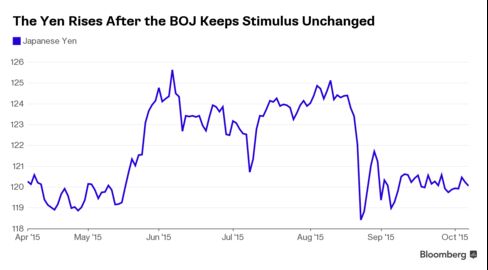 The Bank of Japan chose not to add to its record stimulus, yet it's only a matter of time before it is forced into action by negative inflation & an economy teetering on the brink of recession. The US dollar dropped 2% against the ¥ inQ3, its worst performance in 3 years, as investors sought safety in the Japanese currency after China devalued the yuan & uncertainty prevailed about the path of US interest rates.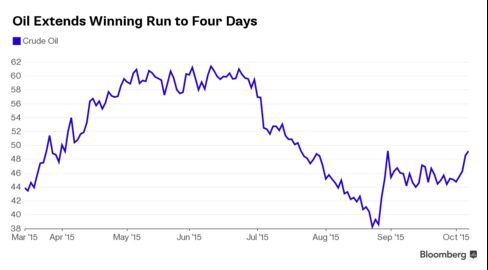 Crude oil is rising for a 4th day, the longest winning run since Apr, stretching its gains to 10% since last Fri (not seen since Jul 21). Since then it hasn't closed above $50. Industry figures showing crude stockpiles fell in the US prompted the latest move, ahead of gov data later which may reveal nationwide supplies gained 2.25M barrels last week. Oil also got a boost from the Energy Information Administration, which increased its forecast for 2015 global oil demand in its monthly report. Crude has rebounded 30% since falling to a 6-year low in Aug. Still, it's sunk 44% in the past 12 months.
Monsanto plans to slash 2.6K jobs & restructure operations to cut costs in a slumping commodity market that it expects to squeeze results well into 2016. MON, which also reported a much wider quarterly loss, said that along with the layoffs, its global restructuring would include "streamlining and reprioritizing" some commercial & research & development work, including an exit from the sugar cane business. The initial phase should lead to annual savings of $275-$300M by the end of fiscal 2017, at a total cost of $850-$900M. It is developing further plans to reduce its operating spending by an additional $100M, bringing the total annual expected savings to as much as $400M. It forecasted EPS for its new fiscal year, which began on Sep 1, at $5.10 -$5.60. That is well below many analysts' expectations for more than $6.00. To try to shore up investor confidence, the company announced a new $3B accelerated share repurchase program. The loss per share widened to $1.06 for its Q4 from a loss of 31¢ a year earlier. Sales of corn seeds & traits, the key products, fell to $598M from $630M. And sales at the agricultural productivity unit, which includes Roundup herbicide, dropped to $1.1B from $1.25B. The stock fell 99¢. If you would like to learn more about MON, click on this link:
club.ino.com/trend/analysis/stock/MON?a_aid=CD3289&a_bid=6ae5b6f7
Monsanto (MON)
Constellation Brands profit handily beat estimates & the company raised its full-year adjusted profit forecast for the 2nd time, driven by higher sales of beers under its Corona & Modelo brands. The company is benefiting from strong demand from the rising Hispanic population in the US who prefer the company's beer brands such as Modelo Especial & from other consumers switching to Mexican beers. It will invest more than $2B in its Mexican operations to expand its bottling & brewery plant in Coahuila. Net beer sales rose 14% to $1.02B in the qtr ended Aug 31, accounting for 59% of net sales. Net sales in the wine & spirits business, which includes Robert Mondavi wine & Svedka Vodka, fell 0.3% to $713.9M, hurt by a strong dollar. EPS rose to 1.49 from 98¢ a year earlier. Excluding items, EPS was $1.56 as net sales rose 8.1% to $1.73B. Analysts had expected EPS of 1.32 on revenue of $1.73B. STZ raised its adjusted EPS forecast to $5-$5.20 from $4.80-$5.00 for the year ending in Feb after it had increased the forecast in Jul. The company now expects operating income in the beer business to grow 15-18% for the full year, up from the 13-15% earlier forecast. Operating income in the beer business rose 31%, helped by higher volume sales & lower costs of product sold. The stock shot up 3.23. If you would like to learn more about STZ, click on this link:
club.ino.com/trend/analysis/stock/STZ?a_aid=CD3289&a_bid=6ae5b6f7
Constellation Brands (STX)
Stocks have already had a spectacular month, Dow up 650 & Sep 30 was also a major gainer, & this is only the 7th day. There is NO special news driving the rally beyond the thought that the world did not come to an end. Problems are out there. The MidEast is going from bad to worse, nobody knows what that will lead to. That is helping bring higher oil prices. And earnings season sort of kicks off this evening when Alcoa (AA) reports. Analysts are looking for 14¢, down from 31¢ last year. The current rally cannot last.
Dow Jones Industrials