Dow tumbled 179 (but off the lows). decliners over advancers more than 3-1 & NAZ gave up 51. The MLP index fell 3+ to the 319s & the REIT index lost 4+ to the 312s. Junk bond funds pulled back about 1% & Treasuries were weak. Oil dropped below 44 & gold inched higher, but is still well below the important 1100 support level.
AMJ (Alerian MLP Index tracking fund)
| | | | | | |
| --- | --- | --- | --- | --- | --- |
| CLZ15.NYM | ....Crude Oil Dec 15 | ....43.81 | ...0.48 | (1.1%) | |
Continued improvements in the labor market & robust wage gains in Oct have bolstered monetary policymakers' confidence that inflation will trend back toward their 2% target in the medium term. And, according to a new model published by the St. Louis Fed, they can be even more confident that inflation won't get too far ahead of their target over the next year. The study detailed the creation of a new index called the Price Pressures Measure, or PPM. This index attempts to determine the likelihood that the average inflation level over the next year will be within a certain range, such as between zero & 1.5%. It's a worthy goal since inflation is of paramount importance to central banks, but gauging where it's set to go next has proved challenging. Indicators for the public's inflation expectations matter to central banks. Any substantial deviation from the norm sends a signal that people doubt monetary policymakers are adequately committed to meeting a preordained inflation target, or worse, that they lack the necessary firepower to do so. According to the new PPM model, there is no reason to fear that inflation will be running well above the Federal Reserve's target over the next 12 months: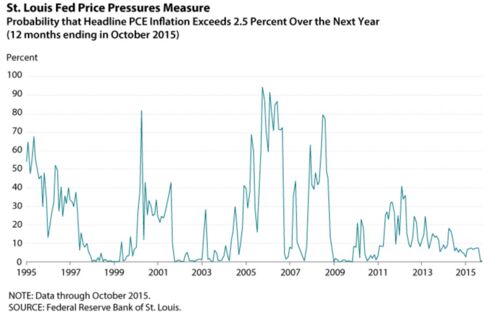 "During this most recent business expansion, with inflation averaging less than 2 percent, the PPM averages well under 0.5," the study said. "As of October 2015, the PPM predicts a zero percent probability that PCEPI inflation [Personal Consumption Expenditure Price index] will average more than 2.5 percent over the next 12 months." On the surface, & taken in isolation, this model implies that if the Fed lifts interest rates in Dec to combat inflation, it will be fighting a phantom.
General Electric, a Dow stock, won a $2.6B contract to build diesel locomotives for India's congested state-owned railway, the company's largest deal in a country striving to modernize the oldest network in Asia. GE will invest $200M to build a factory in northern Bihar state under a joint venture with Indian Railways. The goal is to produce 1K diesel locomotives over 11 years, one of Prime Minister Narendra Modi's biggest steps toward reversing chronic network under-investment & spurring domestic manufacturing. "Investment in rail infrastructure has been a topic in India for quite a long time," Jamie Miller, who was appointed CEO of GE Transportation in Sep, said. The new deal "supports the modernization of the Indian railroads & it contributes to the local economy." The pact, the company's largest-ever transportation deal, boosts the locomotive division that has become central to GE's business as CEO Jeffrey Immelt returns the company to its industrial roots. The contract with India follows the premier's recent decision to open the doors to foreign investment in railroads, part of a push for an ambitious 8.5T rupee ($128B) revamp of the railway through 2020. The award is the largest in GE's 100-year history in the country, Miller said. Modi's vision is to add track, world-class stations & bullet trains to spur the economy. India also plans to transport more freight, such as coal, on dedicated lines.
Running costs from ferrying about 23M passengers & 3M tons of cargo daily absorb most of the railway's revenues, starving the network of investment. The company aims to deliver the first locomotives in the second half of 2017, Miller said. GE has placed a particular emphasis on intl & emerging markets with moves including the $10.6B acquisition of Alstom's energy business, which closed last week. GE's jet-engine unit just said that it signed a $16B services agreement with Emirates Airline. The stock slid back 17¢. If you would like to learn more about GE, click on this link:
club.ino.com/trend/analysis/stock/GE?a_aid=CD3289&a_bid=6ae5b6f7
General Electric (GE)
Priceline Group forecast Q4 profit below estimates, hurt by a strong dollar, & expects a decline in gross travel bookings in the US. PCLN gets about 90% of its bookings from outside the US. Travel companies have been facing increased pressure in its hotel bookings business from the rise of apartment-sharing startups. Analysts have warned that this competition could become fierce by 2018 & would transform the travel market by adding new capacity that competes directly with hotel operators. The company expects Q4 adjusted EPS of $11.10-11.90. Analysts were expecting $12.42. The company expects US gross travel bookings to decrease 5-10% in Q4. Priceline also reported a 12.7% rise in Q3 profit on higher hotel & rental car bookings. EPS rose to $23.41 from $20.03 a year earlier. Excluding items, it EPS was $25.35 & revenue rose 9.4% to $3.10B. Analysts has expected EPS of $24.23 on revenue of $3.05. The the high priced stock plunged $138 (10%). If you would like to learn more about PCLN, click on this link:
club.ino.com/trend/analysis/stock/PCLN?a_aid=CD3289&a_bid=6ae5b6f7
The Priceline Group (PCLN)
The glory days of Oct are long gone & nervousness is on the rise. The VIX, volatility index, has taken this set-back fairly well. Today it jumped 2+ to the 16s. While it's a big jump it's not far above the low to mid-teens where it has been this year. A bad earnings season did not get much attention. But that news is sinking in. Wal-Mart (a Dow stock & Dividend Aristocrat) earnings are due on Wed. Retail earnings & guidance will not be pretty, a major drag on the market going forward.
Dow Jones Industrials