Dow dropped 28, advancers over decliners 5-4 & NAZ climbed all of 1. The MLP index lost 1+ to the 301s & the REIT index went up 3+ to the 324s. Junk bond funds inched higher & Treasuries also rose. Oil pulled back below 342 on China worries & gold sold off again into the mid 1100s.
AMJ (Alerian MLP Index tracking fund)
| | | | | | |
| --- | --- | --- | --- | --- | --- |
| CLF16.NYM | ...Crude Oil Jan 16 | ...42.14 | .....0.90 | (2.1%) | |
| | | | | | |
| --- | --- | --- | --- | --- | --- |
| GCZ15.CMX | ...Gold Dec 15 | ....1,056.20 | ...13.80 | (1.3%) | |
For 3 weeks, China's stock investors have kept their cool as the gov dialed back an unprecedented campaign to prop up share prices. But today, they suddenly decided to head for the exits. While the Shanghai Composite Index had barely flinched since Nov 6 as authorities lifted a freeze on IPOs, raised margin requirements & scrapped an order for securities firms to hold net-long positions, news of a widening regulatory probe into the brokerage industry sparked a 5.5% tumble on Fri. While some of the triggers for the plunge were out of authorities' hands, a report showed industrial profits slumped in Oct & 2 companies said they might not be able to make debt repayments. The slump illustrates the challenge facing Chinese officials as they seek to wean the equity market off government support without precipitating another crash.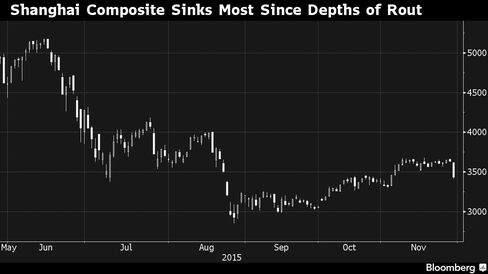 That feat will be made even harder by fresh signs that the economy is weakening. The earliest economic indicators for Nov show a deterioration from the previous month, while industrial profits slid 4.6% last month. Fri's losses pared the Shanghai Composite's gain since its Aug. 26 low to 17. On Fri, there was little sign that gov-run funds had stepped in to ease the selloff.
China Stock Bulls Hit Breaking Point as State Dials Back Support
Crowds were thin at US stores & shopping malls in the early hours of Fri, initial spot checks showed, as shoppers responded to early Black Friday discounts with a mix of enthusiasm & caution. Many shoppers headed out to stores on Thanksgiving evening, a month before Christmas, reflecting the new normal in US holiday shopping, which was traditionally kicked off the next day, Black Friday. In an effort to attract the most eager holiday shoppers & fend off competition on the internet, retailers have increasingly extended their holiday deals by opening stores on the evening of Thanksgiving. Shoppers spent more than $1B online, 22% more than last year, between midnight & 5 pm ET on Thurs, according to the Adobe Digital Index, which tracked 100M visits to 4½K US retail sites. As much as 20% of holiday shopping is expected to be done over the Thanksgiving weekend this year. The 4-day shopping burst will help set the tone for the rest of the season, signaling to retailers whether they need to drop prices or change promotions.
The Walt Disney (a Dow stock) sports network
ESPN
saw a 3.2% fall in subscribers from the previous fiscal year, in a market where viewers are migrating to newer forms of sports coverage. The number of
ESPN
subscribers fell to 92M as at Oct 3, from 95M on Sep 27, 2014. CEO Bob Iger said in Aug it was seeing "modest" declines in
ESPN
subscribers as viewers move to cheaper digital platforms, but was confident of navigating the shifts. The company earlier this month reported higher quarterly profit that beat forecasts as cable networks including
ESPN
brought in higher advertising revenue & collected more fees from pay TV distributors. Live sports are one of the few types of programming that still draw massive audiences at one time, making them valuable to advertisers. And for many customers, sports is the reason they keep their pay TV subscriptions. The stock slumped 3.95. If you would like to learn more about DIS, click on this link:
club.ino.com/trend/analysis/stock/DIS?a_aid=CD3289&a_bid=6ae5b6f7
Walt Disney (DIS)
The China market decline is worth watching, but otherwise there is not a lot happening with very light volume. Markets close after lunch & little movement is expected in the remainder of the trading day.
Dow Jones Industrials