Dow lost 4, advancers barely ahead of decliners & NAZ fell back 1. The MLP index dropped 4+ to the 308s & the REIT index rose a fraction in the 317s. Junk bond funds drifted lower & Treasuries found buyers. Oil keeps slipping & sliding as it tries to hold above the important 40 support level & gold inched higher.
AMJ (Alerian MLP Index tracking fund)
| | | | | | |
| --- | --- | --- | --- | --- | --- |
| CLZ15.NYM | ....Crude Oil Dec 15 | ....40.29 | ...0.46 | (1.1%) | |
Initial jobless claims in the US continued to hover around 4-decade lows last week as the labor market strengthens toward full employment. Applications for unemployment benefits decreased 5K to 271K from 276K in the previous period, according to the Labor Dept. The number of claims dipped to 255K, the fewest since the 1970s. Steady demand has encouraged employers to hold the line on firings as a tighter labor market makes it difficult to attract skilled workers. Employment has shown enough signs of strength to allow Federal Reserve policy makers to consider raising interest rates next month.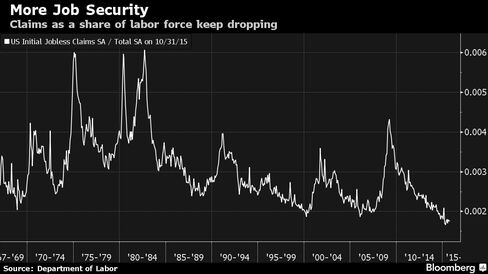 The 4 -week average of claims climbed to 270K from 267K the week before. That compares with an average of 263K during the comparable employment survey period for Oct. The number continuing to receive jobless benefits fell 2K to 2.18M & the unemployment rate among people eligible for benefits held at 1.6%, where it's been since mid-Sep.
Atlanta Federal Reserve pres Dennis Lockhart continued the drumbeat toward a potential Dec interest rate hike without explicitly setting a timetable. He said economic conditions appear to have improved to such a degree that he's "comfortable with moving off zero soon." "Given my reading of current conditions and my outlook views, I believe it will soon be appropriate to begin a new policy phase," Lockhart added. Presumably, that policy phase begins with the first interest rate hike in nearly a decade. Lockhart, reiterating a view he offered yesterday, said he agreed with the FOMC's decision to delay a hike at both the Sep & Oct meetings, but that conditions have changed since then. Lockhart said today that those concerns have eased. "I'm now reasonably satisfied the situation has settled down – at least as regards the likely caused of market volatility that converged in August," he said. He also stressed that labor markets have continued to improve, fulfilling an important aspect of the Fed's stated criteria for raising rates: that labor markets need to show "further improvements." "We can debate the extent of remaining labor resource slack," he said, "but I think the committee's earlier criterion of seeing 'further employment' has been met," he added. Lockhart said the good news on inflation is that it's not getting worse, meaning prices aren't falling further which would signal deflation. "For me, a key point regarding inflation is that conditions have not been deteriorating, just hanging below target," he said.
UnitedHealth
Group, a Dow stock, expects major losses on its business thru Obamacare exchanges & will consider withdrawing from them, in the most prominent signal so far of health insurers' struggles with the health law's marketplaces. The disclosure by the biggest health insurer, which had just last month sounded optimistic notes about the segment's prospects, will sharply boost worries about the sustainability of the law's signature marketplaces, amid signs that many insurers' losses on the business continue to mount. CEO Stephen J. Hemsley, said it made the move, which included a downgrade of its earnings projections for 2015, amid reduced growth expectations, the expected shutdowns of the majority of the health law's nonprofit cooperative insurers, & signs that its own enrollees continue to increase their use of medical services, raising costs. As a result,
UNH
is pulling back on marketing its exchange products, as open enrollment is currently under way for plans that will take effect in 2016. And the insurer said it is "evaluating the viability of the insurance exchange product segment & will determine during H1-2016 to what extent it can continue to serve the public exchange markets in 2017."
UNH
had previously expanded its exchange offerings to 11 new states for 2016, & said in Oct it had around 550K enrolled. It
revised its 2015 EPS projection to $6, from a previous range of $6.25-6.35. The move reflected "pressure" of $425M, or 26¢ a share, tied to individual plans sold under the health law. The $425M includes $275M related to the "advance recognition" of losses it expects to incur in 2016. I
t expects 2016 EPS to be $7.10-7.30 in 2016; previously, the company said it thought next year's EPS would be in the range of analysts' projections, then around $7.09-7.55. The stock slumped 6.62. If you would like to learn more about UNH, click on this link:
club.ino.com/trend/analysis/stock/UNH?a_aid=CD3289&a_bid=6ae5b6f7
UnitedHealth Weighs Leaving Obamacare Marketplace, Stock Drops
UnitedHealth (UNH)
The new surge for stocks ended today as military conflicts in Europe & the MidEast are getting more attention. The UNH statement casts a pall over the markets with new doubts about what Obamacare will do to the economy. More such announcements should be coming from other insurers. Dow had been trending sideways all year & then sold off, going below 16K in Aug. The Oct rally & mini rally in early Nov are getting it back into the range where it been earlier this year. Market optimism suffered a setback today between intl conflicts & the UNH press release.
Dow Jones Industrials