Believe it or not, Dow lost another 204 & closed at session lows (almost 700 below its high in the AM) following yesterday's rout, decliners ahead of advancers 5-4 & NAZ lost 19. The MLP index rose 3+ to the 333s & the REIT index dropped 7+ to the 292s. Junk bond funds recovered some of yesterday's losses & Treasuries were sold. Oversold oil bounced back to the 39s & gold fell after recent strength.
AMJ (Alerian MLP Index tracking fund)
| | | | | | | |
| --- | --- | --- | --- | --- | --- | --- |
| CLV15.NYM | ....Crude Oil Oct 15 | ....39.29 | ...1.05 | | (2.8%) | |
Even after cutting interest rates for the 5th time since Nov & telling banks they can hoard less cash, the People's Bank of China (PBOC) governor Zhou remains under pressure to do more to support the economy amid the biggest slide in stocks since 1996. Equities rallied around the world on Tues after the PBOC said it will cut the one-year lending rate by 25 basis points to 4.6% lowered the required reserve ratio by 50 basis points for all banks. Zhou swung into action 2 weeks since a devaluation of the yuan & a deceleration in his economy ignited fears about the outlook for global growth. The fresh easing reinforces efforts by policy makers to deliver on Premier Li Keqiang's 2015 growth goal of about 7%. That is being jeopardized by deflation risks, over-capacity & a debt overhang, which leave the economy poised for its slowest expansion since 1990. Industrial production, investment & retail data all trailed estimates in Jul. The easier conditions for banks may have been necessitated by a need to offset a drying up of liquidity in markets following the surprise decision of Aug 11 to devalue the yuan. The PBOC subsequently bought its currency to stabilize the exchange rate & curb capital outflows. The shift marked a return to more conventional monetary tools after the decision to let the yuan weaken & failed gov efforts to buoy stocks via interventions in the equity market. It also drew comparisons with past crisis-fighting efforts from the Fed & other key central banks to act aggressively to protect economies from slowdowns & financial markets from selloffs.
Chemical industry activity is slowing, which isn't a good sign for the future of US industrial output. One of the big questions surrounding the outlook for the US expansion is how slowing growth abroad & a strong dollar will affect exports & manufacturing. The Fed index of industrial production has slowed this year, rising 1.3% for the 12 months ending Jul, down from a 4.5% gain at the start of the year. The Chemical Activity Barometer (CAB), whose indicators include the production, inventory & selling prices of numerous chemicals as well as prices of chemical stocks, rose just 1.8% in Aug from a year ago (on a 3-month moving average basis), the slowest pace since late 2012. The chemical barometer's recent decline indicates the pace of manufacturing will slow further into 2016, making for sub-par growth ahead.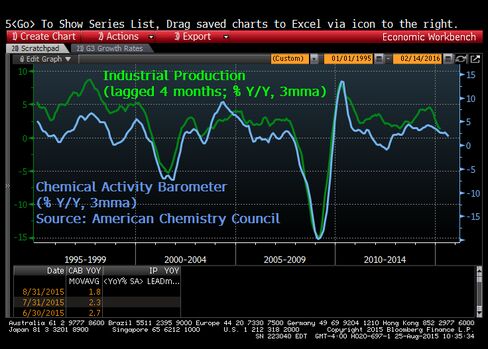 Coca-Cola, a Dow stock & Dividend Aristocrat, along with its bottling partners expect to be replenishing 100% of the water used in their factories by the end of 2015, reaching a longstanding conservation goal 5 years ahead of schedule. It announced the replenishment target in 2007, saying it's already "balancing" about 94% of the water. That means KO is offsetting each gallon it uses by recycling or conserving a gallon somewhere in the world. The company relies on a mix of systems to accomplish this, including waste treatment at its plants & reforestation projects that help restore watersheds. "As a consumer of water, the Coca-Cola system has a special responsibility to protect this shared resource," CEO Muhtar Kent said. The project is meant to ensure the company will have enough water to meet its needs, as well as reassuring customers who may be concerned about drought in California & elsewhere. KO had originally planned to be water-neutral by 2020. Thru 209 projects in 61 countries, the company & its bottling partners have given back almost 153B liters of water. The KO system has also recycled 127B liters of water after waste treatment. Combined, these numbers are set to meet the company's goal by the end of 2015 based on 2014 sales volume. The program isn't philanthropic so much as a strategic business imperative, Greg Koch, global director of water stewardship at KO, said. Local water access is vital to the company's success since "the price point that we sell our products demands that we manufacture and distribute locally." When water supply is stressed, "that presents risks, risk to those communities, those ecosystems, and all businesses operating there -- including ours," Koch said. The stock fell 39¢. If you would like to learn more about KO, click on this link:
club.ino.com/trend/analysis/stock/KO?a_aid=CD3289&a_bid=6ae5b6f7
Coca-Cola (KO)
Dow was up 600 in futures trading before the market opened, but that enthusiasm withered during the day. Selling in the last hour made a dreary day worse. Early on, lower interest rates in China brought out buyers. Then 2nd thoughts gave them reason to pause. The Chinese economy changed little during the last few hours, fundamental problems of slow growth remain. Slow & uneven growth in the US economy continues. Traders are nervous about its financial future as they were at yesterday's close. Dow lost 500 in the last hour, signalling another gloomy day tomorrow. It's down more than 2½K from its peak in May & the chart below looks just plain UGLY!!
Dow Jones Industrials