Dow dropped 12 (in the red all day), advancers over decliners almost 2-1 & NAZ climbed 15. The MLP index added 4+ to the 559s as oil surged again (see below) & the REIT index lost 1+ the 304s. Junk bond funds climbed higher & Treasuries were sold. Oil is back over 45 (see below) & gold also gained on the day.
AMJ (Alerian MLP Index tracking fund)
| | | | | | | |
| --- | --- | --- | --- | --- | --- | --- |
| CLV15.NYM | ....Crude Oil Oct 15 | ....45.30 | ...2.74 | | (6.4%) | |
Greece's economy grew more than initially estimated in Q2 as consumption surged during Prime Minister Tsipras's battle with the euro area over financial aid. GDP rose 0.9%, compared with an initial estimate 2 weeks ago of 0.8%, the Hellenic Statistical Authority said. That's up from 0.1% in Q1 & meant output was 1.6% higher than a year earlier, the fastest pace of annual growth since 2008. The initial Q2 reading shocked everybody as reports suggested activity was hamstrung by bailout bailout haggling & question marks over the nation's future in the euro. Total consumption expenditure rose 1.1%, while exports grew 0.1% & imports decreased 4.9%. Greece's economic weakness could show more in Q3, which will include the impact of capital controls, introduced at the end of Jun, sending a Greek manufacturing index to a record low in Jul. That's also reflected in the report showing investment falling in Q2, as gross fixed capital formation plunged 10.6%. Greece is preparing for early elections on Sep 20 in a move by Tsipras to form a new coalition & isolate dissenters. A poll today showed his lead over opposition parties has narrowed & suggests that he'll fall short of the votes required for an absolute parliament majority.
Oil surged for a 2nd day, poised for the best weekly gain in more than 4 years, while US equities investors found relative calm in a turbulent week as Federal Reserve officials meet at Jackson Hole. Oil climbed more than 5% after a 10% rally yesterday & this week oil gained about 16%, making for one of its best weeks in history.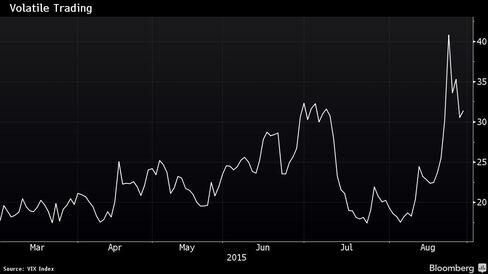 Oil Surges for a Second Day as Some Calm Returns to Equities
The US economy is on track to grow 1.2% in Q3 on data showing a decline in consumer spending on services in Jul, the Atlanta Federal Reserve's GDPNow forecast model showed. This was weaker than the regional Fed bank's prior estimate on Wed of a 1.4% rise in GDP. The Atlanta Fed said the weakness in real services consumption last month reduced its estimate on personal consumption expenditures to a 2.6% increase for Q3 from an earlier 3.1% gain. The Commerce Dept said today personal spending grew 0.3% in Jul, matching Jun's upwardly revised increase. Analysts had forecast a 0.4% gain.
China stocks jumped more than 4% for a 2nd straight day as signs of fresh support from the gov prompted more bargain hunting following the earlier plunge that panicked global markets. The mainland's blue-chip CSI300 index rose 4.3%, to 3342, reducing the week's loss to 6.9%. The Shanghai Composite Index gained 4.8% to 3232, though for the week, it lost 7.9%. But a rally in Hong Kong petered out, with the flagship Hang Seng Index changing course before the closing bell & losing 1%. China's surprise currency devaluation on Aug 11 & a survey showing deteriorating factory activity had help trigger a savage selling spree, which at one point drove stocks down more than 20% within a week. On Fri, stocks on Chinese exchanges bounced for the 2nd day as authorities announced that pension funds managed by China's local govs will start investing 2T yuan ($313B) as soon as possible in stocks & other assets. The central bank was also seen intervening for a 2nd day to stabilize the yuan currency to reduce market expectations of further yuan depreciation. In further signs of gov intervention, China's securities regulator said after the close that it would tighten margin requirements further for stock index trading, in a bid to curb excessive speculation. During the first 4 days of the week, there were 28.7B yuan ($4.48B) of net inflows into Shanghai-listed blue-chips via the Shanghai-Hong Kong Stock Connect Scheme, but on Fri, there was a net outflow of 2.4B yuan, suggesting some foreign investors took profit.
This has been the kind of week that most investors would like to forget. But we can't. The greatest bull market in history, from the lows 6 years ago, met reality. There have been only minor setbacks along the way. Then came this week. Even with the gov in China buying stocks, that stock market needs more healing & could see additional selling. There is the constant guessing about the Fed raising interest rates in 3 weeks. Traditionally the next week (prior to Labor Day) is a slow time for the stock market. Not this year & nobody has a clue what lies ahead with all the uncertainty out there. In Aug, Dow fell more than 1K.
Dow Jones Industrials