Dow dropped 155, decliners over advancers 2-1 & NAZ lost 25. Along with falling oil prices, the MLP index fell 3+ to the 352s while the REIT index rose 2+ to the 319s. Junk bond funds declined & Treasuries rallied. Oil fell back to the 44s (see below) & gold inched higher (above 1100).
AMJ (Alerian MLP Index tracking fund)
| | | | | | |
| --- | --- | --- | --- | --- | --- |
| CLV15.NYM | ....Crude Oil Oct 15 | ...44.16 | ...1.50 | (3.3%) | |
| | | | | | | |
| --- | --- | --- | --- | --- | --- | --- |
| GCQ15.CMX | ...Gold Aug 15 | .....1,107.30 | ...3.10 | | (0.3%) | |
China devalued the yuan in a move that rippled through global markets, as policy makers stepped up efforts to support exporters & boost the role of market pricing. The central bank cut its daily reference rate by 1.9%, triggering the yuan's biggest one-day drop since China ended a dual-currency system in 1994. The People's Bank of China called the change a one-time adjustment & said its fixing will become more aligned with supply & demand. This suggests policy makers are placing a greater emphasis on efforts to combat the deepest economic slowdown since 1990 & reduce the gov's grip on the financial system. Authorities had been propping up the yuan to deter capital outflows, protect foreign-currency borrowers & make a case for official reserve status at the IMF. China's devaluation jolted global markets, with the currencies of South Korea, Australia & Singapore falling at least 1% amid bets other countries will seek weaker exchange rates to keep exports competitive. Shares of Chinese airlines sank on concern dollar debt costs will rise, while commodities retreated amid speculation yuan weakness will erode the buying power of Chinese consumers. Treasuries gained on growing demand for dollar assets. Exchange-rate intervention contributed to a $300B slide in China's foreign-exchange reserves over the last 4 qtrs. It also made the yuan the best performer in emerging markets, a factor behind last month's 8.3% slide in exports.
China Rattles Markets With Yuan Devaluation
OPEC pumped the most crude last month in more than 3 years as Iran restored output to the highest level since intl sanctions were strengthened in 2012. OPEC is responsible for 40% of world oil supplies, raised output by 101K barrels a day to 31.5M last month, the group said in its monthly report. This increase came even as Saudi Arabia, which often curbs output toward the end of peak summer demand, told OPEC it cut production by the most in almost a year. Oil prices slumped to a 6-month low last week as rising supplies, resilient US production & concerns over Chinese demand prolong a global glut. Iran may further expand output after reaching an accord with world powers will ease sanctions on oil exports later this year in return for curbs on its nuclear activity.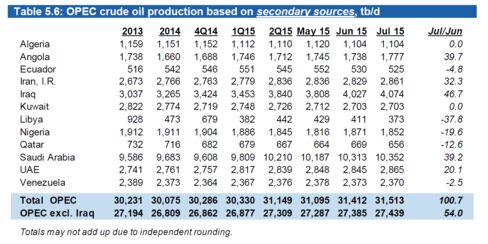 Source: OPEC
Greece reached an accord with creditors on the terms of a 3rd bailout, paving the way for national parliaments to vote on the deal before an Aug 20 payment falls due to the ECB. The 4 institutions representing Greece's creditors forged an initial agreement on measures from pension changes to taxes that will unlock about €85B ($94B) in funds. The Greek gov needs a quick release of about €20B to create a buffer for its banks & make loan payments. Before that can happen, agreement on the technical aspects of the deal must be followed with a "political agreement." Greece's parliament must now pass a package of reforms agreed on with creditors before a meeting of euro-area finance ministers tentatively scheduled for Fri. A draft of understanding contains 35 measures including steps to clamp down on early retirement, opening up energy & pharmaceuticals markets, & changes to taxes for shipping firms among others. The deal will voted on Thurs. Officials in Germany, which is among the euro-area countries that must vote on the agreement, reacted cautiously to the 3-year deal in the absence of details.
The preliminary Greek debt deal should have been bullish for the stock market, allowing stocks to extend yesterday's rally. However China got in the way. The Chinese economy is huge & exports are a major driver. The effects of devaluation of the currency are unclear. The gut reaction is that it's a negative, but longer term implications are always difficult to understand. Big picture, Dow has a dreary chart & today's sell-off did not help matters.
Dow Jones Industrials