Dow rebounded 300 (over 16K) , advancers over decliners a relatively mild 4-1 following yesterday's high volatility & NAZ rose 120. The MLP index recovered 8+ to the 238s (still down 220 from last year's record) & the REIT index went up 2+ to the 302s Junk bond funds found buyers & there was selling of Treasuries. Oil is up, back to the 39s, & gold retreated.
AMJ (Alerian MLP Index tracking fund)
| | | | | | | |
| --- | --- | --- | --- | --- | --- | --- |
| CLV15.NYM | ....Crude Oil Oct 15 | ...39.51 | ...1.27 | | (3.3%) | |
| | | | | | |
| --- | --- | --- | --- | --- | --- |
| GCQ15.CMX | ...Gold Aug 15 | .....1,144.50 | ...8.90 | (0.8%) | |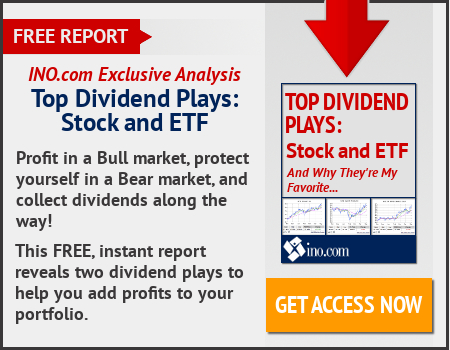 China fell back on its major levers to stem the biggest stock market rout since 1996 & a deepening slowdown, cutting interest rates for the 5th time since Nov by lowering the amount of cash banks must set aside. The one-year lending rate will drop by 25 basis points to 4.6% effective tomorrow, the People's Bank of China (PBOC) said, while the one-year deposit rate will fall a quarter of a percentage point to 1.75%. The required reserve ratio will be lowered by 50 basis points for all banks to cover funding gaps, it said.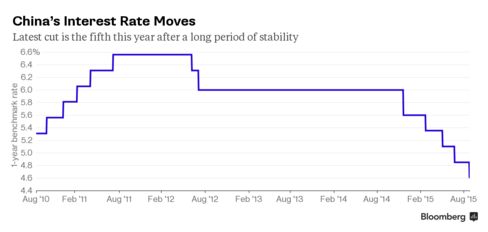 China's surprise yuan devaluation on Aug 11 led to a tightening in liquidity as the PBOC subsequently bought its currency to stabilize the exchange rate & curb capital outflows. The yuan may face more downside pressure as a result of the latest monetary easing, making it harder to keep depreciation in check. A 22% stock market plunge over 4 days added pressure for broad stimulus as authorities pull back from other direct efforts to boost equities. China's acceleration of monetary easing underscores policy makers' determination to meet Premier Li Keqiang's 2015 growth goal of about 7%. The economy's fundamentals haven't changed, Li said, adding there's no basis for the yuan to depreciate continuously, & that China is able to keep the exchange rate basically stable at a reasonable level. The economy still faces downward pressure & the task of stabilizing growth, adjusting its structure, pushing reforms & improving living standards is very challenging, the PBOC said. Given volatility in global financial markets, "we need to use monetary policy tools more flexibly," it said.
Purchases of new homes in the US rebounded in Jul, bolstering signs the real-estate market is picking up. Sales climbed 5.4%, the biggest gain this year, to a 507K annualized pace from a 481K rate in the prior month, according to the Commerce Dept. The forecast called for 510K. Demand had declined 7.7% in Jun & demand for new properties is likely to keep expanding amid strong employment, low borrowing costs & a lack of available existing homes from which to choose. The improving outlook may spur more residential construction, contributing to the economic expansion in H2. The median sales price increased 2% from Jul 2014 to $286K. Purchases rose in 3 of 4 regions, led by a 23% increase in the Northeast. Demand in the Midwest declined 6.9%. The new-home sales report follows other recent data that indicate the industry is making progress. Existing-home sales rose in Jul for a 3rd straight month to reach the highest level since Feb 2007. Residential starts rose in Jul to a 1.21M annualized rate, the most in almost 8 years. Buyers are getting help from a strong job market & low borrowing costs.
Sales of New Homes in U.S. Increased 5.4% in July to 507,000
Russia lowered its economic forecasts for this year & next year as a renewed plunge in energy prices sank the ruble & sanctions over Ukraine looked set to persist. GDP will fall 3.3% in 2015 before rebounding as much as 2% in 2016, Economy Minister Ulyukayev said. The ministry had earlier projected a 2.8% contraction followed by 2.3% growth. Russia's slump reached a "fragile" bottom last month, Ulyukayev said, predicting an improvement in the economy in Q4. "I don't think we'll go any lower but it's hard to say when we'll see significant growth." Russia, mired in its first recession in 6 years, is battling a new wave of oil-price weakness that's sent the ruble to its lowest level against the dollar in 7 months. Adding to the pain, Foreign Minister Lavrov said that sanctions over the conflict in Ukraine will stay in place for a "very long" time. He added the measures, which curb access to capital markets, will remain thru 2018. Low oil prices are stoking inflation, which accelerated to a 13-year high of 16.9% in Mar. Consumer-price growth will ease to somewhere above 11% on an annual basis by year-end. GDP may contract 5.7% in 2015 under that scenario, the regulator said.
There is a sense of relative calm today after all the turmoil yesterday. But stocks are not out of the woods. Intl financial markets are still a mess & a mere interest rate cut in China will not solve problems. That economy is still under pressure to perform better. More importantly, the US economy is not showing vigorous growth & that trend is unlikely to change any time soon. At least the bleeding has ended for awhile.
Dow Jones Industrials