Dow sank 248 (near the lows), decliners over advancers 4-3 & NAZ slid back 14. The MLP index fell 3+ to 260 & the REIT index rose slightly in the 329s. Junk bond funds did little & Treasuries continued to find buyers, taking the yield on the 10 year Treasury down to 2.82%. Oil inched up pennies but still under 61 & gold was off 1 to 1325.
AMJ (Alerian MLP Index tracking fund)
.
.
.
.
.
.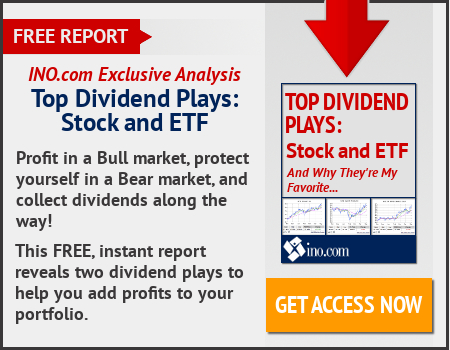 Stocks settled into negative territory, having reversed direction after the White House confirmed that it will seek a $100B reduction in the US trade deficit with China. Boeing (BA), down 8.41, was the biggest loser of the Dow component stocks amid concerns that steel & aluminum tariffs could impact the company. Before news of Trump's demand for a $100B cut in the trade deficit with China, investors were digesting the latest economic data reports that included key measures on retail sales, wholesale inflation & business inventories. US producer prices increased slightly more than expected in Feb, with the Labor Dept reporting that the producer price index (PPI) rose 0.2% during the month, compared with the 0.1% increase forecast. The year-on-year increase in the PPI rose to 2.8% in Feb from 2.7% in Jan. Other data, released by the Commerce Dept, showed that retail sales declined by 0.1% in Feb while the Jan reading was revised to show a 0.1% dip versus the 0.3% drop previously reported. It was the first time since 2012 that retail sales decreased for 3 straight months. The latest reading was affected by consumers curbing their purchases of big-ticket items, sparking concern that economic growth may slow. US business inventories jumped 0.6% in Jan, with a big rise in autos.
Dow declines by triple digits on trade war concerns
In the heart of America's diminished steel country, support for Pres Trump's tariffs on imports is broad & bipartisan. It is tempered, though, by a strong streak of realism. The tariffs are expected to raise US prices for steel & aluminum. That would help domestic producers & create several hundred new steelworker jobs. But the tariffs aren't going to return American steel anywhere close to its peak output in the 1970s. Even some steelworkers feel it in places like Canonsburg, Pennsylvania, about 20 miles southwest of Pittsburgh. People in Canonsburg are proud of their past. A statue of singer & native son Perry Como adorns downtown. The borough claims to have the 2nd-largest July Fourth celebration in the state, behind only Philadelphia. Coal & steel once dominated the landscape, but many of the mills have closed in recent decades. "Our union has asked for tariffs for years, but I have a feeling myself that it's too late," said Denny Cregut, a steelworker in Canonsburg. "I wish to God this thing would work and steel mills would come back and coal mines would come back and jobs would come back, but unfortunately I don't believe it." The details of the Trump administration's tariffs, 25% on foreign steel & 10% on aluminum, are still unclear & that helps explain why they are likely to have limited effect. The pres exempted Canada & Mexico temporarily while they renegotiate the North American Free Trade Agreement with the US. Other countries also want to be excused. European nations are threatening to retaliate with tariffs against some American products. History suggests the tariffs could be temporary, which would further blunt their impact. That's what happened to former Pres George Bush's 2002 steel tariffs, which were withdrawn due to potential retaliation. And while tariffs might help a few steelworkers they could hurt many more workers in autos & other industries in the Midwest steel states that helped elect Trump in 2016.
FedEx (FDX)said it is investing more than $1B to modernize & expand its Tennessee hub, in a move the shipping giant says will improve its efficiency & reliability as it delivers packages throughout the world. CEO Fred W. Smith & Tennessee Gov Bill Haslam made the announcement while standing in front of a FDX jet on the tarmac of a private terminal at Memphis Intl Airport. The project will include construction of a new large sorting facility, installation of new sorting systems & construction of a bulk truck loading building. Also, a new area will be built to improve handling of oversize shipments that have increased with the growth of internet commerce. Construction is expected to begin in 2019 & be completed by 2025. The Memphis expansion is the 2nd sizable investment that the company has announced this year at a US hub. FDX said in Jan that it will invest $1.5B to significantly expand its FedEx Express hub in Indianapolis. The stock dropped 3.86.
If you would like to learn more about FDX, click on this link;
club.ino.com/trend/analysis/stock/FDX?a_aid=CD3289&a_bid=6ae5b6f7
EU leader Donald Tusk urged Pres Trump not to undermine the sides' longstanding trans-Atlantic ties by seeking economic gains thru punishing trade tariffs. "Let me be clear: instead of risking a trade war, which he seems eager to wage, we should be aiming for greater cooperation," Tusk said. "Make trade, not war, Mr President." The 28-nation EU is seeking an exemption from the US tariffs on imported steel & aluminum that could kick in next week, and is preparing potential countermeasures against US goods. German Chancellor Angela Merkel says she's counting on talks to resolve the trade dispute, but "can't predict whether we will succeed or not succeed." Merkel said that there needs to be a united EU stance, talks with the US, &, if necessary, the will to take counter-measures. She stressed that Europe has always said it wants fair trade relationships and Germany believes "protectionism is not the right answer." Mistrust between the long-time allies has increased since Trump became president last year & the US tariffs proposal has acerbated ill feelings. Tusk said it was not too late to turn this around & asked Trump to come through on his promise to exempt "real friends" from the tariffs. Harking back to 2 world wars & the Cold War, Tusk said: "I would like to stress today that the free world has survived the most difficult decades only thanks to the fact that Europeans and Americans have been real friends." "So let us cherish this friendship, not challenge it," he said. And, he added, instead of threatening a trade war, Trump should restart the trans-Atlantic free trade negotiations between the US & the EU which began under former pres Obama but were never finished. Trump has said that the tariffs are necessary on national security grounds, but EU trade chief Cecilia Malmstrom insisted this is a ruse: "We suspect that the U.S. move is effectively not based on security considerations but an economic safeguard measure in disguise." The trans-Atlantic rift over the tariffs was evident in the EU legislature in Strasbourg, France, where parties of just about all persuasions lined up to criticize the US plans. The EU says the best way forward would be for the US to cooperate in trying to reduce a glut of steel & aluminum on intl markets, which experts says is largely due to China's overproduction in recent years. "That is what makes the sound bites of the current U.S. administration so disturbing," said Marietje Schaake of the parliament's ALDE liberal group. "Right at the time we need to work together as the liberal democracies of this world to curb unfair trade practices of China and others, we are divided."


US producer prices increased slightly more than expected in Feb as a rise in the cost of services offset a decline in the price of goods. The Labor Dept said its producer price index for final demand rose 0.2% last month after increasing 0.4% in Jan. That lifted the year-on-year increase in the PPI to 2.8% in Feb from 2.7% in Jan. The forecast called for PPI gaining 0.1% last month & increasing 2.8% from a year ago. A key gauge of underlying producer price pressures that excludes food, energy & trade services rose 0.4% last month, matching the Jan gain. In the 12 months thru Feb, the core PPI increased 2.7%, the biggest gain since Aug 2014 & followed a 2.5% advance in Jan. The solid increase in underlying wholesale prices supports views that consumer inflation will pick up this year. Economists believe that a tightening labor market, weak $ & fiscal stimulus in the form of a $1.5T tax cut package along with increased gov spending will push inflation toward the Federal Reserve's 2% target this year. The central bank's preferred inflation measure, the personal consumption expenditures (PCE) price index excluding food & energy, has undershot its target since 2012. The Fed has forecast 3 interest rate increases this year, with the first hike expected nest week. Some economists expect that it will raise its projection to 4 rate increases this year. Last month, the price of services increased 0.3% after a similar gain in Jan. Services were boosted by a rise in the cost of hotel accommodation, hospital inpatient care, airline fares & bundled wired telecommunications services. Prices for goods slipped 0.1%, the first drop since last May, after rising 0.7% in Jan. Wholesale food prices fell for a 3rd straight month & gasoline prices dropped 1.6% after surging 7.1% in Jan. Producer prices increased slightly more than expected in Feb as a rise in the cost of services offset a decline in the price of goods.
Rising services costs lift US producer prices in February
There is a lot of discussion about a trade war. That may even have a bigger influence on the stock market that the FOMC meeting next week. The chart below shows the Dow has been bobbing around 25K for more than a month, trying to figure out where to go. Long term rally memories are fading fast. It will take more than the usual good news to overcome the negative thinking about trade war.
Dow Jones Industrials