Dow sank a massive 424 (finishing at it lows), decliners over advancers 4-1 & NAZ dropped 174. The MLP index lost 1+ to the 239s & the REIT index slid back 1+ to the 323s. Junk bond funds fluctuated & Treasuries were purchased although the yield on the 10 year treasury stayed at 2.83%. Oil gained 1+ to the 65s & gold surged 20 to 1348 (more below).
AMJ (Alerian MLP Index tracking fund)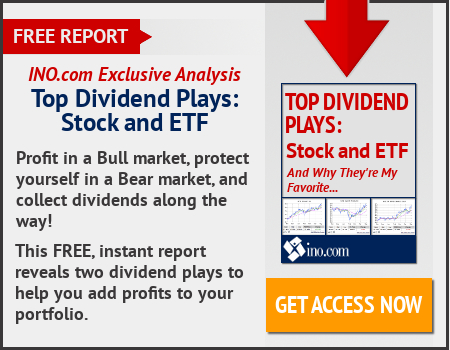 Pres Trump said he has signed a spending bill funding the federal gov for the next 6 months, reversing a veto threat he made earlier today that shocked DC after his administration had previously said he would approve the legislation. Trump's turnabout came after a meeting with Defense Secretary James Mattis, who advocated for the bill's increases in defense spending & wanted the relative certainty of 6 months of assured funding. "My highest duty is to keep America safe. Nothing more important," Trump said. "But I say to Congress: I will never sign another bill like this again." The spending bill appeared to only be waiting for Trump's signature when he tweeted this AM that he was "considering a VETO" because the bill does not fully fund a wall on the Mexican border or create a solution for the DACA program, a program protecting some undocumented immigrants from deportation that Trump chose last year to end. The veto threat injected chaos into what appeared to be the end of a protracted struggle to settle on a funding plan for the federal gov. A month of negotiations between Reps & Dems culminated in a deal to raise defense & domestic spending following a bruising fight that triggered a shutdown in Jan. Trump called it a "ridiculous situation" before handing over his podium to Commerce Secretary Wilbur Ross to briefly discuss a trade deal with South Korea. Afterward, Trump said he wants the power to issue line-item vetoes on spending bills -- a power many presidents have demanded, & that Congress has never granted -- & that the Senate should eliminate the ability of a minority to filibuster legislation.
Trump Reverses His Veto Threat, Says He Signed the Spending Bill
China's ambassador to the US wouldn't rule out the possibility of the nation scaling back purchases of Treasuries in response to tariffs imposed by Pres Trump. "We are looking at all options," Ambassador Cui Tiankai said when asked whether China would consider reduced purchases of Treasuries. "That's why we believe any unilateral and protectionist move would hurt everybody, including the United States itself. It would certainly hurt the daily life of American middle-class people, and the American companies, and the financial markets." China is America's biggest foreign creditor holding $1.17T in Treasuries (19% of all foreign holdings of gov securities). The US can ill-afford to see weaker demand for its debt from its major buyers. With budget deficits rising in coming years & tax cuts approved in Dec expected to hurt revenue, the Treasury has to sell more securities to pay gov expenses. The Federal Reserve is already scaling back purchases of Treasuries as it gradually reduces its $4.4T balance sheet. The prospect of swelling Treasury issuance helped drive benchmark 10-year yields to a 4-year high of 2.95% in Feb. Next week alone, the US is set to sell $30B of 2-year notes, the most for that maturity since 2014. The surge in bill sales already taking place this year has fatigued investors & sent rates higher.
China Signals It Could Ease U.S. Bond Purchases to Counter Trump
Stocks extended losses in what's shaping up to be the worst week since the volatility-fueled meltdown in early Feb. Oil headed for the biggest weekly gain since Sep after the pres installed a noted Middle East hawk into a top national security position. The Dow dropped below the Feb 9 closing low, bringing this week's decline to 5%. The S&P 500 dropped to its session low, led by a plunge in bank stocks. Gold rallied & Treasury yields declined as investors sought safe havens. Pres Trump signed a $1.3T spending bill that averts a gov shutdown, after threatening earlier to veto the measure. Global markets remained in a risk-off mode after China announced retaliation against Trump's proposed tariffs. It's been a miserable week for higher-risk markets globally, as a trade war edged closer, the tech sector was roiled by Facebook' s (FB) privacy scandal & data showed European growth sputtering. Traders had already been bracing for the possibility of slowing expansion as the Federal Reserve reiterated its commitment to further interest-rate increases after the Wed interest rate hike.
Stocks Extend Losses as Volatility Increases: Markets Wrap
Gold futures posted the biggest weekly advance in almost 2 years, extending gains today & pushing up producer stocks, as mounting economic & geopolitical tensions fueled demand for the metal as a haven. Bullion rose midweek as the Federal Reserve stuck with plans to raise rates only 3 times this year & moved higher today as prospects of a trade fight between the US & China stoked concern that global growth will slow. The ascent of John Bolton as Pres Trump's national security adviser was seen adding to risks of a more muscular US approach to some of the world's hot spots, further unsettling markets. Gold futures for Jun delivery climbed 1.7% to settle at $1355 an ounce. The metal advanced 3.3% this week, the most since Apr 2016.

China announced a $3B list of US goods for possible retaliation in a tariff dispute with Pres Trump & girded today for a bigger battle over technology policy as financial markets sank on fears of global disruption. The Commerce Ministry said higher duties on pork, apples, steel pipe & other goods would offset Chinese losses due to Trump's tariff hike on steel & aluminum imports. It urged DC to negotiate a settlement but set no deadline. Trump said today that he was not concerned that the tariffs would be a drag on the stock market. He added: "China is going to end up treating us fairly." In a separate & potentially bigger dispute, the ministry criticized Trump's decision yesterday to approve a possible tariff hike on Chinese imports worth up to $60B over Beijing's technology policy. It gave no indication of a possible response but a foreign ministry spokeswoman said Beijing was "fully prepared to defend" its interests.
This has not been a good week for investors feint of heart!! Many new investors have gotten used to "buy on the dip" as a way to react when there is a decline in stock prices. Not his time. The Dow dropped to a low for 2018 & is back to where it was in early Dec (on the way up). Next week looks to be another wild week.
Dow Jones Industrials