Dow shot up 166, advancers over decliners better than 3-2 & NAZ gained 38. The MLP index was even in the 287s & the REIT index fluctuated in the 358s. Junk bond funds did little & Treasuries were sold, taking the yield on the 10 year Treasury up 3 basis points to 2.97%. Oil rose to the 69s & gold recovered 1 to 1219.
AMJ (Alerian MLP Index tracking fund)
| | | | | | | |
| --- | --- | --- | --- | --- | --- | --- |
| CL=F | Crude Oil | 69.53 | | +0.52 | +0.8% | |
| | | | | | | |
| --- | --- | --- | --- | --- | --- | --- |
| GC=F | Gold | 1,219.50 | | +1.80 | +0.2% | |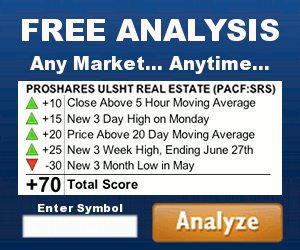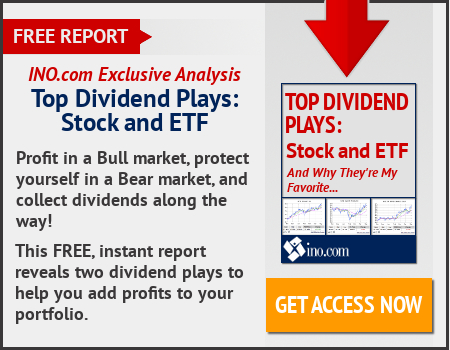 Stocks were slightly higher as traders digested the reimposition of sanctions against Iran that had been waived under the Iran nuclear deal. It was an Obama-era agreement that gave Iran sanctions relief in exchange for curbs on its nuclear program. In May 2018, Pres Trump announced that he was backing out of the Iran nuclear deal. This will just be the first wave with the remainder re-imposed in Nov. Iran shipped out almost 3M barrels of crude per day in Jul. Sanctions on Iranian oil exports will take effect in Nov. Q2 earnings continue to stream in & Dow component Walt Disney (DIS) will headline today's earnings news when the entertainment giant reports after the closing bell. Stocks were cautiously higher yesterday, due to the ongoing trade war, while earnings season is starting to wind down. Meanwhile, on the tariff front, a Chinese state newspaper described as "wishful thinking" Pres Trump's belief that a fall in Chinese stocks was a sign of his winning the trade war & an example of his "ability to elasticize the truth." China proposed retaliatory tariffs on $60B worth of US goods ranging from liquefied natural gas (LNG) to some aircraft on Fri, following a proposal by the Trump administration for a higher 25% tariff on $200B worth of Chinese imports.
Stocks rise as Iran sanctions take effect
Business owners are cheering Pres Trump's tough talk on trade & tariffs
Opens a New Window.
. A recent study from UBS showed 71% of business owners approve additional tariffs on China. In fact, some businesses are actually seeing some benefits from the higher tariffs & are more concerned about the ongoing impact of tax reform & regulatory relief. "[Higher tariffs have] given a little more pricing power – and pricing power has been difficult to come by – that's providing relief for some of these companies," UBS CIO Mike Ryan said. The study, comprised of small business
Opens a New Window.
owners, revealed that business expansion was also top of mind. "Only a very few are seeing a negative impact that's going to in any way either influence their hiring plans or their expansion plans," Ryan added. However, concerns over the long-term impact of a trade war & potential retaliatory measures resulting in higher input prices are still being considered. "Right now what we are seeing is the initial impact," Ryan added, "but then we know there's always second-order effects."
There were 6.662M job openings in the US in Jun, up from the 6.659M in May, while hiring slowed a little. According to the Labor Dept's JOLTS report, US employers hired 5.65M workers in Jun, down slightly from the 5.75M in May, while 3.4M workers quit their jobs, just slightly below the 3.48M in May. May's JOLTS report showed that the proportion of workers leaving their jobs reached the highest level in more than 17 years, with workers taking advantage of the strong employment market, leaving their jobs for better opportunities – more flexible work environments or for higher pay.
The EU's foreign policy chief encouraged companies to do more business with Iran despite new US sanctions, saying Tehran had upheld its commitments under the deal to limit its nuclear program. Federica Mogherini said, that it's up to Europeans to decide whom they want to trade with. "We are doing our best to keep Iran in the deal, to keep Iran benefiting from the economic benefits that the agreement brings to the people of Iran because we believe this is in the security interests of not only our region, but also of the world," she said. "If there is one piece of international agreements on nuclear non-proliferation that is delivering, it has to be maintained." The US reimposed stiff economic sanctions on Iran yesterday, ratcheting up pressure on the Islamic Republic despite statements of deep dismay from European allies, 3 months after Pres Trump pulled the US out of the intl accord limiting Iran's nuclear activities. Trump declared that the landmark 2015 agreement was "horrible," leaving the Iranian gov flush with cash to fuel conflict in the Middle East. Trump warned that those who don't wind down their economic ties to Iran "risk severe consequences." German car & truck maker Daimler said it was suspending its "very limited" activities in Iran. In early 2016 the company announced plans for local truck production & cooperation with an Iranian partner but those plans had not panned out in a weak market. A representative office "will not be continued," the company said. Iran accused the US of reneging on the nuclear agreement, signed by the Obama administration, & of causing recent Iranian economic unrest. European allies said they "deeply regret" the US action. Trump said, "We urge all nations to take such steps to make clear that the Iranian regime faces a choice: either change its threatening, destabilizing behavior and reintegrate with the global economy, or continue down a path of economic isolation." A first set of reimposed US sanctions affect financial transactions that involve $s, Iran's automotive sector, the purchase of commercial planes & metals including gold. A 2nd batch of US sanctions targeting Iran's oil sector & central bank are to be reimposed in early Nov. European ministers said the Iran deal was crucial for Europe's & the world's security, & the EU issued a "blocking statute" yesterday to protect European businesses from the impact of the sanctions.
Stock buyers are back & encouraged by economic data & survey along with a lack of disturbances on the trade front. The Dow is less than 1K away from its record reached in late Jan & the bulls are hoping Aug will be a summer rally month.
Dow Jones Industrials