Dow fell 27, advancers ahead of decliners 3-2 & NAZ added 7. The MLP index was fractionally higher to the 286s & the REIT index jumped up 3+ to the 358s. Junk bond funds fluctuated & Treasuries rose in price. Oil climbed to the 69s & gold was off another 4 to 1219.
AMJ (Alerian MLP Index tracking fund)
| | | | | | | |
| --- | --- | --- | --- | --- | --- | --- |
| CL=F | Crude Oil | 69.10 | | +0.61 | +0.9% | |
| | | | | | |
| --- | --- | --- | --- | --- | --- |
| GC=F | Gold | 1,217.10 | | -6.10 | -0.5% |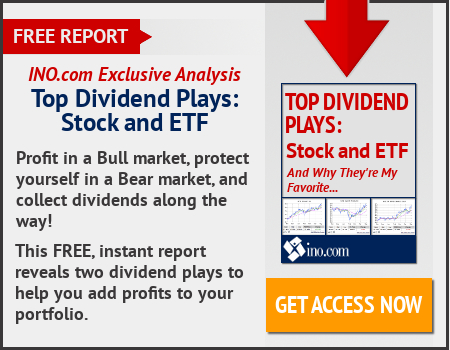 Stocks had a tentative start to the week due to the ongoing trade war, while earnings season is starting to wind down. Chinese state media today lambasted Pres Trump's trade policies in an unusually personal attack. The latest criticism from the overseas edition of the ruling Communist Party's People's Daily newspaper singled out Trump, saying he was starring in his own "street fighter-style deceitful drama of extortion & intimidation. China on Fri said it's planning tariffs on about $60B worth of US imports, saying that the measure is to "guard its interests and keep trade frictions from escalating." Meanwhile, sanctions are being reimposed on Iran, following the administration's decision in May to end the Iran nuclear deal. Mon marks the last day of the 90-day wind down period for some activities involving Iran that were allowed following the Obama-era US sanctions relief that were part of the deal. Further sanctions will be reimposed in Nov. The Iran nuclear deal granted Iran sanctions relief in exchange for curbs on its nuclear program. Commodities were mixed, but oil was higher. It will be a relatively quiet week for economic news now that the monthly jobs report is out of the way. Stocks rose Fri as traders digested the highly anticipated monthly jobs report while understanding the latest trade-related headlines. The US economy added 157K jobs in Jul, below the 190K expected. The unemployment rate fell to 3.9% from 4% in Jun. Monthly wage growth was 0.3%. Both wage growth & the unemployment rate met expectations.
Stocks begin week on tentative note, as tariffs and earnings remain in focus
Q2 earnings season continues this week but at a slower pace. One Dow member, Disney (DIS), reports tomorrow & 43 companies in the S&P 500 will report results this week. More than 80% of the companies in the S&P 500 have reported their Q2 results. The numbers are coming in well ahead of expectations, boosting investor confidence & helping to drive the stock market higher: Profits at S&P 500 companies jumped an estimated 24.2% in the 3 months thru Jun, more than 2½ times revenue growth in the same period. Some companies are pushing thru price increases due to healthy consumer & business pending as well as concerns about future tariffs. Corp profits have received a boost from the cut in the corp tax rate to 21% from 35%, the direct impact of which will fade after 4 qtrs under the new law. The economy grew at its fastest annual rate in nearly 4 years this spring, with growth rising 4.1% in Q2 on a seasonally & inflation-adjusted basis. That was up from a revised rate of 2.2% in Q1. Still, investors remain wary of rising interest rates, trade tension & increasing costs for labor and supplies. Revenue for all S&P 500 companies rose 9.2% from a year ago, which reflects actual results reported by 406 businesses plus estimates for the remaining members of the index.


Countries espousing free trade in response to US trade war threats should just drop all their own tariffs to zero, but they won't, St. Louis Federal Reserve Bank Pres James Bullard said "The positioning here is that the other countries are all free trade and the U.S. is not. If that's really what we're saying then just drop all tariffs and all nontariff barriers. Go down to zero. That would be better outcome for the whole world," Bullard said. "Why is that not going happen? Because they're protecting their industries, that's why it's not going to happen. So, they're protectionist." Markets have been on edge ever since Pres Trump launched a trade conflict with China & allies in the EU, Canada & Mexico over what he deemed an unfair trade deficit between America & its trading partners. The US & other countries have so far slapped new tariffs on $85B worth of goods, with DC & Beijing threatening more. Chinese officials, in response to Trump's moves, have called for compliance with World Trade Organization rules & opposition to protectionism. But a look at Chinese policies shows that the country has long engaged in protectionism of its own industries, Bullard said. Beijing heavily subsidizes domestic industries, creating an uneven playing field for global competition & has strict foreign ownership limits on most sectors. It does not allow foreign investors equal access to its industries & engages in practices like forced technology transfers, which require intl businesses operating in China to share their technology & operate without adequate protection of their intellectual property. US & other foreign businesses operating on the ground have long called for reforms in these areas. Perhaps spurred by the tariff pressure, Beijing has pledged to quicken the pace of its reforms
'They're protectionist': Fed's James Bullard says other countries won't wipe out tariffs with the US
Tyson Foods (TSN) beat quarterly profit estimates due to strong demand for beef, but execs warned that trade disputes were threatening the company's pork & chicken businesses. China is importing less US pork after Beijing imposed tariffs on American shipments as part of an escalating trade war with DC. Mexico & Canada also implemented levies, leading to oversupply &, subsequently, lower prices for meat in the US market. Lower prices for pork & beef were also reducing demand for chicken. "Tariffs and trade concerns could continue to impact product pricing," CFO Stewart Glendinning said. Last week, TSN cut its full-year profit forecast, citing uncertainty in trade policies & higher tariffs that have hurt domestic & export prices of meat. Operating income for the chicken business in its Q3 dropped to $189M, from $294M a year earlier. Operating income for pork was $67M, down from $136M last year. "We are clearly not satisfied with our results, particularly in chicken," CEO Tom Hayes said. But sales increased in the beef business due to higher exports & increased supplies. The unit had a record operating income of $318M in the qtr, up from $147M a year earlier. "Our challenge really comes down to pork and chicken," Hayes added. EPS attributable to the company rose to $1.47, from $1.21 a year earlier. The estimate called for $1.40 on revenue of $10.28B. Excluding certain items, EPS was $1.50. The company said sales rose 2% to $10.05B. The stock went up 2.24.
If you would like to learn more about TSN, click on this link:
club.ino.com/trend/analysis/stock/TSN?a_aid=CD3289&a_bid=6ae5b6f7
Tyson beats profit estimates as cattle prices fall
Stocks are marking time, waiting for new developments. Trade worries continue to dominate thinking by traders. While nobody knows where these tensions will lead, over the short term global trade will take some hits even with a strong US economy. The Dow continues above 25K, a bullish sign for the market
Dow Jones Industrials