Dow rose 158, advancers over decliners 3-2 & NAZ gained 14. The MLP index lost 2+, dropping to the 247s, & the REIT index went up 4 to the 342s. Junk bond funds fluctuated & Treasuries was off a tad. Oil fell to the 65s on rising supply concerns & gold was steady at 1227.
AMJ (Alerian MLP Index tracking fund)
| | | | | | | |
| --- | --- | --- | --- | --- | --- | --- |
| CL=F | Crude Oil | 65.70 | | -1.34 | -2.0% | |
| | | | | | | |
| --- | --- | --- | --- | --- | --- | --- |
| GC=F | Gold | 1,226.50 | | -1.10 | -0.1% | |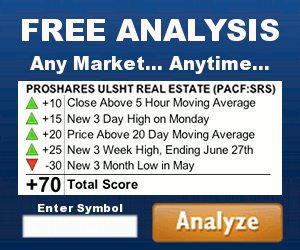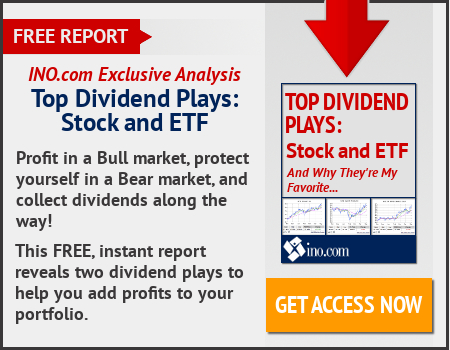 Stocks were higher following yesterday's losses as investors digested the latest economic data & corp earnings reports. It was a big day for earnings, with 2 Dow members – Pfizer (PFE) & Coke (KO) – reporting. General Electric (GE) reported Q3 profit & revenue that fell short of estimates. The company also slashed its div to a penny from 12¢. Apple (AAPL)may also be a focus of the markets as the company holds a product introduction event. Traders also digested the latest Case-Shiller report on home prices, which showed prices experienced their slowest annual growth in Aug since Dec 2016. This was just the latest piece of data supporting a slowing housing market as rising rates & climbing prices are starting to dent demand.
Stocks higher ahead of Facebook, Apple earnings
US home price gains slowed for the 5th straight month in Aug as higher mortgage rates have lowered home sales. The CoreLogic Case-Shiller 20-city home price index increased 5.5% in Aug compared with a year earlier, down from a 5.9% gain in the previous month. The deceleration reflects a broader weakening in the nation's housing market. Sales of existing homes have dropped for 6 straight months & sales of new homes have fallen for the past 4. Home price increases have run ahead of wage gains for 5 years & appear to have left many would-be buyers on the sidelines. Prices rose the most in Las Vegas, San Francisco & Seattle. But price gains have slowed compared with a year earlier in 14 of the 20 cities tracked. The slowdown in housing shows little sign of becoming a broader crisis similar to what occurred in 2007. David Blitzer, chairman of the index committee at S&P Dow Jones, points out that mortgage defaults, which spiked in the housing bust, remain stable. Higher borrowing costs have raised monthly payments for new buyers, on top of rising home prices. Some of the biggest increases in mortgage rates occurred in Sep & Oct & there aren't reflected this data. That suggests that price gains will likely slow further in the coming months. The average 30-year fixed mortgage ticked up to 4.86% last week, from 4.85% the previous week. A year ago, it stood at 3.94%.
US home price gains weaken for 5th straight month
Pres Trump said he thinks there will be "a great deal" with China on trade, but warned that he has B$ worth of new tariffs ready to go if a deal isn't possible. "I think that we will make a great deal with China and it has to be great, because they've drained our country," Trump said. Trump added that he would like to make a deal now, but that China was not ready. He did not elaborate. It has been reported that administration was preparing to announce tariffs on all remaining Chinese imports by early Dec if talks next month between Trump & his counterpart Xi Jinping fail to ease the trade war. Both Trump & Xi are expected to attend next month's G-20 summit in Buenos Aires, where they could meet. Chinese Foreign Ministry spokesman Lu Kang said China & the US have all along been in communication about exchanges at all levels, including a possible Xi-Trump meeting in Argentina, though he gave no details. If the US is not willing to promote win-win cooperation with China then China is fully confident in being able to continue with its reforms & develop itself, Lu added. The US has already imposed tariffs on $250B worth of Chinese goods & China has responded with retaliatory duties on $110B worth of US goods. "And I have $267 billion waiting to go if we can't make a deal," Trump said. Trump has long threatened to impose tariffs on all remaining Chinese imports into the US if Beijing fails to meet US demands for sweeping changes to Chinese trade, technology transfer & industrial subsidy policies.
Trump says he expects a 'great deal' with China, but warned more tariffs are coming if he doesn't get it
Coca-Cola's (KO), a Dow stock & Dividend Aristocrat, diet soda sales & higher prices helped the company beat earnings & revenue projections during Q3, boosting profit by 30%. EPS surged to 44¢, up from 33¢ during the same 3 months last year. Excluding certain items, including discontinued operations, the company earned 58¢, outpacing the 55¢ forecast. It generated $8.25B in revenue, a decline of about 9% from $9.08B a year ago, but sill beating estimates of $8.17B. The company raised prices in North America to offset higher import & transportation costs, CEO James Quincey said. "We had a solid quarter we're on track to close out the year for our guidance," he said. KO said double-digit growth in sales volume for its popular diet soda, Coca-Cola Zero Sugar, & strong sales of other sparkling soft drinks helped drive the earnings results. Overall, sparkling soft drink sales grew 2%, driven by sales of its trademark Coca-Cola & diet versions of Fanta & Sprite. Its water & sports drink sales rose 5%, primarily due to strong sales in China & Mexico. Those gains were offset by a 3% decline in juice, dairy & plant-based beverage sales, mostly hurt in the Middle East & North Africa, as well as a drop in tea & coffee. A rise in sales of Fuze Tea & Gold Peak was hurt by a drop in sales of its local tea brand Turkey. Overall, its unit case volume, a key indicator of how much product it sold, rose 2% from a year ago. The company reiterated its previous forecast for growing organic revenue of at least 4% for the full year. Organic revenue, which grew 6% over the previous year, strips out fluctuations in foreign currency rates. The stock went up 69¢.
If you would like to learn more about KO, click on this link:
club.ino.com/trend/analysis/stock/KO?a_aid=CD3289&a_bid=6ae5b6f7
Coca-Cola's diet soda sales, higher prices drive stronger-than-expected earnings
Stocks got off to a good start, but selling returned after the first hour of trading. Currently the Dow is 100 below the earlier high. Again, this is not a good time for the timid. Talk about improved trade relations with China is helpful, but talk is merely talk. If there is a meeting between the 2 leaders, that is still a month away. The volatility index (VIX) is in the 25s, near its highs in recent years & far above the mid teens where it has been for much of thus period. More sudden price swings are expected.
Dow Jones Industrials