Dow sank 404, decliners over advancers better than 6-1 & NAZ retreated a very big 163 (2%). The MLP index slumped 7 to the 262s & the REIT index dropped 4+ to the 336s. Junk bond funds slid lower & Treasuries were purchased as stocks were sold, reducing the yield on the 10 year Treasury 8 basis points to 3.10%. Oil dropped to the 67s & gold shot up 12 to 1237 as stocks were being sold.
AMJ (Alerian MLP Index tracking fund)
| | | | | | | |
| --- | --- | --- | --- | --- | --- | --- |
| CL=F | Crude Oil | 67.84 | | -1.52 | -2.2% | |
| | | | | | | |
| --- | --- | --- | --- | --- | --- | --- |
| GC=F | Gold | 1,239.30 | | +14.70 | +1.2% | |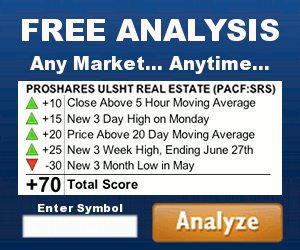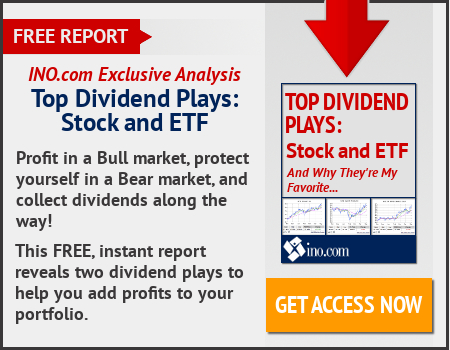 Stocks were sharply lower, with the Dow down by triple-digits, with most of the pressure coming from 5 stocks out of the 30 components that make up the index. 3M (MMM), Caterpillar (CAT), Boeing (BA), Apple (AAPL) & Goldman Sachs (GS) were the biggest losers. Prior to the barrage of earnings reports stocks tracked overseas markets lower. Overnight, China's stock market fell more than 2% as trade concerns continue to hang over the markets & investors are pessimistic about economic prospects. The Shanghai Composite started the week with more than a 4% gain yesterday. Investors are also eyeing interest rate concerns & geopolitical tensions. Yesterday, the Dow dropped 126 (0.5%) to 25,317 & the S&P 500 fell 11 to 2755. The NAZ got a boost from strength in tech stocks, rising 19 (0.%) to 7468.

Caterpillar (CAT) opted not to increase its 2018 earnings forecast this qtr, disappointing investors after 2 straight qtrs of raised expectations, but the heavy-duty equipment maker did report quarterly profit that beat market estimates. The company kept unchanged the 2018 adjusted EPS outlook of $11.00-12.00, which didn't go down well with investors who were expecting yet another upgrade in the earnings guidance. This led to a sell-off in the heavy-duty equipment maker's shares. CAT reported an adjusted EPS of $2.86 in Q3, compared with $1.95 a share last year. The forecast was for EPS of $2.85. The stock plunged 10+ (8%).
If you would like to learn more about CAT, click on this link:
club.ino.com/trend/analysis/stock/CAT?a_aid=CD3289&a_bid=6ae5b6f7
Caterpillar's forecast disappoints, shares tumble
3M (MMM) lowered its earnings forecast for the year after it reported slower sales growth across most of its business lines in Q3. The maker of Post-it Notes & industrial adhesives said sales fell 0.2% from a year earlier to $8.15B. On an organic, local-currency basis, sales rose by 1.3%. Of all its segments, the safety & graphics business posted the largest sales growth for the qtr, at 7%. Meanwhile, revenue from its health care, electronics & energy & consumer lines segments fell 2.8%, 4.8% & 3.4% respectively. Industrial sales were flat. The company now expects EPS of $8.78-8.93, down from $9.08-9.38 it previously guided & expects adjusted EPS for the year to be $9.90- 10, lower than its previous guidance of $10.29-10.45 a share. Organic local-currency sales growth for the year was projected to be up about 3% (3%-4% it previously guided). EPS rose to $2.58, below the $2.70 estimate. The stock tumbled almost 15 (7%).
If you would like to learn more about MMM, click on this link:
club.ino.com/trend/analysis/stock/MMM?a_aid=CD3289&a_bid=6ae5b6f7
3M sales sputter, trims earnings forecast
The recent sell-off in stocks reflects fear that Congress will be remade in the upcoming election & pro-growth policies will fall by the wayside, according to White House advisor Larry Kudlow. Kudlow blamed the market decline on mid-term elections. "I think the stock market is worried that Congress will change & will overturn these pro-growth policies," he said. The "correction has to overcome the uncertainty about this election." But the Oct market drop seemed to be more about fears of slowing global growth & rising interest rates than anything to do with the election. The Dow fell more than 500 & was on track for its worst month since Aug 2015, in volatile trading that saw broad-based declines. The tech-heavy NAZ is on track for its lowest close in nearly 6 months. CAT fell 9% after saying its manufacturing costs rose because of higher material & freight costs, which themselves were driven by higher steel prices & tariffs. The Trump administration has slapped tariffs on imports of steel & aluminum from several countries & on B$ of goods from China. At the same time, the Federal Reserve has raised interest rates three times this year & is expected to raise again in Dec, sparking fears in the housing & construction sector that rising mortgage rates will choke off demand. The Fed has moved on rates after years of historic lows to stay ahead of inflation. Unemployment is at decades-old lows & the economy is growing.
Kudlow says stocks are falling on fear Democrats will win midterms and end 'pro-growth policies'
Pres Trump will meet with China's pres, Xi Jinging, next month at the G-20 summit in Buenos Aires, Argentina, according to Larry Kudlow. He told reporters outside the White House that the 2 leaders "will meet for a bit" but didn't have other details. Any meeting between the 2 comes at a time of escalating tensions over trade. Most recently, the Trump administration put tariffs on $200B of Chinese imports & Beijing retaliated with tariffs on US goods. The 2 nations have struggled to come to the negotiating table over trade, as the US raises concerns about intellectual property & a widening trade deficit. "Our asks are on the table, I'd love to see them respond," Kudlow said. "Thus far they haven't." Chinese gov officials have indicated they aren't afraid of a trade war. Zhang Qingli, a leading member of the Chinese committee that forges alliances with other nations, told a group of US business leaders, lobbyists & others that China refuses to be intimidated. The G-20 is an annual meeting of leaders from the world's major economies.
Oct is turning out to be a grim month for stocks. The Dow is down more than 1.5K already (back to where it was in Jul) & the outlook is for more selling. Earnings disappointments came as a rude shock to investors, especially when trade issues were factored in. The meeting at the G-20 is still a month away. This is the time to look for stocks that will be attractive buys if selling continues.
Dow Jones Industrials