Dow finished ahead 192 (but off session highs), decliners over advancers 2-1 & NAZ dropped 9 (almost than 100 below session's highs at the opening). The MLP index gained a big 6+ to 281 (along with a strong oil market) & the REIT index rose to the 351s. Junk bond funds went up & Treasuries remained weak. Oil soared 2+ to the 75s (more below) & gold was off 2 to 1193.
AMJ (Alerian MLP Index tracking fund)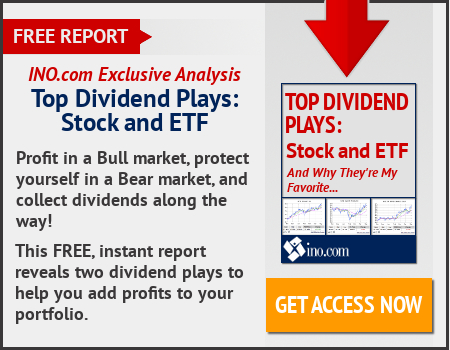 Despite reaching a new trade agreement with Mexico & Canada over the weekend to replace the North American Free Trade Agreement, President Trump said at the White House the key US trading partners would still not be exempted from US steel & aluminum tariffs. Trump said the tariffs would remain in place "until such time as we can do something that would be different, like quotas perhaps, so that our industry is protected. We are not going to allow our steel industry to disappear, it was almost gone." US Trade Representative Robert Lighthizer added that the tariffs are a completely separate issue from the trade deal as far as the administration is concerned. He reiterated that the US is currently engaging in talks with the aim of preserving the current program & protecting industry needs. Trump also said he is employing tariffs as a negotiating tactic, which were effective in helping solidify the USMCA. "Without tariffs we wouldn't be talking about a deal," he added. Canadian Prime Minister Justin Trudeau said in Jun that the steel & aluminum tariffs were "insulting and unacceptable." Meanwhile, the pres said he would continue to employ tariffs on other countries only in instances where the governments are "absolutely not willing to do what's fair and reciprocal." With regards to the EU, for example, he said the White House would "respectfully" put tariffs on cars if a satisfactory deal can't be reached. Trump also called out India for charging high tariffs on US exports, specifically Harley-Davidson (HOG) products. In regards to China, Trump said the US could "go $267 billion more" when it comes to tariffs on products. The 25% steel & 10% aluminum tariffs were implemented in Mar. Some countries were granted exemptions, however Mexico & Canada did not make that list.
Trump says USMCA doesn't lift steel, aluminum tariffs
Commerce Secretary Wilbur Ross said that the new trade deal with Canada & Mexico is a win for the American dairy industry. The US & Canada announced that the 2 nations & Mexico had reached a deal to revamp the North American Free Trade Agreement, that would allow access to Canada's dairy market & protect Canada from potential US auto tariffs. The new pact would be renamed the US-Mexico-Canada Agreement. According to Ross the new deal eliminates the controversial Class 7 dairy policy that Canada created to boost domestic butter by raising the price for milk. "It's quite huge," Ross said. "We were already selling some $600 million a year of dairy product up there but the infamous Class 6 and Class 7, which [provoked] the big outcry last year, particularly when the president was out in Wisconsin, those classes are being gradually done away with." Ross added that there will be higher quotas on cheeses, poultry & eggs. Along with other components, the new deal will also benefit the US, Canadian & Mexico's auto industries. "I think it clearly vindicates President Trump's trade policies because this is fundamental reform," Ross said. "Now, there's no more NAFTA, there's USMCA. So R.I.P NAFTA." Ross said he expects the deal to be signed within the next 60 days & he added that the ratification process may take longer.
Wilbur Ross: New NAFTA deal a 'win' for US dairy
White House economic advisor Larry Kudlow said that a trade deal with China is far from being reached. "I would say frankly as the president has said he's not been satisfied with the progress of those talks," Kudlow said. "[There] really hasn't been much progress recently." However Kudlow hinted at a potential meeting between Trump & Pres Xi at the next G20 summit set for Nov. "He has admiration for President Xi and they may, may perhaps, meet at the G20 in Buenos Aires later this year," Kudlow said. "But no, nothing is imminent on China but we are willing to talk if it's substantial and significant and serious—always willing to talk." Although the discussions "have not been sufficiently detailed," he said the talks, so far have been centered on corp ownership & IP theft. "One of the key things... United States companies operating in China instead of joint ventures where the Chinese own the majority," he said. "We should own the majority, in fact, we should own all of it because that's where the technology, the forced technology, transfers occur. Their board, they own the company, you have to put your blue print on the table -- that's unacceptable."
While the Trump administration takes a victory lap in the wake of the new trade agreement with Canada & Mexico, the relations between the US & China, the world's 2nd largest economy, continue to intensify. In the latest sign of the increasingly fraught ties, the Pentagon has canceled Defense Secretary James Mattis' visit to China later this month. For security purposes, the Pentagon does not discuss upcoming travel for the Defense secretary, which is why the visit to China, which was slated for mid-Oct, was unannounced. The cancellation comes on the heels of a denied port visit for the USS Wasp to Hong Kong & a scrubbed engagement with China's top naval commander. Much of the growing tension between the 2 nations is growing out of the South China Sea, which is home to key trade routes – & to an increasing Chinese military presence. Navy Secretary Richard Spencer, the branch's top civilian, voiced concerns about China's continued militarization of the South China Sea saying the Navy will "protect the lanes of commerce at all costs." "We will ply the internationally agreed upon open spaces of the ocean with our warships at all times to make sure that our commerce and our lanes of communication are open that is something we will always do," Spencer said. "If China comes and joins the world and recognizes international rules and international law of order, we are going to have a great relationship," he added. "If they take this position that they are going to use their laws and their understanding of how they're going to trade and protect their spaces, we are going to have to have some sort of discussion about this going forward." Over the weekend a Chinese warship had what the Pentagon called an "unsafe" encounter with a US destroyer. China links its economic security closely to the hotly contested waterways in the South China Sea, since more than 64% of its maritime trade transited thru the region in 2016. The South China Sea is also a vital trade artery for Vietnam, Japan & South Korea. Home to more than 200 specks of land, the South China Sea serves as a gateway to global sea routes where approximately $3.4T of trade passes annually. The numerous overlapping sovereign claims to islands, reefs and rocks, many of which disappear under high tide, have turned the waters into an armed camp. Beijing holds the lion's share of these features with approximately 27 outposts peppered throughout.
Defense Secretary James Mattis cancels trip to China as trade tensions get worse
US crude prices surged, hitting a nearly 4-year high on signs that sanctions are shrinking Iranian crude exports & as North American trade tensions ease. West Texas Intermediate crude ended the session up $2.05 (2.8%) at $75.30, its best closing prices since Nov 24, 2014. WTI hit a session high of $75.48, breaking thru this year's intraday peak in Jul. Intl benchmark Brent crude was last up $2.31 (2.8%) at $85.04, having hit its highest since Nov 2014. Oil prices rose after the US, Canada & Mexico announced they had agreed on a path forward for the North American Free Trade Agreement (NAFTA). A trade dispute among the 3 trading partners has raised fears of a slowdown in growth that could impact oil demand. The market was also bouncing on news that China's Sinopec has cut crude imports from Iran in ½ ahead of the Trump administration's Nov 4 deadline for oil buyers to stop importing Iranian supplies. Questions have lingered about whether China, the world's 2nd biggest crude consumer, would comply with the US sanctions. US sanctions on Iran, OPEC's 3rd biggest oil producer, are expected to wipe roughly 1M barrels a day off the market by the end of the year.
Oil surges above $75 to the highest level since November 2014
Today's headline is not quite accurate. The Dow had a good day even though it closed well below session highs. But after a strong opening, NAZ stocks were sold all day & it finished 70 below the highs. And market breadth was very dreary. Tesla (TSLA), sexy stock on NAZ, recovered 45 after founder Musk was fined by the SEC, i.e. a very confusing situation. Tomorrow additional Sep data should be reported & traders will have a chance to better understand how the new trade deal may affect business in the US. Today's trading suggests Oct could be very volatile month for stocks.
Dow Jones Industrials