Dow tumbled 201( but off the lows), decliners over advancers 5-2 & NAZ sank 91. The MLP index was fractionally lower to the 256s & the REIT index dropped 5 to 324. Junk bond funds fell & Treasuries were sold again, taking the 10 year yield to 2.95%. Oil was about even in the 68s after Trump's tweet about high oil prices earlier today & gold fell 11 to 1337.
AMJ (Alerian MLP Index tracking fund)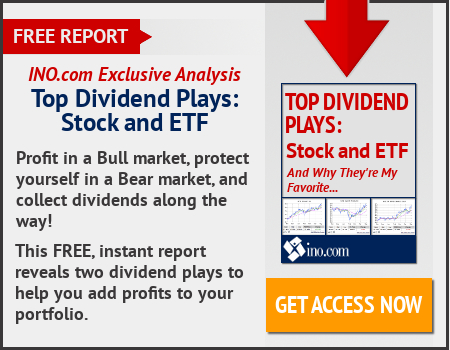 Apple (AAPL, a Dow & NAZ stock) fell for the 3rd day after analysts cut their forecasts for iPhone shipments, adding to concern about the tech giant's primary source of revenue ahead of quarterly earnings in May. Yesterday Taiwan Semiconductor Manufacturing Co predicted current-quarter sales about $1B less than had been projected. As its main chip supplier, TSMC's tepid revenue forecast revived fears that the iPhone X, AAPL's flagship $999 handset, may already be losing momentum a qtr after its release. TSMC already confirmed weakness at the very high end of the smartphone market. The world's largest chip foundry company had 63 days of inventory in Q1. AAPL stock slumped 7.08 (4%) to 165.
If you would like to learn more about AAPL, click on this link:
club.ino.com/trend/analysis/stock/AAPL?a_aid=CD3289&a_bid=6ae5b6f7
Apple's Shares Slip Again on Mounting Concerns Over iPhone Sales
Oil erased losses after the initial reaction to Pres Trump's tweet on "artificially Very High" prices fizzled. The comments came as OPEC & allies including Russia showed willingness to further tighten oil markets & boost prices in a meeting in Saudi Arabia. West Texas Intermediate futures dropped over 1% before the losses were erased. "Looks like OPEC is at it again," Trump said on Twitter. "With record amounts of Oil all over the place, including the fully loaded ships at sea, Oil prices are artificially Very High! No good and will not be accepted!" Oil ministers from Saudi Arabia, Russia & the UAE pushed back on the charge, saying there's no such thing as artificial prices, that current market levels reflect geopolitics & that demand is strong. Crude has rallied in recent weeks as output cuts from OPEC & allies were compounded by heightened geopolitical risks, including the possibility of renewed US sanctions on Iran. US shale producers are also facing production challenges. Meeting in Jeddah, a committee of OPEC & other oil producers found high levels of compliance with the production curbs. Still, there's capacity for prices to rise beyond this week's 3-year high, according to Saudi Energy Minister Khalid Al-Falih, who said cooperation between producers would continue into 2019. Russian Energy Minister Alexander Novak said the output deal has stimulated US oil production & helped "restore the industry of Texas." OPEC Secretary General Mohammad Barkindo said the US oil & gas industry is benefiting from the group's efforts to stabilize the market. US crude production was at 10.5M barrels a day last week, up from 9.3M barrels a day a year ago, according to gov data, with growth rates meaning it may surpass top producers Saudi Arabia & Russia. WTI for May delivery erased losses to trade 3¢ higher at $68.32 a barrel. WTI has risen 10% in 2 weeks. Brent crude for Jun delivery fell about 69¢ at the time of the tweet, before trading just 4¢ cents lower at $73.74. Both benchmarks are had weekly gains.
Oil Erases Losses as Impact of Trump Tweet on High Price Fizzles
The bond market is indicating that the US economy could be hovering around a recession, which in turn would mean that fewer interest rate hikes are needed ahead, Minneapolis Fed Pres Neel Kashkari said. A flattening yield curve, or a narrowing between yields of different maturities, is indicating to the central bank official that confidence is waning & the Fed may be near the end of its rate-hiking cycle. "It's at least a yellow light flashing" about a potential recession, Kashkari said. That phenomenon is happening even as Congress has cut taxes Pres Trump earlier this year signed a $1.3T spending bill, both moves that should be accelerating growth & causing the curve to widen.
Fed's Kashkari: Bond market is 'yellow light flashing' about a possible recession
Further escalation of trade tensions could raise worries about the global economic recovery, a top Federal Reserve official said. "Right now, it's very hard to say how current discussions might evolve, ... but if we saw broadening and retaliatory measures spreading, that could dent global confidence," Fed Governor Lael Brainard said. "It could disrupt global supply chains, so it's certainly a material uncertainty to the outlook." Trade tensions between the US & China have increased recently as the Trump administration takes a more protectionist stance. Earlier this month, Pres Trump asked US Trade Representative Robert Lighthizer to consider $100B in additional tariffs against China. Last month, the US slapped tariffs on up to $60B in annual Chinese imports. These tensions have weighed on financial markets recently as investors fear a trade war between the 2 largest world economies may be around the corner. "Right now, the discussions over trade are really ones that may be impacting individual businesses," Brainard said. However, Brainard also said the US economy appears capable of handling tighter monetary policy. "The outlook looks consistent to me for continued gradual increases in the federal funds rate," she noted. "My anticipation is that the outlook is for continued, solid growth." Her comments come as Treasury yields have climbed sharply this week. The benchmark 10-year yield rose to its highest level in 2 months, while the 2-year yield traded at a 9½-year high.
Fed governor Brainard: Rising trade tensions are a 'material uncertainty' to the economic outlook
This was another dreary day for stocks. The Dow is back to where it was in early Dec, on the way up. AAPL troubles a lot of tech stocks & they have been market leaders for much of the stock market's rally. Additionally, there is a growing awareness that trade talks are droning on with little being decided. For 3 months, the Dow has been hanging fairly close to the 24K level. Even encouraging earnings are not giving a big lift. The stock market looks like it is stuck in the mud.
Dow Jones Industrials