Dow jumped 208 (closing at 17K, near the highs), advancers over decliners a relatively mild 2-1 & NAZ rose 45. The Alerian MLP index dropped fractionally to the 524s on continued weakness in energy securities & the REIT index went up 1+ to the 294s. Junk bond funds climbed higher & Treasuries declined. Oil & gold fell lower as they are desperately looking for buyers. Oil is below 88 & gold is under 1200.
AMJ (Alerian MLP Index tracking fund)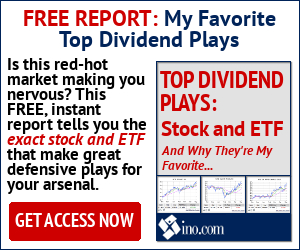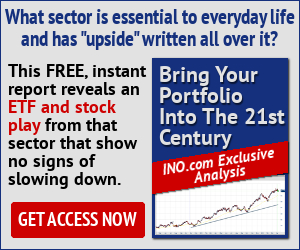 Free Apple Analysis!
Free Stock Trend Analysis
| | | | | | |
| --- | --- | --- | --- | --- | --- |
| CLF15.NYM | ....Crude Oil Jan 15 | ....87.81 | ...1.27 | (1.4%) | |
Russian inflation accelerated to the fastest pace in 3 years, putting pressure on the central bank to raise interest rates even as economic growth shrivels. Consumer prices jumped 8% from a year earlier in Sep after a 7.6% advance the previous month, the Federal Statistics Service said (matching the estimate). Prices grew 0.7% from Aug. The conflict in Ukraine has sparked an exodus from the ruble while an Aug ban on some food imports from the US, Europe & other nations, retaliation for sanctions against Russia, has further stoked prices. Faster inflation has prompted the central bank to raise its benchmark rate 3 times this year to 8% from 5.5% in Feb. Policy makers "may continue raising the key rate" if inflation expectations remain elevated, according to a central bank's statement after it last met 3 weeks ago, when it left borrowing costs unchanged. In response to US & EU sanctions targeting Russia businessmen, companies & the energy, finance & weapons industries, Putin restricted imports of meat, fish, dairy, fruits & vegetables from the US, EU, Canada, Norway & Australia for a year. The consumer-price index may reach 7.8% by year-end, according a recent estimate & inflation could be about 8% this year..
Russian Inflation Rate Surges to Highest in Three Years
From Turkey, spectators can watch Islamic State's advance across Syria, its progress hindered only by a ragtag group of Kurdish fighters who say the Turkish army & US air force are doing little to help. Video footage & eyewitness accounts paint a picture of Kurds with light weapons shooting from inside homes & behind mud walls around the Syrian town of Kobani, while Islamic State militants with tanks & heavy artillery rumble across nearby fields. As the US led coalition focuses on bombing Islamic State supply lines elsewhere, the Kurds say they are being left as prey to extremists taking territory on Turkey's border. The US military is monitoring the threat to Kobani, & has conducted airstrikes "in and around" the town in the past several days, a Pentagon spokesman said. US Central command reported an attack yesterday that destroyed an Islamic State checkpoint near Kobani. Turkey's gov late yesterday won parliamentary approval for military action as the conflict spreads closer to home. Yet for pres Erdogan, commander-in-chief of NATO's 2nd-largest army, there are no good guys in the fight for Kobani. The Kurds fighting Islamic State in Syria are linked to the Kurdistan Workers' Party, or PKK, whose separatist ambition has long been considered the country's top security threat. It's classified as a terrorist group by Turkey & the US. While Erdogan says he'll join the US led campaign against Islamic State, Turkey's priority in Syria has been the removal of pres Assad from power. Turkish officials have also cited the need to create a buffer zone extending as much as 30 kilometers into Syrian territory, saying it's needed to manage a growing influx of refugees. Kurds say the plan is aimed at crushing their nascent autonomous administration, carved out during Syria's 3-year civil war as Assad's gov lost control of their part of the country. Turkey says the Syrian Kurds are collaborating with Assad & should have been fighting him. This is a confusing mess & the US has decided to participate in a minimal way. If nothing else, a lot of oil supplies are at stake.
Emerging-Market Bears Want More as Stocks See Correction
Hackers exploited an employee password to crack a JPMorgan, a Dow stock, server & ultimately pull off one of the largest cyber-attacks ever, accessing data on 76M households & 7M small businesses. JPM, the largest US bank, outlined the scope of the previously disclosed breach yesterday, reassuring clients there's still no evidence account numbers & passwords were compromised, even as names & contact data were exposed. People who logged on to certain websites or mobile apps had contact information stolen, the company said. The bank has been struggling to head off damage since the incident, first reported in Aug. New details on how attackers accomplished the feat over months, including their initial entry, were provided by leakers. JPM said the threat now is phishing, in which criminals try to trick people into handing over more valuable data, such as user IDs & passwords. Some of those affected by the incursion were outside the US, said Patricia Wexler, a JPM spokeswoman. In addition to contact information, hackers tapped into internal data identifying customers by category, such as whether they are clients of the private bank, mortgage, auto or credit-card divisions. "There's no evidence that account information -- things like accounts numbers, passwords, log-in IDs -- were accessed, viewed or acquired," Wexler said. For example, she said, the hackers wouldn't know the balance of a customer's mortgage, only that they were a client of that unit. JPMorgan currently has 65M customers & reaches ½ of all US households, she said. Information on both current & former customers was exposed, as well as on some non-customers, including people who may have logged on to JPM websites to conduct transactions with bank clients. Data were compromised thru Chase.com & JPMorganOnline.com, & the mobile apps that support those websites, Wexler said. The stock rose 1.46 in a strong market. If you would like to learn more about JPM, click on this link:
club.ino.com/trend/analysis/stock/JPM?a_aid=CD3289&a_bid=6ae5b6f7
JPMorgan Employee Password Said to Be Key in Hack Hitting 76 Million Homes
J P Morgan Chase (JPM)
Stocks had a good rally from the economic news but market breadth was fairly thin, common this year. Energy stocks have been weak, even MLPs have been hit with selling in recent weeks. In this market, economic & intl political events are less important than when Janet decides to increase interest rates. More strength in the economy will give the Federal Reserve strength to make that brave move which could begin early next year. MLPs, REITs & junk bond funds have already seen selling in preparation for that move. Today's rally may have come from a sigh of relief without thinking how stronger data will impact future interest rates.
Dow Jones Industrials
I'm a huge fan of INO & from what I have seen so far, their service Marketclub! This isn't a stripped down version, everything in MarketClub is available to you. I don't want to give everything away, but you'll have unlimited access to my favorite 3 tools: Trade Triangles, Smart Scan & Alerts! The best part is that the MarketClub customer support team will be providing UNLIMITED support! You can call or email for an instant response to any question, comment or concern.
Here's that link:
https://club.ino.com/join/specialtrial/index_free.html?a_aid=CD3289&a_bid=359ef9a3
I'd recommend you jump on this now.