Dow dropped 153, decliners over advancers 2-1 & NAZ dropped 36. The MLP index lost 5+ to the 504s & the REIT index was fractionally lower to 310. Junk bond funds were mixed & Treasuries pulled back. Oil sank to a 2-year low after an inventory report & gold futures fell the most in 2 weeks as the dollar's rally & muted US inflation cut demand for the precious metal as a store of value.
AMJ (Alerian MLP Index tracking fund)
Free Stock Trend Analysis
| | | | | | |
| --- | --- | --- | --- | --- | --- |
| CLZ14.NYM | ....Crude Oil Dec 14 | ....80.34 | ...2.15 | (2.6%) | |
IBM, a Dow stock, sees boosting profit margins as more important than sales growth, CEO Ginni Rometty said, holding firm to her strategy after a disappointing qtr sent shares tumbling. Investors aren't getting much expansion on either front. Earlier this week, the technology company reported a 10th consecutive qtr of sales declines, & its operating gross profit margin dropped 0.9 percentage point from a year earlier to 49.2%. Operating EPS will slide 2-4% this year, the company said. "It's a dangerous thing to talk about your target being just a size without the relevance of what you do," Rometty said in prepared remarks. "What's most on my mind is that I keep remixing in high growth." The pressure is mounting for her to speed up IBM's transition to cloud computing, where customers access software & data remotely rather than on site. The challenge is to move into that growing business quickly enough to make up for the decline in demand for older hardware & technology consulting services. IBM shares have dropped 11% since the earnings report, the biggest 3 day decline since 2008. Rometty said she hadn't expected it to be "such a busy week." The stock dropped another 1.44. If you would like to learn more about IBM, click on this link:
club.ino.com/trend/analysis/stock/IBM?a_aid=CD3289&a_bid=6ae5b6f7
IBM CEO Says Boosting Margins More Important Than Sales Growth
International Business Machines (IBM)
Apple CEO Tim Cook met with Chinese Vice Premier Ma Kai to discuss protecting user data, state media reported, 2 days after a report that hackers targeted its iCloud services. Meeting in Beijing, the 2 discussed more cooperation in information & communication without giving details. AAPL's iCloud service in China was attacked by hackers who positioned themselves between users & computer servers, compromising user names & passwords, according to Greatfire.org, which monitors internet censorship in the country. The company last month said it would add new security features to iCloud after celebrity accounts were hacked & photographs of them were posted on the internet. The "man-in-the-middle" attack on iCloud in China this week was conducted by Chinese authorities, Greatfire wrote without providing evidence linking the gov to the attack. Not all users in China are affected because the attack is only staged against one of multiple internet protocol addresses used by iCloud, it said. AAPL is "aware of intermittent organized network attacks using insecure certificates to obtain user information, and we take this very seriously," a spokeswoman for the company said. The stock went up 52¢. If you would like to learn more about AAPL, click on this link:
club.ino.com/trend/analysis/stock/AAPL?a_aid=CD3289&a_bid=6ae5b6f7
Apple's Cook Discusses User-Data With Chinese Vice Premier
Apple (AAPL)
Photo: Bloomberg
McDonald's. a Dow stock & Dividend Aristcorat, which yesterday posted its 4th straight qtr of falling US same-store sales, may look to sell more organic food to stem the loss of customers to chains known for better-quality fare. "You'll see us in some categories looking to different products, possibly organics," CEO Dow Thompson said. "We actually are doing it in certain markets." The world's largest restaurant chain already uses organic semi-skimmed milk in McCafe coffees, porridge & Happy Meals in some restaurants in the UK, said a company spokeswoman. Organic milk also is sold in Germany, while organic fruit juice is available in Germany & France, she said. "We have the ability to cater our menu to local and regional tastes and preferences," she added. MCD has been struggling to boost sales amid increased competition for low-priced meals. In the US, the chain has recently tried selling $2 jalapeno burgers & chorizo burritos in some locations to lure diners. The items haven't really attracted Americans, who are increasingly flocking to fast-casual chains where they can customize meals & find some organic fare. Sales at the US stores open at least 13 months fell 3.3% in Q3, the company said, trailing the estimate for a 2.9% decline. The stock slid back pennies. If you would like to learn more about MCD, click on this link:
club.ino.com/trend/analysis/stock/MCD?a_aid=CD3289&a_bid=6ae5b6f7
McDonald's May Sell More Organic Foods to Boost Sales
McDonald's (MCD)
Stocks gave up some of the ground gained in the last few days as oil fell to $80 again. There may be plenty of problems out there but I think the weak performance of oil sets a very gloomy background for investors. In Jun, WTI was around 105 & the decline to 80 is unnerving for all markets. Big energy companies have money & are able to ride out this storm. But MLPs aren't quite as big & they are having their wildest month ever. Dow is in the red YTD again & down almost 600 in Oct!
Dow Jones Industrials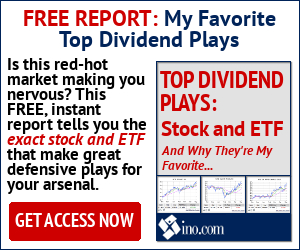 I'm a huge fan of INO & from what I have seen so far, their service Marketclub! This isn't a stripped down version, everything in MarketClub is available to you. I don't want to give everything away, but you'll have unlimited access to my favorite 3 tools: Trade Triangles, Smart Scan & Alerts! The best part is that the MarketClub customer support team will be providing UNLIMITED support!
You can call or email for an instant response to any question, comment or concern.
Here's that link:
https://club.ino.com/join/specialtrial/index_free.html?a_aid=CD3289&a_bid=359ef9a3
I'd recommend you jump on this now.