Dow shot up 263, advancers over advancers a mild 2-1 & NAZ gained 42. After big gains in the last few days, the MLP index was only fractionally higher in the 497s & the REIT index was up 1+ to the 303s. Junk bond funds went up 1-2% & Treasuries saw selling as stock rallied. Oil crawled higher & gold was a tad weaker.
AMJ (Alerian MLP Index tracking fund)
Free Stock Trend Analysis
| | | | | |
| --- | --- | --- | --- | --- |
| CLX14.NYM | ....Crude Oil Nov 14 | ....82.77 | ...0.07 (0.1%) | |
China's central bank is said to plan the injection of about 200B yuan ($32.7B) into some national & regional lenders as Premier Li Keqiang steps up stimulus to support economic growth. The People's Bank of China (PBOC) is providing funds to joint-stock banks to help them prepare for year-end liquidity needs, according to a leaker. Joint-stock banks are mid-sized national banks with mixed ownership. The injection comes after the central bank provided 500B yuan of liquidity to China's 5 biggest banks last month. Premier Li has refrained from using broad-based stimulus & expressed a preference for reform to boost an economy weighed by a property slump. The central bank has informed 20 banks, mainly joint-stock lenders to submit applications for funds in the form of 3-month loans from the central bank. The central bank Governor said this month that the PBOC will stick to prudent monetary policy to ensure reasonable growth in money & credit. China will conduct liquidity operations as needed & push forward with market-based interest-rate reforms. Subdued inflation figures released this week give the bank more room to further ease monetary policy. The PBOC cut the interest rate it pays lenders for 14-day repurchase agreements for the 2nd time in a month this week. Slowed by a cooling real estate market, the economy is expected to expand 7.2% in Q3, the least in more than 5 years.
China's PBOC Said to Plan $32.7 Billion Bank Injection
General Electric, a Dow stock, surged after beating profit estimates as CEO Jeffrey Immelt squeezes more costs from the manufacturing units. Operating margin in the industrial business expanded by 0.9 percentage point in Q3. Adjusted EPS from continuing operations was 38¢ exceeding the 37¢ projection. Immelt built on efforts to shrink GE's finance arm & re-emphasize manufacturing with an agreement last month to sell the historic home-appliances business for $3.3B. In Jul, GE held an IPO for its North American consumer-lending operations, known as Synchrony Financial (SYF). "We are seeing solid pockets of underlying growth in many of our markets," Immelt said, describing the US economy as "probably the best we've seen it since the financial crisis." GE increased equipment orders 31%, including locomotive & jet-engine deals that boosted the transportation & aviation divisions. Quarterly revenue increased 1% to $36.2B, trailing estimates of $36.9B. Adjusted profit from continuing operations rose 3% to $3.8B. Sales climbed 10% in the transportation unit as GE won orders for more than 1K of its latest-generation low-emission locomotives & the aviation division, which is taking orders for its new GE9X engine, boosted revenue 6%. CFO Jeff Bornstein said shipments of gas turbines, jet engines & other equipment are accelerating, & he expects strong performance the rest of the year. "We see the fourth quarter as being a very heavy-volume quarter that's going to drive revenue," Bornstein said. Immelt said GE is "on track" to deliver on its so-called operating framework for 2014 -- the information it gives in lieu of earnings forecasts. The stock went up 57¢. If you would like to learn more about GE, click on this link:
club.ino.com/trend/analysis/stock/GE?a_aid=CD3289&a_bid=6ae5b6f7
GE Rises Most in Year as Margin Gains Boost Profit
General Electric (GE)
Apple CEO Tim Cook is ready to tackle the holiday season with a full product array including new iPads. The challenge now is luring the hordes of buyers that analysts are projecting. The company yesterday unveiled refreshed iPads & Macintosh computers at its California headquarters. The iPads are thinner & include fingerprint sensors, with the Macs boasting features such as sharper displays & faster processors. The devices follow the introduction last month of larger-screen iPhones, a smartwatch & a mobile-payments system. The lineup is ratcheting up projections that AAPL is entering a high growth phase, which Cook will now have to meet. Investors will get a taste of how the latest gambits are performing next week, when fiscal Q4 results are reported. Cook needs to ignite new interest in iPads after sales of the device declined for 2 consecutive qtrs. The iPad's global market share slipped 6.1 percentage points during Q2 as Samsung & other smaller players nibbled at AAPL's lead. New offerings include the iPad Air 2 that is 6.1 millimeters thin, as well as an iPad mini 3. The tablets feature a fingerprint sensor, & will come in a new gold option along with silver & gray. The iPad Air 2 is priced at $499-$82, with some models that have more memory costing $100 less than previous versions, & the new iPad mini is $399-$729. The stock went up 1.41. If you would like to learn more about AAPL, click on this link:
club.ino.com/trend/analysis/stock/AAPL?a_aid=CD3289&a_bid=6ae5b6f7
Apple Unveils Its Thinner IPad Air in Advance of Holiday Shopping Season
Apple (AAPL)
After the market decline in Oct, stocks had a recovery today. It's hard to make too much of it because the market was vastly oversold. Dow finished the week down 164 & is 642 below where it started the month. It's also down YTD. 7 of the last 9 sessions had swings greater than 100. The VIX was down 3 to the 21s today, still far above sub-12 which has been common for so long. REITs were not hit with significant selling in Oct, but the AMZ index plunged to more than 100 below its recent record & then recovered 60 off the low Times in the stock market have been unusually wild & high volatility lies ahead.
Dow Jones Industrials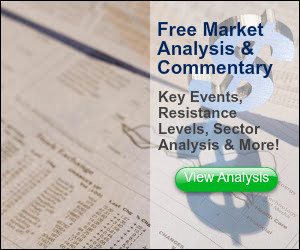 I'm a huge fan of INO & from what I have seen so far, their service Marketclub! This isn't a stripped down version, everything in MarketClub is available to you. I don't want to give everything away, but you'll have unlimited access to my favorite 3 tools: Trade Triangles, Smart Scan & Alerts! The best part is that the MarketClub customer support team will be providing UNLIMITED support! You can call or email for an instant response to any question, comment or concern.
Here's that link:
https://club.ino.com/join/specialtrial/index_free.html?a_aid=CD3289&a_bid=359ef9a3
I'd recommend you jump on this now.