Dow sank 223 finishing at the lows, decliners over advancers a relatively mild 2-1 & NAZ lost another 62. The MLP index
PLUNGED
a record 24+ to the 463s while the REIT index was up pennies in the 299s as some high yield investors switched to REITs. Junk bond funds fell & Treasuries probably would have rallied, but the market was closed for the holiday. Oil rallied a little in the PM to limit its loss but Brent (the other one) is flirting with a 4 year low. Gold rose to a 3-week high as concern that the global economy is faltering stoked bets that the Federal Reserve will keep US interest rates low, driving the dollar down & boosting the metal's allure.
AMJ (Alerian MLP Index tracking fund)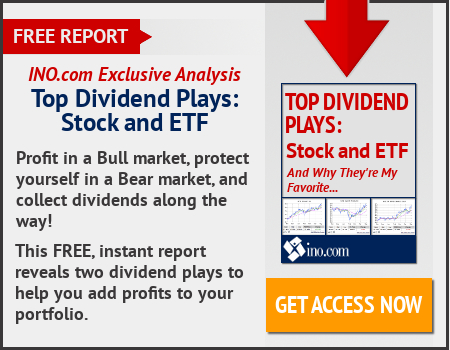 Free Apple Analysis!
Free Stock Trend Analysis
| | | | | | |
| --- | --- | --- | --- | --- | --- |
| CLX14.NYM | ...Crude Oil Nov 14 | ...85.73 | ...0.09 | (0.1%) | |
Mario Draghi & Jens Weidmann are clashing anew over how much more stimulus the ailing euro-area economy needs from the ECB. As Europe's woes again proved the chief concern at weekend meetings of the IMF, pres Draghi repeated he's ready to expand the ECB's balance sheet by as much as €1T ($1.3T) to beat back the threat of deflation. Bundesbank head Weidmann responded by saying that a target value isn't set in stone. The differences at the heart of policy making risk leaving the ECB hamstrung as the region's economy stalls & inflation fades further from the central bank's target of just below 2%. History suggests Draghi will ultimately prevail over his German colleague. The ECB is swelling its balance sheet as it seeks to revive inflation of 0.3%, the lowest in almost 5 years. By buying private-sector assets, as it plans to do from this month, or continuing to accept collateral from banks in return for cheap loans, it is pushing liquidity into the economy. Still unresolved is if it will ultimately buy sovereign debt, a taboo subject in Germany where politicians worry it amounts to financing govs & removing pressure on them to act. Building up assets is the last monetary tool the ECB has left after it cut interest rates to a record low, Draghi said. Action taken so far pushed the € as low as $1.25 this month, the lowest since 2012. The ECB's balance sheet stands at €2.05T, below the 2012 peak of €3.1T & €2.7T at the start of that year. The Bundesbank head is concerned that a balance-sheet target may lead to the ECB paying too much for assets under its programs to purchase asset-backed securities and covered bonds.
ECB Clash Resumes as Draghi Spars With Weidmann on Stimulus
Federal Reserve (FED) policy makers said a slowdown in the world economy could undermine the US expansion & prompt them to delay raising interest rates. "If foreign growth is weaker than anticipated, the consequences for the US economy could lead the Fed to remove accommodation more slowly than otherwise," Vice Chairman Stanley Fisher said at an IMF meeting this weekend. The remarks, echoed by other officials, highlighted mounting concern about the improving US economy's ability to withstand foreign weakness & a strengthening dollar. The comments came the same week that minutes of the Sep policy meeting showed authorities highlighting worries over the risks posed to their economy by deteriorating expansions abroad & a stronger dollar, which could hurt exports & dampen inflation. The IMF last week reduced its forecasts for global growth in 2015, predicting it will be 3.8%, compared with a Jul forecast for 4%, after a 3.3% expansion this year. Treasury Secretary Jacob J. Lew used the IMF meetings to remind his intl counterparts to "avoid persistent exchange-rate misalignments, refrain from competitive devaluation, and not target exchange rates for competitive purposes." Most officials expect to raise the benchmark interest rate some time next year, according to projections released on Sep 17. Fischer said the FED won't raise rates until the US expansion "has advanced far enough," & emerging markets should be able to weather the increase.
Fed Officials Warn Slowing World Growth Could Delay Rate Rises
Photo: Bloomberg
McDonald's, a Dow stock & Dividend Aristocrat, which hasn't always gotten a warm reception on social media, is taking to Twitter (TWTR), Facebook (FB) & YouTube with a Q&A-style ad campaign, aiming to dispel the notion that its food is unhealthy. The world's largest restaurant chain began taking questions from Americans today via social-networking sites, promising to deliver "real answers." As part of the campaign, former "MythBusters" host Grant Imahara will visit suppliers & restaurants nationwide & appear in a series of online videos. The company is using more of an unvarnished approach to marketing as it tries to recover from 4 straight months of declining US same-store sales. MCD drew ridicule for a toothy Happy Meal mascot that some people described as frightening. The company also has been targeted by viral videos, such as one showing a McNugget under a microscope. MCD already has a frequently-asked-questions page on its website with some unflattering information about its food. The company does use food coloring in its milkshakes, for instance, & its McRib sandwich is made from pork shoulder, along with salt, water, dextrose & some preservatives. On the other hand, most restaurants use freshly cracked eggs for breakfast sandwiches, and its apple pies have real apples, MCD said. MCD has been rolling out new menu items & price promotions as it tries to revive US growth. That includes $2 jalapeno burgers & a 20-pack of Chicken McNuggets for $5. Similar ad campaigns have been introduce in Canada & Australia. The more open dialogue follows questions about food safety, especially overseas. "People are looking for faster, more straightforward responses to their questions about our food," a spokesman for McDonald's USA, said. "We're looking forward to engaging in two-way conversations with as many people as possible." The stock fell 1.57. If you would like to learn more about MCD, click on this link:
club.ino.com/trend/analysis/stock/MCD?a_aid=CD3289&a_bid=6ae5b6f7
McDonald's Tests Social-Media Waters With Q&A Campaign
McDonald's (MCD)
Even though this was a semi-holiday with the Treasury market closed, the market had an awful day which is setting up a potentially worse one tomorrow. Dow is down more than 700 this month & we're not halfway thru the month. In addition to energy issues, tech have been weak & small caps have suffered badly. All of a sudden, anticipation of extending low interest rates is taking a back seat to economic fundamentals which don't look good. MLPs are known as low beta securities but you wouldn't know that today. Today's loss was a record one day plunge & the index has fallen 76 (14%) from its peak. Dow is in the red YTD, made worse by major selling in the last hour.
Dow Jones Industrials
I'm a huge fan of INO & from what I have seen so far, their service Marketclub! This isn't a stripped down version, everything in MarketClub is available to you. I don't want to give everything away, but you'll have unlimited access to my favorite 3 tools: Trade Triangles, Smart Scan & Alerts! The best part is that the MarketClub customer support team will be providing UNLIMITED support! You can call or email for an instant response to any question, comment or concern.
Here's that link:
https://club.ino.com/join/specialtrial/index_free.html?a_aid=CD3289&a_bid=359ef9a3
I'd recommend you jump on this now.