Dow lost 5, advancers over decliners 3-2 & NAZ was up 13. The MLP index rallied in the PM, cutting losses to down 6 in the 457s, & the REIT index went up 4+ to the 302s. Junk bond funds fell & that money went into Treasuries. Oil had an enormous drop while there was a limited rally in gold.
AMJ (Alerian MLP Index tracking fund)
Free Apple Analysis!
Free Stock Trend Analysis

| | | | | | |
| --- | --- | --- | --- | --- | --- |
| CLX14.NYM | ....Crude Oil Nov 14 | ....81.86 | ...3.88 | (4.5%) | |
Oil output is expected to grow in all major US shale plays in Nov despite falling global prices as drillers become more efficient. Production per well were projected to increase in fields in North Dakota, Texas & Colorado, the Energy Information Administration (EIA) said in its Drilling Productivity Report. Only about 4% of US shale oil production needs prices above $80 for drillers to break even, the International Energy Agency said today in its monthly oil market report. Producers are getting more oil per dollar spent drilling, driving costs down. Total production in the Permian Basin in Texas & New Mexico, the largest US oil field, is expected to rise 42K barrels a day to 1.8M, the EIA said. Output from new wells will climb 4 barrels a day to to 176 per rig. In South Texas's Eagle Ford, production will increase 35K barrels a day & in North Dakota's Bakken output will climb 29K barrels. Horizontal drilling & hydraulic fracturing in hydrocarbon-rich underground shale layers has helped US oil production grow 65% in the past 5 years to the highest level since 1986. That's reduced US crude imports by more than 3.1M barrels a day since peaking in 2005. The cargoes that the US isn't using have added supply into the world market at the same time that economic growth has slowed, leading to a 24% drop in Brent prices since Jun 19. About 2.6M barrels a day of crude production worldwide comes from projects with break-even prices above $80, the IEA said. US tight oil contributes less than 200K barrels a day of that. "Technological and organizational improvements that have enabled faster drilling rates, greater drilling density, and higher new-well production have all been important to maintaining production in the face of increasingly steep decline curves," the agency said in its report. Research desks have varying views on how low oil prices can fall before shale production is impacted. Low oil prices are squeezing oil producers along with MLPs.
U.S. Shale Oil Output Growing Even as Prices Drop: EIA

Photo: Bloomberg

Johnson & Johnson, a Dow stock & Dividend Aristocrat said growing sales of new hepatitis C drug Olysio boosted 2014 earnings forecast for the 3rd qtr in a row. EPS rose to $1.66 from $1.04 a year earlier, helped by a $1.1B gain from the sale of its Ortho Clinical Diagnostics unit. EPS excluding one-time items of $1.50 a share beat by 6¢ the estimate. Olysio's introduction last year led the drug unit to become the biggest. The blockbuster medicine is combined with other drugs as part of a new generation of treatments for the liver infection that do away with side-effect heavy injections. The pill sold $796M in Q3. Olysio's success, though, isn't expected to continue at the same pace, CFO Dominic Caruso said. A rival compound, Harvoni, was approved last week and will cut into sales. The hepatitis C drugs are among the most expensive in the world, with a 12-week course of Harvoni costing $94K. Prescription drug benefit managers have been waiting for the introduction of additional competing medicines so they can try & wring discounts from the drugmakers. "We plan to remain competitive in the hepatitis C category and we will work with payers to maintain access for Olysio in the marketplace," he said. "Given the size, complexity and diversity of this patient population, we think physicians will continue to need multiple treatment options." Total revenue increased to $18.5B from $17.6B a year earlier. JNJ raised its adjusted EPS forecast for the year to $5.92-$5.97, from $5.85 to $5.92. Prescription drug sales rose to $8.3B. Its best-selling medicines continued to post strong growth, with increased demand for medicines including the arthritis drug Remicade, prostate cancer drug Zytiga, blood thinner Xarelto, diabetes drug Invokana & psoriasis treatment Stelara. Net income in Q3 was reduced by special items of $900M for an increase in the company's litigation reserves, a drug fee charged by Obamacare, the integration of Synthes & costs of running its program for patients with the DePuy ASR Hip. The stock fell 2.11. If you would like to learn more about JNJ, click on this link:
Johnson & Johnson (JNJ)
Wells Fargo Q3 profit matched estimates as fees from mortgage banking fell & lending margins narrowed. EPS was $1.02, above 99¢ a year earlier. That met the estimate. CEO John Stumpf faces slackening demand for mortgages as the housing market shifts away from a refinancing boom that propelled profits in earlier years. With interest rates still near record lows, net interest margin, a measure of profitability, has declined to the lowest in at least 2 decades. Q3 net interest margin fell to 3.06%, below the 3.13% estimate. Revenue increased 3.6% to $21.2B from $20.5B a year earlier, beating the $21.1B estimate. "Our balance sheet has never been stronger, with higher levels of capital and liquidity, and improved asset quality," Stumpf said. "We also remain well positioned to benefit from higher rates in the future." Mortgage banking revenue in declined 5.2% to $1.63B from Q2. Mortgage banking revenue increased 1.6% from Q3-2013. Mortgage refinancings that once fueled profits at the biggest US banks have slowed as interest rates rose from historic lows. WFC accounted for about 16.3% of US home loans Q2, compared with 15.9% in Q1. Mortgages for new home purchases may climb to $195B by next year's Q3, from $115B in this year's Q1, according to estimates from the Mortgage Banks Assoc. Residential originations at WFC rose $1B since Q2 to $48B as the bank's gain on sale margin, a measure of profitability, increased to 1.82% from 1.41%. The stock dropped 1.36. If you would like to learn more about WFC, click on this link:
club.ino.com/trend/analysis/stock/WFC?a_aid=CD3289&a_bid=6ae5b6f7
Wells Fargo Profit Meets Estimates as Mortgage Revenue Drops
Wells Fargo (WFC)
Early gains did not last. Earnings reports were less than impressive. MLPs were vastly oversold which brought in buying. At the low, the index was down a massive 106 from its recent peak. Now it's down "only" 82. Meanwhile, another popular yield play is the REIT sector. That has recovered from its selling & the index is down only 10 (3%) from its recent highs. Earnings & military conflicts will be driving the markets this month. Dow is has fallen 727 in Oct & remains on defense.
Dow Jones Industrials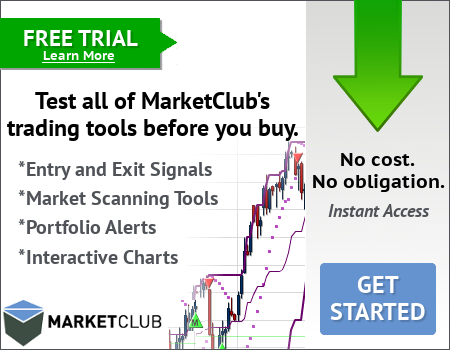 I'm a huge fan of INO & from what I have seen so far, their service Marketclub! This isn't a stripped down version, everything in MarketClub is available to you. I don't want to give everything away, but you'll have unlimited access to my favorite 3 tools: Trade Triangles, Smart Scan & Alerts! The best part is that the MarketClub customer support team will be providing UNLIMITED support! You can call or email for an instant response to any question, comment or concern.
Here's that link:
https://club.ino.com/join/specialtrial/index_free.html?a_aid=CD3289&a_bid=359ef9a3
I'd recommend you jump on this now.