Dow jumped 215 (closing at the highs), advancers over decliners better than 4-1 & NAZ shot up a startling 103. The MLP index jumped 7+ to 510 & the REIT index gained 3+ to 310. Junk bond funds were higher & Treasuries declined, taking the yield on the 10 year Treasury back over 2.2%. Oil continued rising as there is a feeling the sell-off was overdone & gold rose to a 5-week high as traders pushed back estimates for an increase in US interest rates by the Federal Reserve.
AMJ (Alerian MLP Index tracking fund)
Free Stock Trend Analysis
| | | | | | | |
| --- | --- | --- | --- | --- | --- | --- |
| CLX14.NYM | ....Crude Oil Nov 14 | ....83.25 | ...0.54 | | (0.7%) | |
China's economic growth beat the estimates in Q3 as export demand quickened & services expanded, bolstering the gov case for avoiding broader stimulus measures. GDP rose 7.3% in Q3 from a year earlier, the statistics bureau said. While that exceeded the 7.2% estimate, it was also the slowest expansion since the Q1-2009. China's leaders have relaxed home-purchase controls & the central bank has pumped liquidity to lenders as they seek to limit a property-induced slowdown. The gov has eschewed across-the-board interest rate cuts & signaled it will tolerate a weaker expansion, leaving the economy headed for the slowest full-year growth since 1990. Industrial production rose 8% in Sep from a year earlier, compared with the 7.5% estimate & 6.9% in Aug (the slowest in more than 5 years). Retail sales increased 11.6% from a year earlier, compared with the 11.7% estimate & 11.9% in Aug. Fixed-asset investment excluding rural households increased 16.1% in the first 9 months from a year earlier, the slowest rate since 2001. That compared with the estimate 16.3% growth & the 16.5% pace in Jan-Aug. The People's Bank of China has avoided cuts to benchmark interest rates or banks' reserve requirements to boost growth. It lowered the interest rate it pays lenders for 14-day repurchase agreements for the 2nd time in a month last week & has also injected liquidity into some banks. Premier Li Keqiang has expressed a preference for reform to boost the economy & the PBOC Governor has vowed to stick with a prudent monetary stance. President Xi Jinping said in May that the nation needs to adapt to a "new normal" in the pace of growth. The economy grew a seasonally adjusted 1.9% in Q3 from the prior period, compared with the 1.8% estimate.
China's GDP Growth Bolsters Case for Stimulus Restraint
Tim Cook, Apple's CEO yesterday forecast a record holiday sales qtr, fueled by new bigger-screen iPhones, refreshed & slimmer iPads & the introduction of the Apple Pay mobile-payments service. It would be the 4th straight year that Cook will have overseen a record end-of-year period. Cook has increasingly honed all of the elements for a strong holiday quarter, stacking them in AAPL's favor by moving most of the company's product debuts toward the end of the year. The company said that revenue in the current period will be $63.5-$66.5B, just topping the $63.5B estimate. That would exceed the holiday sales of $57.6B for the end of 2013. AAPL ended the qtr with $155.2B in cash. Cook took the opportunity yesterday to talk up the prospects for the holiday period saying, "Demand for the new iPhones has been staggering." The end-of-year forecast builds on a fiscal Q4 performance that also topped projections. For the qtr ended Sep, EPS rose to $1.42 from $1.18 a year ago. Sales were $42.1B, up 12% from $37.5B a year earlier. Analysts had projected EPS of $1.30 on sales of $39.9B. IPhone sales for the 4th qtr, including more than a week of the new iPhone 6 & 6 Plus on store shelves, were 39.3M, up 16% from a year ago & more than the 38M predicted. AAPL finished the qtr with a backlog of orders, CFO Luca Maestri said, adding that production of the 6 Plus is increasing every week. IPhone demand is so strong that supply has fallen below the company's inventory target of 4-6, Maestri said. The stock rose 2.71. If you would like to learn more about AAPL, click on this link:
club.ino.com/trend/analysis/stock/AAPL?a_aid=CD3289&a_bid=6ae5b6f7
Apple CEO Cook Projects Another IPhone-Fueled Record Sales During Holidays
Apple (AAPL)
Verizon, a Dow stock, missed profit estimates as more new subscribers took advantage of discounts on devices. Q3 EPS of 89¢ missed the projection of 90¢. Sales climbed 4.3% to $31.6B, in line with the estimate. VZ continues to use the promotional prices to lure subscribers into 2-year contracts. Smartphone & tablet markdowns helped VZ add 1.52M contract customers, surpassing the estimate of 1.34. About 2/3 of the new wireless lines were for tablets which VZ has even given away free earlier this year. "Tablets are a huge growth opportunity for the next few years," CFO Fran Shammo said. Attaching tablets, cars & other devices to service plans increases data use and makes for larger monthly bills, Shammo added. Meanwhile, 12% of new customers signed up for the company's newer smartphone installment plans, which don't require long-term contracts for wireless service. The margin for wireless service fell 1.6 percentage points to 49.5%. The company said it will end the full year of 2014 with a higher margin than last year. CEO Lowell McAdam had already announced that subscriber growth was more than 40% higher than a year earlier. The average size of a family's monthly bill climbed 3.5% to $161.24, compared with the $160.86 estimate. That was down from a 4.7% increase in Q2 & 6.3% in Q1. The slowing growth reflects the impact of the company's Edge installment-pay plans for phones, which separate device costs from service fees. Landline revenue fell 0.8% to $9.6B, continuing a long trend of declines. Wired home & business lines represents about 1/3 of sales. The stock rose 21¢. If you would like to learn more about VZ, click on this link:
club.ino.com/trend/analysis/stock/VZ?a_aid=CD3289&a_bid=6ae5b6f7
Verizon Misses Profit Estimates as Device Discounts Trim Margins
Verizon (VZ)
Fear has gone out the window as buyers are piling into stocks. I think the biggest reason is that oil is recovering which sends a bullish signal about economies around the world. However, over the short term, low prices at pumps will probably get consumers to spend more on other purchases. Next week the FOMC meets to decide about ending the QE3 program, which it will probably do since the stock market has recovered, & may give signals about when interest rates will be raised. Dow is back in the black YTD, but barely.
Dow Jones Industrials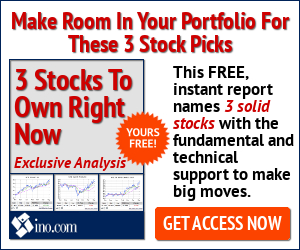 I'm a huge fan of INO & from what I have seen so far, their service Marketclub! This isn't a stripped down version, everything in MarketClub is available to you. I don't want to give everything away, but you'll have unlimited access to my favorite 3 tools: Trade Triangles, Smart Scan & Alerts! The best part is that the MarketClub customer support team will be providing UNLIMITED support! You can call or email for an instant response to any question, comment or concern.
Here's that link:
https://club.ino.com/join/specialtrial/index_free.html?a_aid=CD3289&a_bid=359ef9a3
I'd recommend you jump on this now.