Dow slid 2, decliners over advancers 4-3 & NAZ lost 10. The MLP index keeps sliding, down 2+ to the 485s & down 52 from the recent peak in Sep, & the REIT index rose 1+ to the 299s as money is flowing out of MLPs into REITs. Junk bond funds were mixed to lower & the yield on the 10 year Treasury is below 2.3% (market closed today). Oil continues sinking (see below) & there was nibbling by bargain hunters in gold.
AMJ (Alerian MLP Index tracking fund)
| | | | | | |
| --- | --- | --- | --- | --- | --- |
| CLX14.NYM | ...Crude Oil Nov 14 | ...84.67 | ...1.15 | (1.3%) | |
| | | | | | | |
| --- | --- | --- | --- | --- | --- | --- |
| GCV14.CMX | ...Gold Oct 14 | ......1,227.50 | ....6.50 | | (0.5%) | |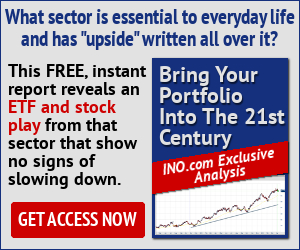 China's slowing economy received a shot in the arm from faster export growth in Sep, with external demand spilling over to boost imports for processing & re-shipment of goods such as the iPhone 6. Exports increased 15.3% from a year earlier, the biggest increase since Feb 2013 & beating the 12% estimate. Imports rose 7%, against projections for a 2% decline, leaving a trade surplus of about $31B, according to the customs administration. Stronger exports will help China weather a property slump even as the global outlook becomes more clouded, with Federal Reserve officials highlighting concern about the improving US's economy's ability to withstand foreign weakness. A surge in imports for processing & re-export suggested domestic demand remains subdued, while a 34% increase in shipments to Hong Kong reignited speculation that figures are inflated. The iPhone 6 has "positive impacts on processing trade," a spokesman for the customs agency said. The customs department of Zhengzhou, where the iPhone factory is located, reported 6.22M exports of new iPhone models by Sep. The increase in exports follows a previously reported 9.4% jump in Aug & compares with estimates for gains of 7.7-16.6%. The surge was boosted by weakness in the year-earlier period, when shipments fell 0.3%.
China's Exports Buoy Growth as IPhone Inflates Imports
Russian troops are pulling back from the border with Ukraine, according to the gov in Kiev, calling it a positive move. Pres Putin ordered Russian forces to withdraw from Ukraine's borders on Sat. About 17K soldiers, who were on drills since the summer in the Rostov region, are to be redeployed at their permanent bases, according to the Kremlin's website. "We have information that military units that were arriving at the border with Ukraine and were deployed in camps are now seen moving to go back to areas of permanent deployment," a Ukrainian military spokesman said. "The withdrawal of military units, especially aviation and armed vehicles, from the Ukrainian border is a positive process and it helps decrease tensions in the area." EU Energy Commissioner may visit Kiev for natural gas talks next Mon, the day before the 2 sides are scheduled to meet with Russian representatives in Berlin. The delegations are seeking to reach an accord on Russian natural gas supplies to Ukraine & EU countries. Pro-Russian separatists have been attacking fewer locations in the war-torn east, while gov forces repelled 3 rebel attacks on Donetsk airport yesterday.
Ukraine Sees Pullback of Russian Troops From the Border as Positive Sign
Iraq will sell its Basrah Light crude to Asia at the biggest discount since Jan 2009 as it follows Saudi Arabia & Iran in cutting prices amid a slump in Brent futures to the lowest in almost 4 years. Iraq, the 2nd-biggest producer in the OREC, trimmed the price differentials for supplies to Asia & Europe for Nov the country's State Oil Marketing said. The world's 2 most-traded oil futures (Brent & WTI) are collapsing as demand growth slows & output expands in the US, Russia & other nations. OPEC's biggest producers are responding by cutting prices, sparking speculation they are ready to compete for market share. Iran last week said it will sell oil to Asia in Nov at the biggest discount in almost 6 years, matching cuts by Saudi Arabia. "What's happening in the market is good for big Middle-East customers like us," said B. Ashok, the chairman of Indian Oil, the country's largest state-run refiner that counts Iraq as its biggest supplier. "We have to wait and see where prices go in coming months. Usually, they tend to rise a bit in winter."
Iraq Follows Saudi Cuts as Brent Slides to 4-Year Low
Stocks started the day strong out of the gate, but the bulls are giving up. WTI & Brent keep sinking to new lows, not good news about the global economy. This may encourage the Federal Reserve to continue its low rate policy longer. That's a plus for the bulls but even bulls have to admit that dreary economic news is discouraging. The political scene continues chaotic with ISIL advancing on Baghdad. This is a semi holiday for trading with the Treasury market closed. Tomorrow will be more exciting when 3 big banks report earnings.
Dow Jones Industrials