Dow gained 51, advancers over decliners 5-4 & NAZ added 22. The MLP index recovered 2+ to the 298s & the REIT index went up 1+ to go over 300. Junk bond funds drifted lower & Treasuries were little changed. Oil climbed to the 45s while gold was flattish.
AMJ (Alerian MLP Index tracking fund)
| | | | | | | |
| --- | --- | --- | --- | --- | --- | --- |
| CLX15.NYM | ...Crude Oil Nov 15 | ...44.94 | ...0.51 | | (1.2%) | |
| | | | | | | |
| --- | --- | --- | --- | --- | --- | --- |
| GCV15.CMX | ...Gold Oct 15 | ......1,132.90 | ...1.20 | | (0.1%) | |
The Conference Board's index of consumer confidence increased to 103 in Sep from 101.3 a month earlier. The forecast called for a reading of 96.8, with estimates ranging from 90 to 102.5.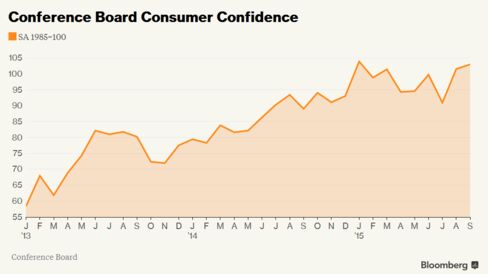 In Jul, home prices grew steadily, underscoring that the housing market enjoyed a strong first half of the year even as more recent indicators suggest it is slowing. The S&P/Case-Shiller Home Price Index, covering the entire nation, rose 4.7% in the 12 months ended in Jul, greater than a 4.5% increase in Jun. The 10-city index gained 4.5% from a year earlier, compared with a 4.6% increase in Jun. The 20-city index gained 5% year-over-year. Economists expected a 5.1% increase in the 20-city index. David Blitzer, managing director & chairman of the Index Committee, said the home-price index has risen at a 4% or higher annual rate since Sep 2012, well ahead of inflation. "Prices of existing homes and housing overall are seeing strong growth and contributing to recent solid growth for the economy," he said. Month-over-month price gains were modest. Not seasonally adjusted, the US Index rose 0.7% from Jun to Jul. The 10-city index & 20-city index both rose 0.6% over the month. After seasonal adjustment the national index was up 0.4%. The 10-city & 20-city composite were both down 0.2% over the month. The hottest markets in the country continued to show sharp price gains, with San Francisco recording gains of 10.4%, Denver of 10.3% & Dallas of 8.7%. The housing market has been slowing in recent months after a strong start to the year. Most economists view the cooling off as healthy because they note prices in many markets were increasing faster than incomes, making it difficult for younger buyers to afford to buy a home. Most recently, the National Association of Realtors said a forward-looking indicator of the housing market, its pending home-sales index, which is based on signings for purchases of previously owned homes, declined 1.4%. The realtors blamed a lack of supply of homes on the market for stifling sales.
Congress moved to rush legislation to Obama that avoids a gov shutdown on Thurs as the new fiscal year starts while setting aside a bitter Rep feud over money for Planned Parenthood. The Senate kicked off the effort by advancing a measure to extend all previous agency funding levels until Dec 11, in a bipartisan 77-19 procedural vote. That clears the way for the Senate to pass the spending bill by early tomorrow, sending it to the House for passage just in time to beat a midnight Wed deadline. The stop-gap spending measure is aimed at buying time for negotiators to reach a longer-term budget agreement that lasts thru Sep 2016. New Rep House Majority Leader Kevin McCarthy, who is expected to succeed John Boehner, vowed to avoid another shutdown threat in Dec when the stop-gap funding ends & a federal debt ceiling limit is needed.
Today's recovery falls shot of impressive. Yesterday was a vivid reminder that that high volatility in the stock market is alive & well. Glencore issued calming words after yesterday's plunge (in the UK) & that stock bounced back. But the stock market has to deal with a ton of problems & earnings season begins in a few days. Expectations for earnings are not good. Dow is down almost 500 in Sep & could be followed by a volatile Oct.
Dow Jones Industrials