Dow rose 76 (well off the highs), advancers slightly ahead of decliners & NAZ gained 39. The MLP index was off fractionally to 345 (still down more than 200 from last year's record highs) & the REIT index added a fraction in the 392s. There was buying in junk bond funds & Treasuries retreated. Oil had a strong day (see below) & gold rebounded from recent selling.
AMJ (Alerian MLP Index tracking fund)
| | | | | | | |
| --- | --- | --- | --- | --- | --- | --- |
| CLV15.NYM | ....Crude Oil Oct 15 | ....45.88 | ...1.73 | | (3.9%) | |
China appeared to expand efforts to bolster its currency in an attempt to align its exchange rates at home & abroad. The yuan rose a record 1.2% in the offshore market amid speculation the People's Bank of China was again acting to contain the months-long turmoil in Chinese financial markets. The move came on the same day the country opened its domestic foreign-exchange market to overseas central banks. Traders said the intervention combined with the change in its domestic policy will further China's long-time goal of making the yuan more of an intl currency. The yuan strengthened to 6.3936 per dollar, the biggest one-day advance since offshore trading began 5 years ago. The gov has launched a series of measures in recent months to shore up growth & boost equity valuations, ranging from devaluing the currency to cutting interest rates & cracking down on stock market manipulation to stem a rout that has wiped out $5T in shareholder value.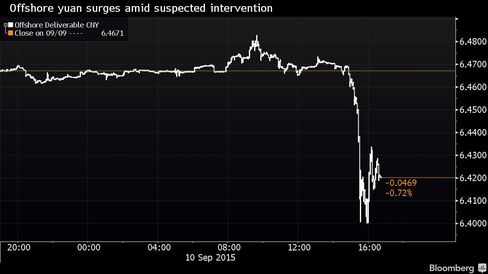 Since devaluing its currency a month ago & shifting to a more market-oriented exchange rate, China has been intervening to limit depreciation, a policy that led to an unprecedented $94B drop in its foreign-currency reserves in Aug. The yuan will be kept stable at a reasonable level, Premier Li Keqiang said today, while announcing that foreign central banks would be allowed to trade in China's domestic currency market.
Oil prices rallied as indications of strong US demand for gasoline overshadowed news of increased US inventories of crude. A weaker dollar also made dollar-denominated crude more affordable to holders of the €, while higher equity prices enhanced bullish sentiment in oil markets. US Energy Information Administration data showed demand for gasoline over the latest 4-week period was up almost 4% from a year ago, bullish for late-summer consumption of the motor fuel. Gasoline inventories, meanwhile, rose just about ½ of expected levels last week. Encouragement about gasoline demand outweighed concern over data showing US crude oil stockpiles rose nearly 2.6M barrels last week, more than double the build of the 933K barrels forecast. Concern about the rise in crude inventories was also mitigated by a drawdown in crude stockpiles at the Cushing, Oklahoma delivery point for US crude. Keeping pressure on prices, producer group OPEC has kept the spigots open to protect market share. Leakers said today Saudi Arabia was disinclined to hold a summit of oil producing countries if the discussions would fail to produce concrete action towards defending oil prices.
Google will roll out Android Pay, a one-touch payment app on Android devices, in more than 1M locations in the US on today. The payment service can be used thru Android devices with near-field communication (NFC) technology & Google's KitKat 4.4+ operating system. Android Pay will compete with Apple Pay in the mobile payments market, which research firm IDC estimates at $1T in 2017. Existing users of Google Wallet app can access Android Pay thru an update, while new users can download it from Google Play store in the next few days. Android Pay will be made available in more locations over the next few days & more features will be added to it in the coming months. Android Pay will support credit & debit cards on payment networks of popular credit cards cards issued by major banks. As part of security, the service is supported by the industry standard "tokenization" card-security service. Tokenization service substitutes random numbers for a user's credit card details when a merchant transmits transaction data, reducing the risk of online theft. The app will come preinstalled on new NFC-enabled phones from major wireless carriers. High priced GOOG stock went up 8+. If you would like to learn more about GOOG, click on this link:
club.ino.com/trend/analysis/stock/GOOG?a_aid=CD3289&a_bid=6ae5b6f7
Google (GOOG)
Market volatility as shot up in the last month. The VIX, volatility index, was wallowing around 12 for months & months. But last month it soared to 53 & today is around 25, where it has spent much of the time in the last month. Timid investors are being reminded about what fluctuations in the stock market are about. All kinds of thoughts about the FOMC meeting next week & how changes in oil prices can move stocks prices wildly, even during the day. Little can be made from these gyrations, but the stock market is much different from the way it has behaved during the 6 year recovery. High volatility on whims about this & that are a strong negative for stocks.
Dow Jones Industrials