Dow dropped 272 (but off the lows), decliners over advancers 5-2 & NAZ fell 49. The MLP index dropped 2 to the 351s & the REIT index was off 4+ to the 292s. Junk bond funds were mixed to lower & Treasuries were bought as stocks were sold. Oil saw selling again & gold was also weak.
AMJ (Alerian) MLP Index tracking fund)
| | | | | | |
| --- | --- | --- | --- | --- | --- |
| CLV15.NYM | ....Crude Oil Oct 15 | ....46.54 | ...0.21 | (0.5%) | |
Investors who woke up today expecting clarity on interest rates or the strength of the US economy got neither. Stocks fell with emerging-market currencies & commodities after data showed the US economy added fewer jobs than expected even as wages & hours worked rose. Declines in US shares deepened in PM trading, as anxiety remained elevated before a 3-day weekend, with financial markets unable to shake off volatility that's jolted them since Aug.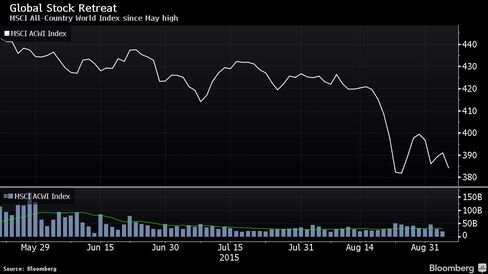 Persistent hiring indicates employers were upbeat about America's demand prospects amid mounting concerns of further deterioration in emerging economies. At the same time, the report failed to convince that the American economy can underpin global growth amid increasing signs China's weakness is spreading.
German factory orders dropped a larger than expected 1.4% in Jul compared to the previous month, dragged down by flagging foreign demand. The Federal Statistical Office reported that it revised the Jun 2% increase downward to a rise of 1.8%, adjusted for seasonal & calendar factors. In Jul, domestic orders increased 4.1% but foreign orders decreased 5.2%. New orders from the euro currency area were up 2.2%, but new orders from other countries dropped 9.5%.
German factory orders drop in July
The US trade deficit fell in Jul to its lowest level in 5 months as exports rose, signaling underlying strength in the economy amid concerns about a global growth slowdown. The Commerce Dept said the trade gap narrowed 7.4% to $41.9B, the smallest since Feb. The trade deficit in Jun was revised to $45.2B from the previously reported $43.8B. The forecast was for the trade gap shrinking to $42.4B. When adjusted for inflation, the deficit fell to $56.2B from $59.0B in the prior month. The smaller deficit implied a modest contribution to GDP from trade early Q3. Trade contributed 0.3 percentage point to the economy's 3.7% annualized growth rate in Q2. In Jul, exports increased 0.4% to $188.5B. While that was the first increase since Apr, exports remain constrained by a strong dollar. The dollar has gained 16.8% against the currencies of the US main trading partners since Jun 2014. There were increases in exports of food, industrial supplies & materials, & capital goods in Jul. Automobile exports also rose. Imports fell 1.1% to $230.4B. However, automobile imports were the highest on record. Imports of consumer goods fell in Jul. Exports to China fell 1.9% & imports from that country dipped 0.2%. That left the politically sensitive US-China trade deficit at $31.6B, up 0.4% from Jun. Exports to Canada fell 8.3% & could come under more pressure after the Canadian economy slipped into recession in Q2. Exports to recession-hit Brazil were the lowest since Feb 2010. Exports to the EU fell 5.3%.
The traders still at work are as confused as everybody else about the whether there will be an interest rate hike in 2 weeks. It should not make a major difference, because it is coming & very likely soon. Additional hikes will be phased in slowly. Trading was unsettled today as stock positions were closed out ahead of a long weekend in a very unsettled world. Dow is down more than 400 in Sep, not a good sign for the remainder of the month.
Dow Jones Industrials