Dow added 228, advancers over decliners 5-1 & NAZ soared 87. The MLP index recovered a relatively modest 5+ to the 284s after yesterday's drubbing & the REIT index rose 2 to the 303s. Junk bond funds were mixed & Treasuries pulled back. Oil inched higher & gold sold off again.
AMJ (Alerian MLP Index tracking fund)
| | | | | | |
| --- | --- | --- | --- | --- | --- |
| CLX15.NYM | ...Crude Oil Nov 15 | ...44.96 | ....0.27 | (0.6%) | |
| | | | | | |
| --- | --- | --- | --- | --- | --- |
| GCV15.CMX | ...Gold Oct 15 | ......1,114.40 | ...12.70 | (1.1%) | |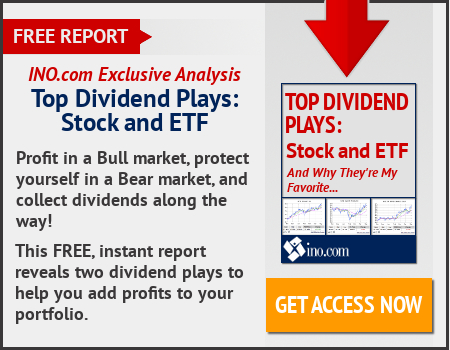 Companies stepped up hiring in Sep, indicating the job market is standing firm in the face of weaker global demand. A 200K increase followed a revised 186K rise in the prior month, according to the ADP Research Institute. The projection called for an advance of 190K. Additions to company headcounts are consistent with resilient demand in the US even as some industries face challenges of weaker overseas sales. Labor Dept data on Fri are projected to show payroll gains accelerated in Sep compared with Aug.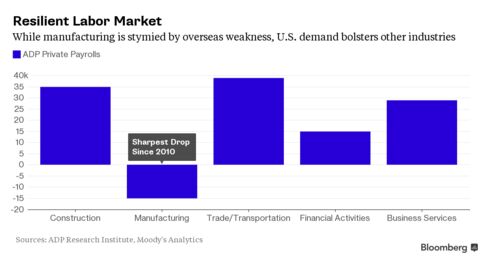 "The U.S. job machine continues to produce jobs at a strong and consistent pace," Mark Zandi, chief economist at Moody's Analytics said (Moody's produces the figures with ADP). "Despite job losses in the energy and manufacturing industries, the economy is creating close to 200,000 jobs per month. At this pace, full employment is fast approaching." ADP previously reported an Aug advance of 190K. Goods-producing industries, which include manufacturers & builders, increased headcounts by 12K. Hiring in construction climbed 35K, almost twice the 18K gain a month earlier. But factories cut 15K jobs in Sep (the biggest decline since Dec 2010). Payrolls at service providers increased by 188K. Companies employing 500 or more workers created 106K more jobs. Medium-sized businesses, with 50-499 employees, boosted headcounts by 56K & small companies increased payrolls 37K. The ADP report is based on data from businesses with almost 24M workers on their payrolls. The Sep jobs report from the Labor Dept may show private businesses added 200K employees after a 140K increase in Aug while the unemployment rate probably held at 5.1% (lowest since Apr 2008).
The Senate plans to pass a spending bill within the hour to keep the gov running, leaving hours to spare for the House to vote before a potential shutdown. "I'm optimistic it will pass" in the House, Majority Leader Mitch McConnell, said. He also said that he, House Speaker John Boehner & Obama plan to start discussions soon on setting gov spending limits for the next 2 fiscal years. The short-term spending bill (HR 719) would finance the gov thru Dec 11. "We've got a lot on our plate," Boehner said. While conservative Reps have said they wouldn't back any spending extension that continues to fund Planned Parenthood, the House plans to rely on Dem votes to help pass a stopgap funding measure that includes money for the health group.
China's central bank cut the minimum home down payment required of first-time buyers for the first time in 5 years, stepping up support for the property market after 5 interest-rate reductions since Nov failed to reverse an economic slowdown. The People's Bank of China (PBOC) cut the minimum down payment for buyers in cities without purchase restrictions to 25% from 30%. The previous requirement had been in place since 2010, when the gov boosted the ratio from 20% to help curb property speculation. The move extends a year of loosening in the property market as Premier Li Keqiang seeks to boost demand after fiscal & monetary stimulus produced few signs of a rebound. Forecasts suggest growth will slow to 6.8% this year, below the gov target for an expansion of about 7%. While property investment has remained weak, home sales have recovered after mortgage policy easing & removal of purchase restrictions helped support demand. New-home prices rose in 35 of 70 cities in Aug, up from 31 in Jul & just 2 cities in Feb. The gov also has urged some cities to allow citizens to borrow more from housing funds to help buyers, & encouraged cities to securitize more of those loans.
Although stocks have returned to their winning ways, Dow is still going to record a big loss in Q3. Funding to keep the gov running for a couple of months remains uncertain. The intl scene is not pretty highlighted by more uncertainty over the MidEast region (& oil production). Earnings season is around the corner & analysts have a lot of fingers crossed. Moves in today's markets are suspect as fund managers are more concerned with buys & sells to make their data look good, not fundamentals. Also beaten up biotechs are higher on bargain hunting. Meanwhile yield stocks are up only modestly.
Dow Jones Industrials