Dow rose 123, advancers over decliners 2-1 & NAZ gained 45. The MLP index shot up 8+ to the 263s & the REIT index rose 1+ to the 319s. Junk bond funds slid lower & Treasuries inched higher. Oil recovered a bit but still wallows in the 34s & gold had a good advance.
AMJ (Alerian MLP Index tracking fund)
| | | | | | | |
| --- | --- | --- | --- | --- | --- | --- |
| CLF16.NYM | ....Crude Oil Jan 16 | ....34.80 | ...0.07 | | (0.2%) | |
China's leaders signaled they will take further steps to support growth, including widening the fiscal deficit & stimulating the housing market, to put a floor under the economy's slowdown. Monetary policy must be more "flexible" & fiscal policy more "forceful" as leaders create "appropriate monetary conditions for structural reforms," according to statements released at the end of the gov Central Economic Work Conference. It said the fiscal deficit ratio should be raised gradually. While the leadership also endorsed structural reforms & reining in China's increasing reliance on credit, the macroeconomic policy statements indicated concern about letting the economy's expansion slow too much. The gov annual growth target is typically set at the gathering; President Xi Jinping has said the nation must meet a minimum pace of 6.5%. The growth target this year was for a rate of about 7%. Even meeting that, China would see its weakest expansion since 1990. Officials also pledged assistance for rural residents seeking to buy homes in urban areas & encouraged cheaper residential prices, which would help shrink a glut of unsold properties. The gov will promote "consolidation of property developers" & encourage them to change marketing strategies & outdated restrictions on home ownership will be removed. People's Bank of China officials have mapped out such moves, including setting the 7-day Standing Lending Facility interest rate as the ceiling & interest on excess bank reserves as a floor for rates. Communist Party officials in their look toward 2016 also affirmed they will step up supply-side reforms such as dealing with overcapacity.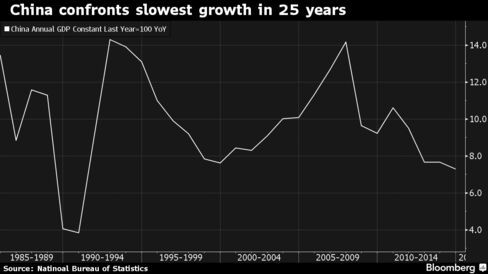 Cutting costs for businesses "will be a major task" next year & the gov should streamline administrative procedures, cut taxes & fees, & reduce social security contributions to help lower expenses. Financial regulators need to reduce financing costs for companies & help "normalize interest rates" to benefit the economy. Authorities also should consider lower value-added taxes on manufacturing.
Federal Reserve Bank of Atlanta pres Dennis Lockhart said the central bank's commitment to a "gradual" tightening suggests interest rates could be raised at every other meeting of the FOMC, though the actual pace will depend on incoming economic data. "Moving up gradually means not every meeting, in all likelihood," Lockhart said. "The rate of rising interest rates will be more like every other meeting." Last week, policy makers separately forecast an appropriate rate of 1.375% for the rate at the end of 2016, implying 4 qtr-point increases in the target range next year. The "important point" is the pace will depend on "how the economy performs," Lockhart said. "It will be gradually, but data dependent." The rate hike reflects a "solid" outlook for the economy, with inflation likely to move toward the Fed's 2% goal after the temporary drags from lower oil prices & a stronger dollar end. "The public should see this is a vote of confidence in the economy," he said. Manufacturing could benefit as global conditions improve, adding that growth in China has stabilized & Europe seems to be picking up.
Office supply retailer Staples said the Federal Trade Commission had rejected its offer to divest up to $1.25B of commercial contracts to secure approval for its acquisition of smaller rival Office Depot (ODP). SPLS said it was willing to continue talks with the FTC to reach a settlement to address the antitrust regulator's concerns. The FTC sought this month to block the deal, saying a combination of the top 2 office supply retailers would lead to higher prices for small commercial customers. SPLS stock down pennies & ODP lost pennies. If you would like to learn more about SPLS, click on this link:
club.ino.com/trend/analysis/stock/SPLS?a_aid=CD3289&a_bid=6ae5b6f7
Staples (SPLS)
Thanks to buying in the last ½ hour of trading, stocks had a good day. But after all the selling late last week, this was not an impressive or meaningful rebound. Interest rates are being raised, even if only modestly, & the outlook for oil continues to be grim. Dow is down 600 YTD & is almost certain to have its first yearly decline in years. Jan has the makings of another tough month.
Dow Jones Industrials