Dow soared 224 (near the highs with limited selling at the close), advancers over decliners more than 4-1 & NAZ rose 75. The MLP index recover 10+ to 261 & the REIT index gained 6 to 324. Junk bond funds had a relatively modest rebound after recent selling & Treasuries sold off. Oil dropped to the 35s on inventory data (see below) & gold had a good day on bets against the outcome of the rate hike.
AMJ (Alerian MLP Index tracking fund)
| | | | | | |
| --- | --- | --- | --- | --- | --- |
| CLF16.NYM | ....Crude Oil Jan 16 | ....35.71 | ...1.64 | (4.4%) | |
The Federal Reserve raised interest rates for the first time in almost a decade in a widely telegraphed move while signaling that the pace of subsequent increases will be "gradual" & in line with previous projections. The FMOC unanimously voted to set the new target range for the federal funds rate at 0.25-0.5%, up from zero-0.25%. Policy makers separately forecast an appropriate rate of 1.375% at the end of 2016, the same as Sep, implying 4 quarter-point increases in the target range next year.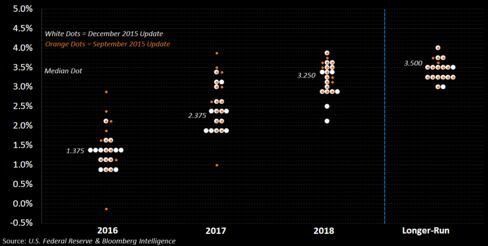 "The committee judges that there has been considerable improvement in labor market conditions this year, and it is reasonably confident that inflation will rise, over the medium term, to its 2 percent objective," the FOMC said. The Fed said it raised rates "given the economic outlook, and recognizing the time it takes for policy actions to affect future economic outcomes." "The committee expects that economic conditions will evolve in a manner that will warrant only gradual increases in the federal funds rate," the FOMC said. "The actual path of the federal funds rate will depend on the economic outlook as informed by incoming data." The FOMC expects to maintain the size of its balance sheet "until normalization of the level of the federal funds rate is well under way."
The price difference between US oil & the global benchmark narrowed to the smallest level in months after Congress agreed to lift the ban on most US crude exports. Both benchmarks traded lower on an industry report that showed that total US commercial inventories of crude oil & refined products rose to a record high last week. US crude has cost less than Brent in recent years due to booming shale-oil production. The export ban has kept US producers largely restricted to selling their crude to US refineries, many of which are designed to process different grades of imported crude. Producers were forced to discount their crude to encourage refiners to buy more domestic oil & import less. Yesterday, congressional leaders agreed to lift the 40-year-old export ban as part of a broader spending & tax bill. The bill must still be passed & signed into law. The price gap between the 2 benchmarks stood at less than $1 a barrel today, the narrowest level since Jan. Weekly inventory data from the Energy Information Administration showed an increase of 4.8M barrels of crude oil stocks. Analysts expected that crude-oil inventories fell 1.4M barrels. Crude supplies rose as refineries processed less crude than expected & imports increased. US crude production rose 12K barrels a day to 9.2M barrels a day. Supplies of gasoline & distillates, including heating oil & diesel fuel, also rose. Total crude & refined-product commercial stockpiles climbed by 5M barrels to 1.31B barrels, a record in EIA data going back to 1990. Crude supplies usually fall at this time of year as refineries buy more crude to process into heating oil to meet indoor-heating demand, but heating-oil consumption has been low this year due to mild weather in the US.
Google plans to make its self-driving cars unit, which will offer rides for hire, a stand-alone business under the Alphabet corp umbrella next year, according to leaker. The autonomous vehicles have logged more than 1M miles on public roads, mostly around San Francisco & Austin, Texas, making these cities logical places for launching a service. The fleets, which would include a range of large & small vehicles, could be deployed first in confined areas like college campuses, military bases or corp office parks. GOOG is trying to provide the clearest indication on how it plans to make money from self-driving automotive technologies that it began testing in 2009. In Aug, the company reorganized itself into a conglomerate called Alphabet & the company plans to spin out several of its advanced-technology units into stand-alone companies within the Alphabet portfolio, including its robotics division, its health-care company Verily, the Google Ventures & Google Capital investment firms, Google (the search-engine company) & Nest, which produces intelligent smoke alarms & thermostats. The self-driving car unit now resides in the research division called Google X. High priced GOOG stock shot up 14. If you would like to like more about GOOG, click on this link:
club.ino.com/trend/analysis/stock/GOOG?a_aid=CD3289&a_bid=6ae5b6f7
Alphabet (GOOG)
Stocks like what Janet had to say. This hike was well planned & advertised, so there was no problem absorbing the news. However, oil has been the major drag on the stock market & that may continue after today's excitement over the rate hike dissipates. Lifting the export ban on oil is a plus for business, but the larger issue is global with too much supply & not enough demand (that is barely growing). The 3 top oil producers (Russia, Saudi Arabia & the US) are not reducing supply & increased shipments from Iran will begin shortly. Dow is up slightly in Dec & still in the red YTD.
Dow Jones Industrials