Dow climbed 103, decliners still over advancers 3-1 after buying in the last hour & NAZ gained 18. The MLP index sank 7+ to the 247s (but above the lows) & the REIT index was up 1+ to the 314s. Junk bond funds continued very weak (many down more than 2%) & Treasuries were sold, bringing lower prices & higher yields. Oil rose with a mild rally pushing it back into the 36s & gold dropped again, maybe headed for 1000.
AMJ (Alerian MLP Index tracking fund)
| | | | | | | |
| --- | --- | --- | --- | --- | --- | --- |
| CLF16.NYM | ....Crude Oil Jan 16 | ....36.51 | ...0.89 | | (2.5%) | |
Oil's slump since OPEC met on Dec 4 has struck fear into any remaining crude bulls. The last time the group rattled the market like this, after its Nov 2014 meeting, the pain was more than twice as deep. The message that OPEC delivered this month, it will keep pumping until rival producers scatter, is really just a repeat of the stance taken last Nov. After that gathering, crude prices plunged 40% in 7 weeks of losses as the market realized the global surplus would remain. A similar performance this time around would take prices down to the mid-$20s.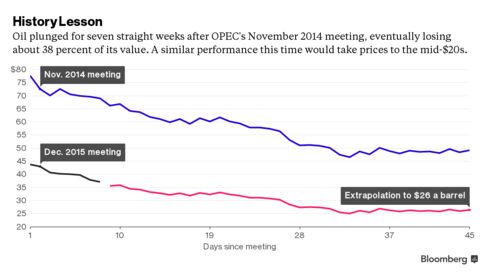 OPEC member Venezuela warned that history may repeat itself. Pointing to the $20 collapse in crude after the Nov 2014 decision, the nation's Energy Minister said: "If we keep the same strategy, it will be down by $20." Analysts also note the possibility that there's no bottom in sight to the current rout.
OPEC History Shows It Can Deal Even Bigger Blows to Oil Price
Pres Obama said progress needs to speed up against Islamic State militants, calling on allies to increase their military contributions to coalition efforts to destroy the group in Iraq & Syria. He is sending Defense Secretary Ash Carter to the Middle East to secure more military help from partner nations in the fight against the group. "This continues to be a difficult fight," Obama said. "We recognize that progress needs to keep coming faster." The president ticked off a list of accomplishments (nothing new): Islamic State had lost significant swaths of territory it once controlled in Iraq & Syria, & leaders were being targeted one by one. "ISIL leaders cannot hide and our next message to them is simple: 'you are next,'" he said. The coalition was also targeting Islamic State's oil tanker trucks, wells & refineries, finally. "We are hitting ISIL harder than ever," he addeid. He has come under criticism by Reps for not doing enough to counter Islamic State, in particular since the attacks in Paris that killed 130 & were claimed by Islamic State, & the shooting in San Bernardino. Authorities believe the couple who killed 14 people in that attack were inspired by Islamist militants. The White House has sought to counter those critics by outlining progress made since Islamic State's rapid rise in Iraq & Syria more than a year ago.
Cyber Monday orders took longer to arrive across America this year, an early sign that the holiday rush may be too much for shippers to handle. Management consulting firm Kurt Salmon, which annually releases a study of shipping times during the holiday season, said orders placed on Nov 30 from 62 retailers were delivered in an average of 6.9 days. That is 20% slower compared to 2014. Shipping firms like United Parcel Service (UPS) & FedEx (FDX) "designed their networks to handle the capacity that retailers projected, but this year, Black Friday & Cyber Monday sales were higher than expected on the e-commerce channels," according to Kurt Salmon. "That's what ... drove them over the edge." As many consumers shop more online, retailers & shippers are battling to keep up amidst the busiest shopping period of the year. Some retailers have moved Christmas delivery deadlines to allow for extra time, while shippers have increased capacity and encouraged retailers to use smaller boxes when they can. Consumers got an up-close look at these shipping challenges in 2013, when a late surge in online orders caused delays. Many packages didn't make it in time for Christmas. In Kurt Salmon's latest study, 9% of its Cyber Monday test orders that were shipped via UPS Ground were delayed. Missed target dates will become more apparent as Christmas approaches. Kurt Salmon observed that most retailers had cleared their Black Friday & Cyber Monday backlog by this time last year, so last-minute orders traveled smoothly. The 10 fastest companies based on shipping times, including Amazon.com (AMZN) & its Zappos subsidiary, delivered packages in 2.8 days on average, matching last year's mark. Also on the bright side, retailers had fewer hiccups overall. 8 out of 10 retailers completed orders within 2 weeks of Cyber Monday, up from 66% a year ago. Kurt Salmon had 9% fewer orders that were cancelled. The industry's attention will turn to brick-and-mortar execution next week, given that Christmas Eve is one of the busiest days of the year in stores.
The bear market in junk bonds has gone unnoticed. Prices have tumbled around 30% since mid year, raising yields into double digits. These are really just stocks with high yields (now phenomenal yields). The markets are worried about increased defaults & that carries a negative message for the health of the economy. Of course, many investors are concerned with the short term, when the FOMC increases its interest rates this week. If more of the negative thinking on junk bonds bleeds into the stock market, there could be a substantial sell-off.
Dow Jones Industrials