Dow sank 368 (closing at the lows & selling into the close), decliners over advancers a relatively mild 2-1 & NAZ dropped 79 (well below 5K). The MLP index rose 3+ to the 256s & the REIT index was off 2+ to the 319s. Junk bond funds were mixed to higher & Treasuries went higher. Oil slipped to multi year lows & gold had a big gain as stock & commodity markets sold off.
AMJ (Alerian MLP Index tracking fund)
| | | | | | |
| --- | --- | --- | --- | --- | --- |
| CLF16.NYM | ...Crude Oil Jan 16 | ....34.66 | ...0.29 | (0.8%) | |
Payrolls climbed in 35 states & the unemployment rate fell in 27 as an improving economy continued to absorb slack in the US labor market last month. Florida led the nation with a 35K gain in employment, followed by a 16K increase in Texas, according to the Labor Dept. Vermont showed the biggest percentage gain in employment last month with a 0.9% advance, followed by Idaho at 0.7%. Nevada saw the biggest percentage decrease. While Texas posted the 2nd-biggest gain in total payrolls, the collapse in crude prices has taken a toll on the oil industry's employment in the Lone Star State. Other states have been just as unfortunate.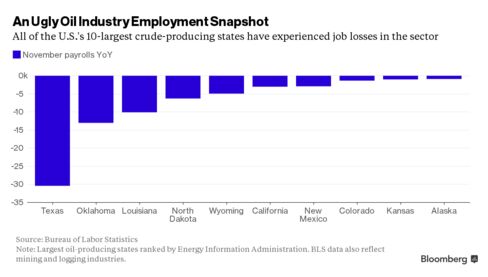 North Dakota had the lowest jobless rate at 2.7%, while New Mexico had the highest at 6.8%.
Boeing fell the most in the Dow Jones Industrials after analysts warned that cheap oil & rising interest rates could clip near-term aircraft sales & hamper the strong cash generation. Global economic concerns may weigh sales over the next couple of years.
The planemaker has drawn investors for the cash it should generate as it speeds factory output of models such as its single-aisle 737, a workhorse for low-cost carriers, & the 787, whose carbon composite hull brings fuel savings to carriers & lessens the effects of jet lag for travelers by enabling higher humidity levels. The stock tumbled 5.98. If you would like to learn more about BA, click on this link:
club.ino.com/trend/analysis/stock/BA?a_aid=CD3289&a_bid=6ae5b6f7
Boeing (BA)
J.P. Morgan Chase, another Dow stock, will pay $307M in fines to settle charges the bank's investment advisors pushed company products on clients without disclosing the conflicts of interest. JPM also took the unusual step of agreeing to admit wrongdoing in the settlement. The SEC said an investigation found that investment advisors working for 2 JPM subsidiaries "preferred to invest clients in the firm's own proprietary investment products without properly disclosing this preference." By doing so, the advisors deprived the bank's clients of "information they needed to make fully informed investment decisions." In other words, the advisors invested their clients' money in mutual funds & other investments with direct connections to JPM without telling those clients or providing other investment options. JPM agreed to pay $267M to the SEC & an additional $40M to the Commodities Futures Trading Commission to settle related allegations. The SEC statement said JPM advisors "willfully" violated federal securities laws related to required disclosures & that the 2 bank subsidiaries "admitted" the allegations and "acknowledged" the actions violated federal laws. The stock dropped 1.88. If you would like to learn more about JPM, click on this link:
club.ino.com/trend/analysis/stock/JPM?a_aid=CD3289&a_bid=6ae5b6f7
J P Morgan Chase (JPM)
The gov funding bill was signed off in DC, awaiting Obama's signature. This is one ugly market. With so many options expiring today, it is difficult to tell how much of the decline is from those short term influences. However the plunge in oil prices is the main driver for stocks & more selling is coming. Next week will have only 3½ days of trading & there is nothing in the wings to bring out buyers. The outlook for oil can only be described as dreary. Prepare for a difficult weeks for stocks, Dow is already down 600+ in Dec. Santa will have to wait for next year to bring goodies for investors.
Dow Jones Industrials