Dow went up 185 (near the highs), advancers over decliners more than 5-1 & NAZ advanced 44. The MLP index soared a whopping 15 to 290 (up 42 from the lows last week) & the REIT index added 3+ to the 224s. Junk bond funds were up 1%+ (a big rise here) & Treasuries were sold while stocks rallied. Oil recovered to the 37s & gold remained weak.
AMJ (Alerian MLP Index tracking fund)
| | | | | | | |
| --- | --- | --- | --- | --- | --- | --- |
| CLG16.NYM | ....Crude Oil Feb 16 | ....37.51 | ...1.37 | | (3.8%) | |
Orders for US capital goods dropped in Nov for the first time in 3 months, showing businesses began tempering new investment after a Q3 surge. Bookings for non-military equipment excluding planes declined 0.4% after a 0.6% Oct gain that was about ½ as much as initially reported, according to the Commerce Dept. The value of orders for all durable goods, meant to last at least 3 years, was little changed. The pause in equipment orders represents one of several challenges facing American producers, who are contending with a strong dollar, tepid overseas demand & a recent inventory overhang. At the same time, resilient consumer demand that includes steady growth in auto sales is helping soften the blow to manufacturers. Shipments of non-defense capital goods excluding aircraft, which are used in calculating GDP, decreased 0.5% last month after a revised 1% slump in Oct that was twice the previously estimated decline. The figures indicate Q4 capital spending will cool after a jump in Q3.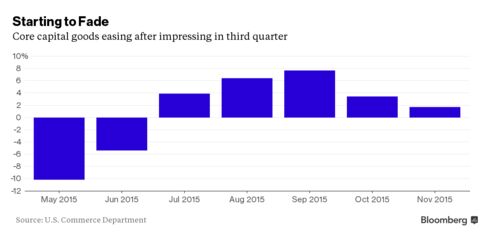 Spending on equipment increased at a 9.9% annualized pace in Q3, the strongest since the same period last year, Commerce Dept data showed. Factories are continuing to make progress reducing stockpiles that built up earlier in the year. Durable goods inventories dropped 0.3% for a 2nd month. Companies in Nov placed fewer orders for primary metals, machinery & computers. Demand rose for communications equipment, motor vehicles & electrical gear.
Bed Bath & Beyond slumped after it said Q3 profit &comparable sales will be less than forecast. The retailer said that preliminary Q3 profit fell short of its earlier projections & those of analysts. BBBY cited fewer store transactions than anticipated in the qtr ended Nov 28, which includes the critical Thanksgiving holiday & the 2 days after. It forecast EPS of $1.07-1.10, down from an earlier estimate of as much as $1.21. Analysts had estimated $1.20. Sales last qtr were $3B, the company said, less than the $3.02B analysts had predicted. That's an increase from the same time last year of about 0.3%, compared to the chain's earlier estimate of as much as 4%. Comparable sales slipped 0.4% from the same period a year ago, missing the company forecast for growth of 1-3%, even as online sales surged more than 25%. The stock dropped 2.35. If you would like to learn more about BBBY, click on this link:
club.ino.com/trend/analysis/stock/BBBY?a_aid=CD3289&a_bid=6ae5b6f7
Bed Bath & Beyond (BBBY)
Nike, a Dow stock, revenue rose 4.1% in the latest qtr as the world's largest sportswear maker continued to see strength in its North America & China operations. Adjusted EPS topped expectations & excluding currency fluctuations, revenue rose 12%. Revenue in the company's China division climbed 24%, while North American revenue climbed 9.4%. Recent growth has been lifted in part by the athleisure movement, where consumers have increasingly been buying athletic-styled clothes & shoes for everyday wear rather than actual workouts. NKE brand future orders, which reflect products scheduled for delivery in the next 6 months, rose 15% on a global basis, compared with an increase of 7% a year earlier & 9% growth from the last qtr. Future orders are closely watched by investors as a benchmark for demand for NKE products. Excluding currency impacts, futures orders increased 20%, compared with a year-earlier rise of 11% & growth of 17% in the previous qtr. Overall, EPS rose to 90¢, up from 74¢ a year earlier. Analysts expected EPS of 86¢ on revenue of $7.81B. Gross margin rose to 45.6% from 45.1%. The stock fell 3.14. If you would like to learn more about NKE, click on this link:
club.ino.com/trend/analysis/stock/NKE?a_aid=CD3289&a_bid=6ae5b6f7
Nike (NKE)
Santa Clause has been buying stocks heavily this week. The Dow is up an amazing 500 with nothing special going on in the market other than a shortened week. Some traders have started their holiday early. It's difficult to make much of the energy rally today (sending energy stocks higher). This is traditionally a quiet time in the stock market & modest volume can produce big price swings. Bigger picture, the US economy is growing at a mediocre rate in fits & bursts. Next week could produce similar volatility that is hard to explain. Dow remains in the red YTD.
Dow Jones Industrials