Dow gave back 53, advancers were slightly ahead of decliners & NAZ went up 15. The MLP index was fractionally higher to the 274s & the REIT index rose 2+ to the 349s. Junk bond funds were flat & Treasuries inched higher. Oil climbed in the 68s & oversold gold added 4 to 1229.
AMJ (Alerian MLP Index tracking fund)
| | | | | | | |
| --- | --- | --- | --- | --- | --- | --- |
| CL=F | Crude Oil | 68.75 | | +0.23 | +0.3% | |
| | | | | | | |
| --- | --- | --- | --- | --- | --- | --- |
| GC=F | Gold | 1,231.80 | | +6.30 | +0.5% | |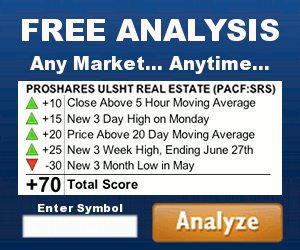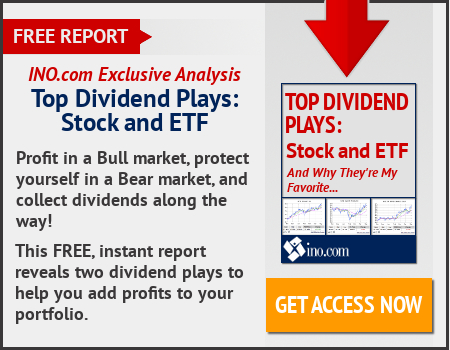 Stocks were mixed, as traders digested the latest earnings reports while awaiting the meeting between Pres Trump & European officials to discuss tariffs. Trump will welcome Jean-Claude Juncker & Cecilia Malmstrom at the White House. Ahead of the meeting, Trump proposed in a tweet that both sides drop all tariffs, barriers & subsidies. He doubts that Europeans will go for the idea. Today is a busy day for corp earnings reports. Results have already been released by companies including Boeing (BA, a Dow stock), General Motors (GM), Coca-Cola (KO, a Dow stock & Dividend Aristocrat) & UPS (UPS). Facebook (FB) reports after the closing bell. BA shares took a big hit even after the company's Q2 results surpassed expectations. While the overall results were positive, commercial airplane sales missed estimates while the company cautioned higher costs in its defense business would cut into its full-year margins. GM stock was also weak after the company cut its profit outlook for the year, citing higher steel & aluminum costs. The lowered outlook came as the company reported earnings that surpassed expectations while revenue came in just above estimates. US stocks finished mostly higher yesterday as a stream of overall, positive earnings reports overshadowed geopolitical tensions, but the NAZ fell into negative territory after the tech-heavy composite index set a record high in the AM. The Dow rallied 197 (0.8%) to 25,241 & the S&P 500 gained 13 (about 0.5%) to 2820. The NAZ ticked 1 lower to 7840. Commodities were mostly higher.

Coca-Cola (KO) says its diet sodas are selling better after undergoing some image changes. The company sold more Coca-Cola Zero Sugar in North America during Q2, following a name change to make clearer the drink doesn't contain any sugar. Before, the drink was just called Coke Zero, & the company said not everyone knew what that meant. Diet Coke, which has been struggling for years, is also showing improvement. The familiar silver cans were recently revamped to be taller & slimmer, & the drink was offered in different flavors. Although sales volume for Diet Coke dipped 1%, the company said pricing lifted revenue from the brand. The company is trying to maintain the popularity of its namesake brands, including diet sodas. In North America, sparkling soft drink volume edged up 1% on double-digit growth in Coca-Cola Zero Sugar during Q2. Water, enhanced water & sports drinks climbed 5%, helped by strong growth in Powerade. Juice volume fell, mostly on package downsizing across the portfolio & deprioritizing lower-margin juice drink brands. Globally, sales volume rose, boosted by strong results in Asia. In Q2 EPS rose to 54¢ which compares with 32¢ last year. KO got a boost from a $42M gain related to discontinued operations. Removing one-time gains or losses, EPS was 61¢ (a penny better than expected). Total revenue for the qtr slipped to $8.93B as the company refranchised bottling operations, but still beat forecasts for $8.54B. The stock gained 1.20.
If you would like to learn more about KO, click on this link:
club.ino.com/trend/analysis/stock/KO?a_aid=CD3289&a_bid=6ae5b6f7
United Parcel Service (UPS) reported EPS of $1.71. EPS, adjusted for non-recurring costs, came to $1.94, beating expectations of $1.92. The package delivery service posted revenue of $17.46B in the period, also topping forecasts of $17.3B. UPS expects full-year EPS of $7.03-7.37. The stock rose 3.61.
If you would like to learn more about UPS, click on this link:
club.ino.com/trend/analysis/stock/UPS?a_aid=CD3289&a_bid=6ae5b6f7

General Motors (GM) lowered its full-year 2018 earnings forecast, citing higher steel & aluminum costs. The #1 US automaker said it would be able to partially offset higher commodity costs & the unfavorable effect of currency fluctuations in Brazil & Argentina, but they would have a net impact of around $1B on the company's full-year results. Previously GM had expected those costs would total around $500M. "Our operating performance was impacted by significant headwinds from commodity costs and currency devaluations in South America," CFO Chuck Stevens said, where he described a "more challenging environment" for the rest of the year. The automaker buys most of its steel from US producers, who have raised prices in reaction to tariffs on imported steel imposed by the Trump administration earlier this year. GM also said the higher costs would reduce its adjusted automotive free cash flow by around $1B-4B versus its previous expectation of $5B. The company now expects EPS of $6, down from its previous forecast of $6.30-6.60. The profit forecast change came as GM posted a better-than-expected Q2, despite falling versus the same qtr in 2017. The automaker reported EPS of $1.81 which compares with $1.89 last year. Analysts had expected EPS of $1.78. Revenue was down slightly at $36.76B from $36.98B. Analysts had expected $36.73. The stock dropped 2.59 (7%).
If you would like to learn more about GM, click on this link:
club.ino.com/trend/analysis/stock/GM?a_aid=CD3289&a_bid=6ae5b6f7
GM earnings: Trump tariffs take a bite out of automaker's 2018 profit forecast
Earnings reports were fairly good. However disappointments by high profile companies dampened investor demand. In a few hours, Trump will meet with euro officials to discuss trade issues, another unknown for traders to deal with. Higher tariffs are already bleeding into earnings reports. The next round of reports could have more to say about higher tariffs impacting earnings.
Dow Jones Industrials