Dow shot up 354 (close to the highs), advancers over declines a little better than 3-2 & NAZ soared 142 following recent selling. The MLP index added 1+ to the 243s & the REIT index pulled back 1 to the 348s. Junk bond funds went up & Treasuries slid lower. Oil remained strong, up 1+ to the 51s, & gold slid back 1 to 1222.
AMJ (Alerian MLP Index tracking fund)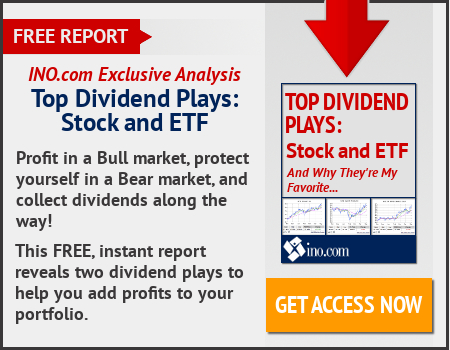 The 2018 edition of "Cyber Monday" is on track to be the biggest online shopping day in US history, according to early data from Adobe Analytics. Shoppers had already spent $531M as of 10 AM ET. Total spending is projected to reach $7.8B, which would mark an increase of more than 18% compared to the same day one year ago. "Despite some of the best deals coming earlier in the holiday season, the Cyber Monday brand has great staying power," said Taylor Schreiner, director of Adobe Digital Insights. "Many shoppers have waited on certain purchases, with three hours tonight expected to bring in as much revenue as an average full day. While certain discounts have remained since Black Friday, out-of-stock rates are starting to peak up and shoppers looking for the hottest products should not wait much longer." Smartphones are expected to account for a large portion of online sales revenue, projected to be more than $2B. Other popular products include video game Red Dead Redemption 2, Roku & Beats headphones. The record sales haul comes just days after US online shoppers spent an estimated $6.22B during "Black Friday" sales promotions, which also marked a record. Electronics, such as television & computers, are among this year's most discounted items for the popular online events. US online retail spending reached $50.6B thru Nov 25, up 20% year over year, according to Adobe.

The German economy is cooling down. That is the standout assessment from a key business climate survey, published by the Munich-based Ifo Institute today. The Ifo Business Climate Index fell to 102.0 points in Nov from 102.9 points in Oct, marking its 3rd consecutive decrease. The institute's pres, Clemens Fuest, said sentiment among German businesses had obviously weakened as activity had slowed. "There are clear signs that the long upturn is ending, the Germany economy is cooling down," he added. The Ifo Business Climate is based on circa 9K monthly survey responses from firms in manufacturing, the service sector, trade & construction.
German business confidence dips again as economy cools
US oil futures settled more than 2% higher to post their biggest one-day climb in 8 weeks, buoyed by growing expectations that major oil producers will agree to cut output at a meeting early next month. Jan West Texas Intermediate oil tacked on $1.21 (2.4%) to settle at $51.63 a barrel after losing 7.7% on Fri. Today's percentage climb was the biggest for a front-month contract since Oct 1.
Venezuela managed to retain ownership of Citgo, the big US refining & gasoline marketing company that is one of its few remaining sources of hard currency. In Aug, Canadian mining company Crystallex Intl got a court order authorizing the sale of Citgo's US parent to satisfy a $1.2B debt of the cash-strapped country. But late last week a Canadian court approved a settlement between Petroleos de Venezuela (Pdvsa) & Crystallex, one of Pdvsa's creditors, that entails the Venezuelan company paying Crystallex. Among terms of the settlement is a $425M payment by Pdvsa to Crystallex, which has been completed. The rest of the amount due, which has grown to $1.4B since the Aug order, will be paid in installments by 2021. However, if Pdvsa doesn't post collateral by Jan 10, Crystallex may restart legal action against the Venezuelan company. The clash between Venezuela & Crystallex arose from the socialist gov's expropriation 5 years ago of the Canadian company's gold mining project in the South American country. Venezuela is a member of OPEC.



To hear Pres Trump tell it, he was made for a moment like this: A high-stakes face-off, a ticking clock & a cagey adversary. The man who calls himself a supreme dealmaker will have the opportunity this week to put himself to the test. The question is whether he can defuse a trade war with China that is shaking financial markets & threatening the global economy & perhaps achieve something approximating a breakthrough. Trump is to meet with his Chinese counterpart, Xi Jinping, during the Group of 20 summit in Buenos Aires, Argentina, on Fri & Sat. Unless the 2 leaders can achieve a truce of sorts, their conflicts will likely escalate: On Jan 1, the tariffs Trump has imposed on many Chinese goods are set to rise.


Stocks had a very good day, but overall performance was less impressive than a cursory examination would indicate. The gain was chopped in ½ during the midday period, & then buyers returned, bringing it back to its early levels. Market breadth was cut in ½ at the close. Strength in oil futures was a plus for stocks, not to mention strong holiday retail sales being registered. However some of the economic fundamentals are less than robust. The Dow is currently slightly in the red YTD (down about 100) & NAZ is 1K below its recent record highs. There are signs of weakness in the economy with housing stumbling while automakers are having a good but not great year. Higher interest rates are expected which scares many bulls who have become addicted to low rates. Then there is the trade war scene which is getting ugly. Uncertainty is high & that makes today's rally look suspicious.
Dow Jones Industrials