Dow dropped 54, decliners over advancers about 2-1 & NAZ pulled back 40 from yesterday's record. The MLP index was even in the 256s & the REIT index fell 2 to the 384s. Junk bond funds were little changed & Treasuries declined in price. Oil went up to the 56s & gold fell 4 to 1419.
AMJ (Alerian MLP Index tracking fund)
| | | | | | |
| --- | --- | --- | --- | --- | --- |
| CL=F | Crude Oil | 56.32 | | +0.44 | +0.8% |
| | | | | | | |
| --- | --- | --- | --- | --- | --- | --- |
| GC=F | Gold | 1,419.00 | | -4.60 | -0.3% | |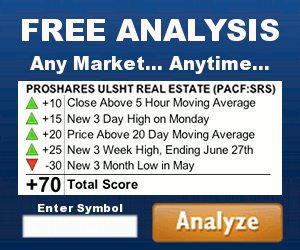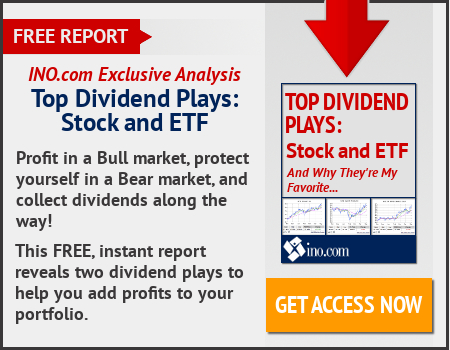 Stocks traded lower as investors digested a mixed bag of Q2 earnings from top firms as Google (GGOGL) & others prepare to release financial results thru Jun. Earlier indications were for a higher open on the Dow after the ECB opened the door to rate cuts & the restart of bond purchases. But that rally fizzled. The early declines came after the S&P 500 & NAZ closed on yesterday at record highs. In economic news, initial jobless claims fell to a 3-month low at 206K, a drop of 10K. Durable goods orders for Jun surged 2%, beating estimates for a 0.7% rise.
Stocks trade lower after mixed bag of 2Q earnings
Manufacturers are promising to upskill nearly 1.2M workers, a major training commitment that comes as US companies prepare to try to fill Ms of open positions over the next decade amid a labor shortage. The National Association of Manufacturers is poised to make the announcement during an event at the White House today. "Manufacturers proudly make this pledge to the American worker: we will continue to invest in our workforce and provide 1,186,000 Americans with the opportunity to receive training and development that will enhance their skills and prepare them for the next step on their career journey," said CEO Jay Timmons. By 2028, experts estimate that 2.4M manufacturing jobs could remain vacant due to the labor shortage. But the sector is not alone in the problem. Other industries are also exploring ways to upskill their employees instead of trying to compete for talent in one of the tightest job markets in decades. Amazon (AMZN), for example, recently said it would invest $700M to train roughly 1/3 of their entire workforce over the next 6 years on automation & other advanced technology. AT&T (T) & Walmart (WMT), both Dividend Aristocrats, are among the other US firms that have announced similar initiatives. Unlike the jobs of the past, the roles of the future will largely require backgrounds in science, technology, engineering & math – or STEM. But the need for workers remains a challenge as unemployment remains at record lows. The announcement from the nation's top manufacturer association is a boon for the White House, which has made training a next-generation workforce a key priority. In 2018, the administration formed the National Council for the American Worker &, in Dec, unveiled a 5-year strategy to improve & expand access to STEM education.



The ECB prepared markets for more easing measures today, causing the € to briefly fall to a 2-year low against the $. The central expects its key interest rates to remain "at their present or lower levels" at least thru H1-2020, updating the wording on previous statements & suggesting a rate cut could be on the horizon. ECB Pres Mario Draghi said that "a significant degree of monetary stimulus continues to be necessary to ensure that financial conditions remain very favorable and support the euro area expansion." The bank also signaled that there could be additional measures to stimulate the euro zone economy. It said it was examining options, "such as the design of a tiered system for reserve remuneration, and options for the size and composition of potential new net asset purchases." This means that it may lower the charge that banks have to pay to park their excess cash at the ECB. It also said it was looking at a reintroduction of a quantitative easing program in the coming months. Quantitative easing, or large-scale asset purchases, is where it purchases gov bonds from euro zone countries in order to further boost lending & stoke inflation. The € hit a 2-year low of $1.1103 after the ECB's change in guidance, while the German 30-year bond yield hit a record low of 0.167%. However, both the € & bonds snapped back after Draghi suggested that some members of the ECB weren't convinced on certain aspects of a possible stimulus package. Draghi added that all ECB members agreed that further stimulus was needed, though there were differences regarding the various elements of any program. "We had a broad discussion," he said, "Whenever we have a package so complex as this, you'd expect that people have different nuances about the different parts of the package." Draghi also said that the risk of a recession in the region was low, giving a more mixed message than the earlier statement. This sent the € even higher, hitting $1.1153.
ECB signals a rate cut, more monetary easing ahead
An early look at US trade patterns in Jun points to a slight narrowing in the nation's trade deficit at the end of Q2. The advance trade deficit in goods narrowed 1.2% to $74.2B, according to the gov report. That was above the $72.6B estimate. The gov's advance report on wholesale inventories showed a 0.2% decline in Jun. And advanced retail inventories slipped 0.1%.
Exports fell 2.7% in Jun. The US exported far less food & livestock feed in Jun & shipments of consumer goods also fell. At the same time imports dropped 2.2%, led by industrial supplies, mainly oil. Non-auto inventories fell 0.1% in Jun.
Economists are worried that the trade sector is moribund, hit by protectionism & slower global growth. The US is still on trade to record a larger annual trade deficit in 2019. The trade gap widened to $55.5B in May, its highest level of the year. The advance indicators are part of a flurry of data roday that could alter expectations of Q2-GDP growth. Prior to the data, economists projected that GDP had slowed to a 2% annual rate from a 3.1% rate in Q1. The gov will release the Q2 GDP data tomorrow.
Stocks are digesting earnings & economic data. The Dow (below) has been flattish for a couple of weeks. The first estimate for GDP Q2 data will be published tomorrow & expectations are for a soggy qtr, Alphabet (GOOG) reports tonight (down 7 presently). A lot is going on for investors to think about..
Dow Jones Industrials