Dow sank 94, decliners over advancers 4-3 & NAZ fell 33. The MLP index was off 2 to the 253s & the REIT index dropped 2+ to the 386s. Junk bond fund slid back & Treasuries were off a tad. Oil was off 1+ to the 55s & gold went up 2+ to 1425, another 6 year high.
AMJ (Alerian MLP Index tracking fund)
| | | | | | | |
| --- | --- | --- | --- | --- | --- | --- |
| CL=F | Crude Oil | 55.92 | | -0.86 | -1.5% | |
| | | | | | | |
| --- | --- | --- | --- | --- | --- | --- |
| GC=F | Gold | 1,423.40 | | +0.10 | +0.0% | |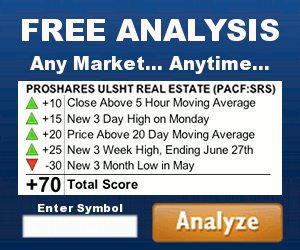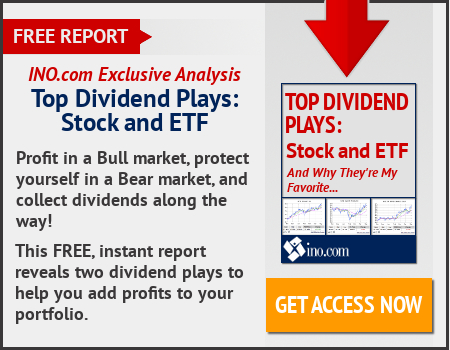 Stocks opened down as the outlook for a trade deal with China dims & a rare decline in subscribers at Netflix (NFLX) sending its stock plummeting 41. The streaming site posted a loss of 126K paid users in the US & missed expectations for intl additions, a key area of growth for the firm, Q2. Execs attributed the shortfalls to a weak slate of content & shares were down. Meanwhile, Pres Trump yesterday took another dig at China, blasting its slowing economy & touting the US's economic strength, as the 2 nations seek to restart trade talks. But Trump & top White House officials are cautioning that any agreement is far in the future, spurring pessimism among investors that a deal is possible.
Wall Street posts declines amid new China pessimism, disappointing Netflix 2Q earnings
China appeared to harden its stance on trade talks with the US this week with the addition of a hawkish-on-trade member of the Chinese gov to its negotiation team. Zhong Shan, a member of the Ministry of Commerce, told the People's Daily -- the official newspaper of the Communist Party -- that China needed to "stand firm" in defending its interests and people, "as well as the multilateralism trading system." "The U.S. has started this economic and trade dispute with us in violation of the principles of the World Trade Organisation – a classic example of unilateralism and protectionism," he added. "We must make the best of the spirit of struggle." Although some analysts wondered whether the addition of Zhong was an intentional delaying tactic -- to see what happened in the 2020 presidential elections -- Treasury Secretary Steve Mnuchin said that a call between Beijing & DC officials is scheduled for later today. "Amb. [Robert] Lighthizer and I have a call scheduled for later today with our counterparts. This will be the second conversation we've had. There has been conversation at the staff level," Mnuchin said. "We're working under the direction of President Trump and President Xi from the meeting in Osaka and we'll see where we get." Still, the 2 largest economies have yet to set up face-to-face meetings since Trump & Xi agreed, during a meeting in Japan for the G-20 summit, to a 90-day tariff ceasefire in the year-long conflict, which has rattled financial markets & threatened to slow economic growth. The US already imposes a tariff on $250B worth of Chinese goods; however, Trump said he would consider lowering the tax rate to 10% from the proposed 25% during "phase two." During a campaign rally in North Carolina yesterday, the pres touted the US economy -- while taking a swing at China's. In Q2, economic growth in China cooled to 6.2%, close to a 3-decade low. Exports also slipped last month. "Sadly China … has had … the worst year in 27 years," he said.



Treasury Secretary Steve Mnuchin said the White House & bipartisan Congregational leaders are continuing negotiations to raise the debt ceiling before the Aug recess, & that he's confident the US gov is not at risk of defaulting on its debt. "I don't think the markets should be concerned," Mnuchin added. "I think that everyone is in agreement that we won't do anything that puts the U.S. government at risk in terms of our issue of defaulting. I think that nobody wants a shutdown in any scenario." In the "most conservative" scenario, Mnuchin said it's possible the federal gov has an issue at the beginning of Sep. He previously warned House Speaker Nancy Pelosi that the gov could run out of cash by early Sep if Congress didn't raise the debt ceiling ahead of its Aug recess. "That's why I've encouraged them to raise the debt ceiling before they leave," he said. Mnuchin added that he's been having daily meetings with Pelosi & that the House, Senate & Trump administration reached an agreement on "top line" spending numbers over a 1 & 2 year period. Now, they're discussing offsets & certain structural issues, he said. "We've agreed, as a part of that deal, there would be a long-term two-year debt ceiling increase, so I think all of our first choice is to try to reach an overall agreement," he continued. "And we are working hard to do that. But if for whatever reason we don't get there in time, I am encouraging a debt ceiling increase." The debt ceiling -- which is currently set at $20.46T, the legal limit on the total amount of debt that the federal gov can accrue; according to the Committee for a Responsible Federal Budget. It applies to both the $16.2T held by the public & the $5.9T owed by the gov. If Congress is unable to increase the debt limit, the Treasury would enter uncharted territory, incapable of paying all bills -- including payments to Social Security beneficiaries, gov employees or service members -- since it would have no cash on hand.
UnitedHealth (UNH), a Dow stock, beat estimates for quarterly profit & raised its 2019 earnings forecast, buoyed by strength in the largest US health insurer's pharmacy benefits management business & its insurance plans. The company is the first health insurer to report quarterly results after the Trump administration last week nixed an ambitious proposal that would have required health insurers to pass Bs of $s in rebates they receive from drugmakers to Medicare patients. Sales in the main business of selling health insurance plans rose nearly 6% to $48.59B in Q2. Revenue from the Optum unit, which manages prescription drug benefits & offers healthcare data analytics services, rose 13.4% to $28.03B. The company raised full-year adjusted EPS forecast to $14.70-14.90, from an earlier forecast of $14.50- 14.75. EPS rose to $3.42 from $2.98 a year earlier. Excluding items, EPS was $3.60, beating the estimate of $3.45. Total revenue rose 8% to $60.60B, topping estimates of $60.55B. But the stock fell 7.09.
If you would like to learn jmore about UNH, click on this link:
club.ino.com/trend/analysis/stock/UNH?a_aid=CD3289&a_bid=6ae5b6f7
UnitedHealth boosts 2019 profit outlook on strength in insurance, pharmacy benefits
It is looking like earnings will not be giving a lift to stocks & the trade negotiations, highlighted by US-China talks, are far from being concluded. Even the bulls are getting nervous.
Dow Jones Industrials