Dow went up 75, advancers over decliners more than 3-1 & NAZ added 44. The MLP index rose 3+ to the 313s (still flattish for many months) & the REIT index gained 2+ to the 343s. Junk bond funds were higher & Treasuries found buyers, Oil was fractionally higher (more below), going over 50 again, & gold went up.
AMJ (Alerian MLP Index tracking fund)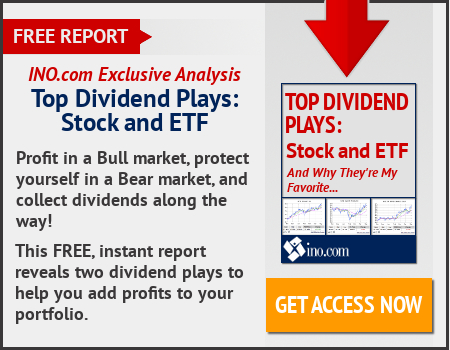 The world should get used to oil prices of $50-60 a barrel as falling costs in America's shale fields counteract OPEC's renewed commitment to supply management. That's the consensus among execs, traders & officials at the annual Oil & Money conference in London. A prolonged period of crude trading in that range would signal that while the worst has passed for the global industry, there'll be more financial pain ahead for oil-exporting countries & subdued profits at the largest energy companies. The price outlook was reinforced in an unusually open speech by a board member of state monopoly Saudi Aramco, when he suggested the world's biggest oil exporter doesn't expect prices to rally much further before the end of the decade. "A $50, $60 oil price -- absent a supply accident -- is sufficient to develop the low-cost resources to provide increases that will be necessary over the next three to four years," said Andrew Gould, board director at state-owned Saudi Arabian Oil. Others were equally skeptical about the prospect of markedly higher prices. The decision to rein in production by members of OPEC last month succeeded in pushing prices above $50 a barrel, but a sustained rally will be held back by the return of shale oil production from fields previously rendered unprofitable by the 2-year slump in crude, the head of the International Energy Agency said. "This upward pressure on the prices would stimulate some high-cost producers to increase their production, such as the U.S. shale oil," Fatih Birol said. "The price level around $60 would give a strong impetus to the bulk of the current U.S. shale industry.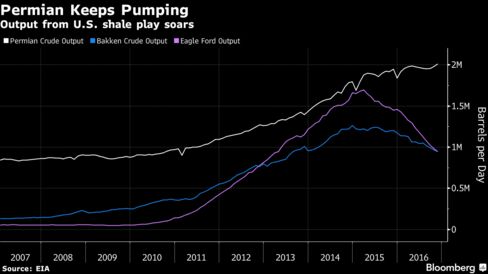 Oil Execs See Prices Stuck Between $50 and $60
The boards of directors at 9 of the 12 regional Federal Reserve banks last month sought an increase in the rate on direct loans from the Fed to 1.25% from 1%, minutes released by the central bank show. The Atlanta Fed joined the calls for an increase in the discount rate, pushing the number of regional banks asking for a hike to its highest since Dec 2015 (the last time the Fed raised the federal funds rate). Discount rate votes can be viewed as a signal of whether a bank's pres favors a change in the main rate. "Most directors noted tighter U.S. labor markets across skill levels and different sectors, accompanied by upward pressures on compensation for many categories of workers," according to the minutes. Most directors recommended the increase "in light of actual and expected strengthening in economic activity and labor markets, which should foster a gradual return of inflation to 2 percent over the medium term." Atlanta joined Boston, Philadelphia, Cleveland, Richmond, St. Louis, Kansas City, Dallas & San Francisco in asking for an increase. Those banks are home to all 4 regional presidents who currently hold rotating votes in the policy making FOMC. The boards of the NY, Minneapolis & Chicago Feds voted to keep the rate unchanged. Of the presidents from those banks, only NY's William Dudley has a vote on policy.
Johnson & Johnson, a Dow stock & Dividend Aristocrat, shares fell on concerns about the looming introduction of cheaper versions of the blockbuster arthritis treatment Remicade. Remicade's outlook overshadowed better-than-expected results for Q3 & a raised profit forecast for 2016. Revenue from top-selling Remicade jumped 11% to $1.78B last qtr, accounting for 21% of total pharmaceuticals sales & topping the $1.68B predictions. But the treatment will soon face cheaper copies known as biosimilars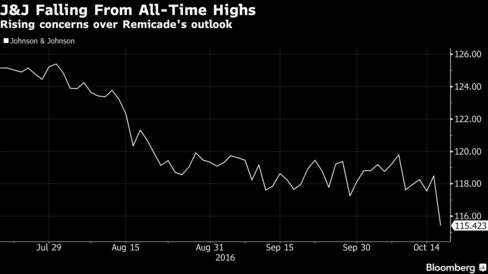 J&J plans to defend the remaining Remicade patents that don't expire until 2018, CFO Dominic Caruso said, The company is prepared to battle against the biosimilar, which is expected to have a "modest" impact on sales, he added. Remicade is already competitively priced against other treatments, he said. "So, the amount of discounting and competitive atmosphere we're very well accustomed to, and we are competing very well there," he continued. Q3 EPS excluding some items were $1.68 a share. That compared with the $1.65 prediction. JNJ narrowed its 2016 EPS guidance to $6.68-6.73 from a previous $6.63-6.73. Analysts had anticipated $6.70. The company maintained its revenue guidance of $71.5-72.2B for 2016. Q3 s
ales were $17.8B & analysts predicted $17.7B.
EPS was $1.53, up from $1.20. The stock gave back 3.08. If you would like to learn more about JNJ, click on this link:
Netflix (NFLX) soared 19 on its earnings report, which gave life to the entire stock market. However, that does qualify as a trendsetter stock. New earnings will drive the market tomorrow. Dow ended 64 below its early high. Longer term, the chart below shows it has been going sideways for months. Tomorrow may not have another NFLX earnings report to boost stock prices.
Dow Jones Industrials