Dow jumped up 142, advancers over decliners almost 4-1 & NAZ rose 39. The MLP index added 1+ to 312 & the REIT index went up 2 to the 343s. Junk bond funds were higher & Treasuries pulled back. Oil & gold were each a tad lower.
AMJ (Alerian MLP Index tracking fund)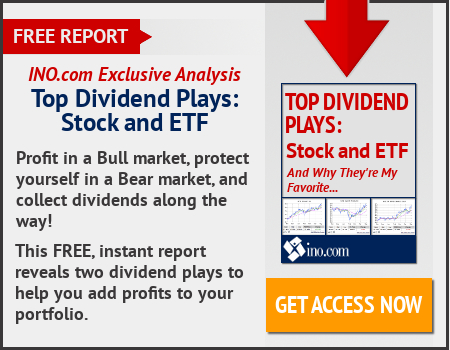 Retail sales climbed in Sep by the most in 3 months, showing American shoppers began to spend freely again after shying away from merchants earlier in the qtr. The 0.6% advance followed a revised 0.2% decline in Aug, according to the Commerce Dept. Core sales, used to calculate GDP, rose a smaller-than-projected 0.1%. Years of increased hiring & a slow acceleration in worker pay have laid a foundation for steady household spending. While Q3 purchases will probably fall short of the vigorous pace in Q2, the broad-based pickup across the retail spectrum shows household demand may be gathering pace. The forecast for retail sales was for a 0.6% increase. The small gain in Sep retail control group sales, the figure used to calculate GDP & which excludes such categories as autos, gasoline stations and building materials, was weaker than the 0.4% forecast & followed declines in the previous 2 months.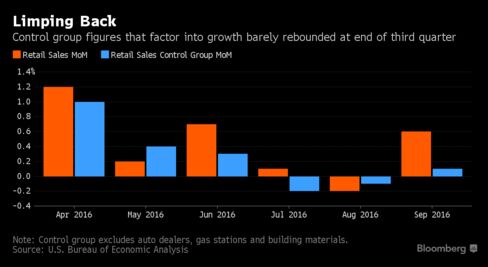 US wholesale prices rose by more than projected in Sep, helped by higher costs for energy & food, indicating inflation may be picking up. The producer-price index increased 0.3%, the first gain in 3 months, after being little changed in Aug, according to the Labor Dept. The forecast called for a 0.2% gain. More stable commodity costs & a diminishing effect from last year's surge in the $ are allowing for more price pressures in the production pipeline. Fed officials are watching for consumer inflation to make sustained progress toward their 2% annual target as they consider raising interest rates by year-end.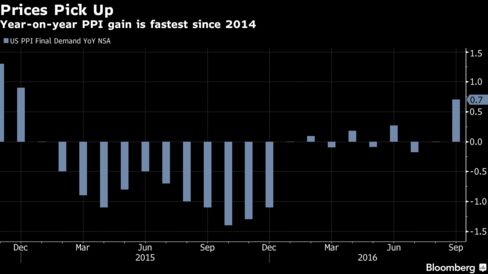 From a year earlier, producer prices increased 0.7%, the most since Dec 2014, after being little changed in the prior 12-month period. Energy costs rose 2.5% from the prior month & food prices showed a 0.5% gain. Excluding food & energy, wholesale prices climbed 0.2% from the previous month following a 0.1% rise. Those costs rose 1.2% from Sep 2015. Taking out food & energy & also eliminating trade services, producer costs rose 0.3% for a 2nd month. Compared with a year earlier, this core measure was up 1.5%, the biggest increase since Nov 2014. The change in health care prices that are used to calculate the consumer spending inflation index (the Fed's preferred price measure). Those costs rose 0.1% from the prior month, before adjusting for seasonal variations, and were up 1.6% from a year earlier. In Aug, they rose 0.4% from the previous month.
JPMorgan Chase, a Dow stock, posted profit that beat estimates on a 48% surge in fixed-income revenue, fueled by trading of gov bonds after the UK voted to leave the EU. Q3 EPS slipped to 1.58 from 1.68 a year earlier (when results got a boost from $2.2B in tax benefits). EPS excluding legal & accounting adjustments were 1.59, topping the 1.39 estimate.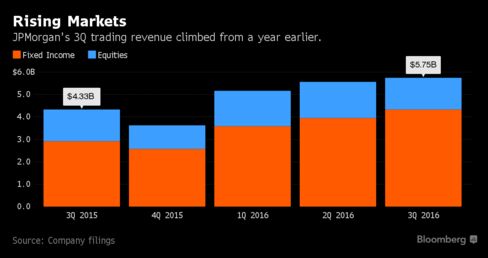 Revenue rose to $25.5B, beating the $24.2B estimate, while expenses fell 5.9% to $14.5B, compared with a $14.1B estimate. Fixed-income trading revenue jumped to $4.33B, more than $1B higher than the estimate. Equities-trading revenue advanced less than 1% to $1.41B, compared with the $1.35B estimate. The stock rose 66¢. If you would like to learn more about JPM,click on this link
club.ino.com/trend/analysis/stock/JPM?a_aid=CD3289&a_bid=6ae5b6f7
JPMorgan Earnings Beat Estimates on Bond-Trading Revenue
J P Morgan Chase (JPM)
Initials reports from some of the biggest banks were favorable, bringing buyers back to the stock market. But banks remain under a cloud because of major problems at high profile banks. The Dow continues in its sideways trading pattern where it has been for months. The bulls are happy that the 18K floor held yesterday.
Dow Jones Industrials