Dow shot up 101, advancers over decliners 2-1 & NAZ gained 29. The MLP index rose 3+ to 310 & the REIT index lost 2+ to 341. Junk bond funds fluctuated & Treasuries retreated. Oil shot up to around 50 (see below) & gold prices did little.
AMJ (Alerian MLP Index tracking fund)
Light Sweet Crude Oil Futures,N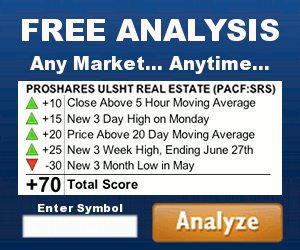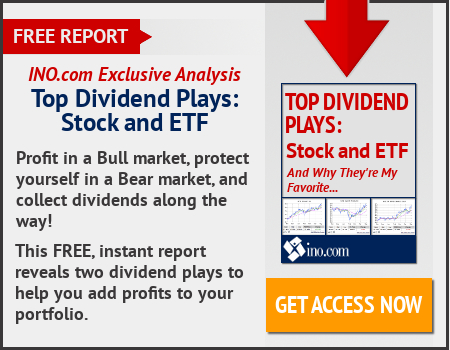 Policy-making elites converge this week for meetings that epitomize a faith in globalization that's at odds with the growing backlash against the inequities it creates. From Britain's vote to leave the EU to Donald Trump's championing of "America First," pressures are mounting to roll back the economic integration that has been a hallmark of gatherings of the IMF & World Bank for more than 70 years. Fed by stagnant wages & diminishing job security, the populist uprising threatens to depress a world economy that IMF Managing Director Christine Lagarde says is already "weak and fragile." The calls for less integration & more trade barriers also pose risks for elevated financial markets that remain susceptible to sudden swings in investor sentiment, as underscored by recent jitters over Deutsche Bank's (DB) financial health.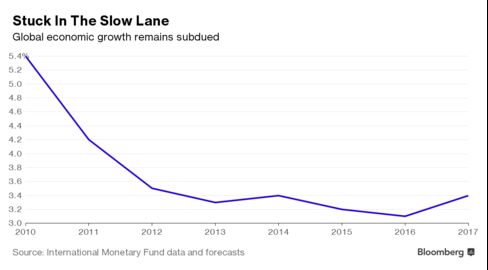 In its latest World Economic Outlook released yesterday, the fund highlighted the threats from the anti-trade movement to an already subdued global expansion. After growth of 3.2% in 2015, the world economy's expansion will slow to 3.1% this year before rebounding to 3.4% in 2017, according to the report. The forecasts for US growth were cut to 1.6% this year & 2.2% in 2017. Lagarde said last week that policy makers have 2 tasks. First, do no harm, which above all means resisting the temptation to throw up protectionist barriers to trade. And 2nd, take action to boost lackluster global growth & make it more inclusive. Achieving even those modest objectives may prove elusive.
Companies in Sep added the fewest number of workers in 5 months, showing the labor market is cooling after strong gains for much of this year, according to the ADP Research Institute. Private payrolls increased 154K (forecast was 165K) after a revised 175K gain in Aug. Goods-producing industries, which include manufacturers & builders, boosted headcounts by 3K & service providers' payrolls climbed 151K. The figures suggest a more modest increase in the gov's tally on Fri. Hiring managers might be having some trouble finding skilled workers to fill vacancies, helping explain the cooling in payroll gains even as the labor market remains healthy. Unless job figures are a major disappointment, a measured slowdown would probably affirm Fed officials' projections & keep them on pace to raise the benchmark interest rate before year's end. "Job growth has moderated in recent months, but only because the economy is finally returning to full employment," Moody's Analytics said (Moody's produces the figures with ADP). "With job openings at all-time highs and layoffs near all-time lows, the job market remains in full swing."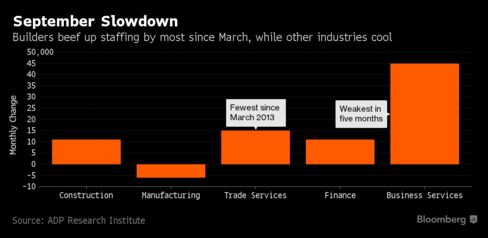 Oil climbed to a 3-month high, approaching $50 a barrel, after weekly industry data indicated that US crude stockpiles plunged last week. Futures rose more than 2%. Inventories dropped by 7.6M barrels last week, the American Petroleum Institute was said to report. Analysts estimate Energy Information Administration data today will show that stockpiles increased. A deal between OPEC & non-members could trim output by 1.2M barrels a day & boost prices by as much as n$15 a barrel, according to Venezuela's oil minister.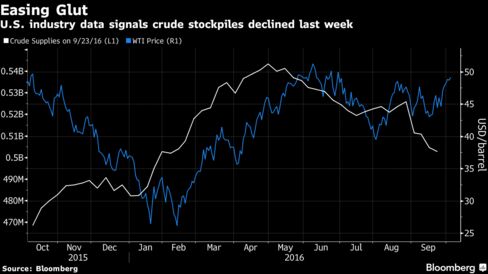 Oil has advanced about 10% since OPEC agreed last week to cut production for the first time in 8 years. OPEC, which pumped at a record in Sep, will decide on quotas at a meeting on Nov 30. West Texas Intermediate for Nov delivery rose 95¢ (2%) to $49.64 a barrel. The contract pulled back yesterday after climbing 9.3% the previous 4 sessions. Crude stockpiles at Cushing, Oklahoma, the delivery point for WTI & the biggest US oil storage hub, increased by 435K barrels last week, the API is expected to report. Nationwide inventories probably are estimated to have climbed 1.5M barrels ahead of the EIA report.
Stocks continue to slosh around. The Dow is still a little north of the 18K support level where it has been for months (shown below). The outlook for the US & other global economies is muted, but traders in NY are unconcerned. It's amazing how the stock markets has adjusted to this connect for much of this year. But that will not last.
Dow Jones Industrials