Dow climbed 40, advancers over decliners 5-2 & NAZ went up only 2. The MLP index gained 2+ to the 315s. & the REIT index was fractionally higher to the 344s. Junk bond funds were mixed & Treasuries were off a little. Oil gained more than 1 (more below), going above 51, & gold advanced.
AMJ (Alerian MLP Index tracking fund)
Oil advanced to a 15-month high after the gov reported that US crude inventories unexpectedly fell last week & Saudi Arabia's energy minister said many nations are willing to join OPEC output cuts. Futures jumped 3.3% to the highest since Jul 2015. The Energy Information Administration reported a 5.25M-barrel decline in nationwide crude supplies to the lowest level since Jan. Analysts had forecast a 2.1M-barrel increase. OPEC can continue to stabilize the market & other nations have given "strong signals" they will cooperate, Saudi Arabia's Minister of Energy & Industry Khalid Al-Falih said.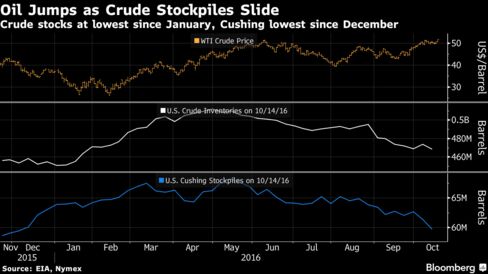 Oil has fluctuated near $50 a barrel amid uncertainty about whether OPEC will be able to implement an accord to reduce crude supply when they gather in Nov. An OPEC committee will meet later this month to try to resolve differences over how much individual members should pump. OPEC will start with an output freeze, or possibly a small cut, Al-Falih said. West Texas Intermediate for Nov delivery, expires tomorrow, rose $1.40 to $51.69 a barrel. Volume traded was 20% above the 100-day average. The more-active Dec contract climbed $1.33 to $51.95 a barrel.
Oil Surges to 15-Month High on U.S. Supply Drop, OPEC Optimism
The US economy maintained a steady growth pace between late Aug & early Oct, as a tight labor market with nascent wage pressures contributed to a "mostly positive" outlook, a report from the 12 Federal Reserve districts showed. "Most districts indicated a modest or moderate pace of expansion," according to the Fed's latest Beige Book. "Outlooks were mostly positive, with growth expected to continue at a slight to moderate pace in several districts" & the job market "remained tight" with modest employment & wage growth. In the San Francisco district, some small business owners said they needed to bring back health-care benefits to attract applicants. "Wage growth held fairly steady at modest levels, although some districts reported rising pressure for certain sectors," the report stated. A tight labor market has yet to lift inflation to the Fed's 2% target. The report characterized price growth generally as "mild," as manufacturers in the Midwest reported lower prices for finished goods & the hospitality industry on the West Coast saw modest price gains. Overall, prices increased "slightly on net," the report said. Housing expanded in most districts, & "contacts in a few districts expressed optimism about future growth." The oil & gas sector showed signs of stabilizing, & Dallas Fed energy business contacts expect 2017 to be a better year.
Fed Beige Book Shows 'Mostly Positive' Outlook for U.S. Economy
Intel, a Dow stock, reported a better-than-expected 9.1% rise in quarterly revenue, helped by improving PC demand & growth in its data center & cloud businesses. The company said it expects Q4 revenue to be $15.7B, plus or minus $500M. Analysts were expecting revenue of $15.86B. Revenue from the data center business, which offers storage & cloud-based software services, rose 9.7% to $4.54B in Q3, from a year earlier. Demand for cloud-based services has been growing as more businesses shift to cloud-computing methods. Revenue from the traditional PC business, which still accounts for over ½ of total revenue, rose 4.5% to $8.89B. According to research firm IDC, global PC shipments fell by a smaller-than-expected 3.9% in Q3. Excluding items, EPS was 80¢, above the estimate for 73¢ . Net revenue rose to $15.78B from $14.47B, beating the estimate of $15.58B. EPS rose to 69¢ from 64¢ a year earlier. The stock lost 2.24. If you would like to learn more about INTC, click on this link:
club.ino.com/trend/analysis/stock/INTC?a_aid=CD3289&a_bid=6ae5b6f7
Intel (INTC)
Halliburton (HAL)
Stocks generally liked earnings & oil's strong rise helped increase market sentiment. But Dow remains stuck in its sideways trading range. For more than a month, it has not been able to get far above 18K. The possibility of a rate hike by the Fed is haunting many traders who have gotten used to low interest rates. High levels of uncertainty affect consumers & traders. Today's gain was unimpressive.
Dow Jones Industrials