Dow sank 160, decliners over advancers a big 5-1 & NAZ lost 68. The MLP index tumbled another 8+ to 270 & the REIT index lost 3+ to the 321s. Junk bond funds dropped & Treasuries saw selling. Oil hit a 12 year low just above 33 & gold gained, going over 1100.
AMJ (Alerian MLP Index tracking fund)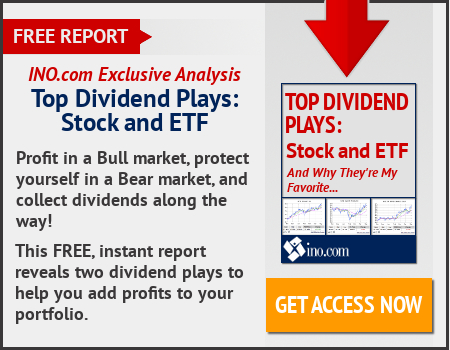 China's securities regulator suspended a new stock circuit-breaker after a selloff forced local exchanges to shut for the 2nd day this week, signaling that the country's leadership may reconsider or change the system. The China Securities Regulatory Commission announced the suspension on its official microblog account on. The decision came hours after CSRC officials held an emergency meeting to discuss conditions on the nation's tumbling stock market. China's CSI 300 Index plunged 7.2% on Thurs, triggering an automatic shutdown within 30 mins of the open, as declines in the yuan rattled investor confidence in economy. The market circuit breakers, which halt exchanges for 15 mins after a 5% drop in the CSI 300 & for the rest of the day after a 7% retreat, have been criticized by analysts for exacerbating losses as investors scramble to exit positions before getting locked in.
Fewer Americans filed applications for unemployment benefits last week, a sign the labor market remained robust entering 2016. Jobless claims dropped 10K to 277K, according to the Labor Dept. The figure was in line with the 275K forecast. Employers are retaining workers amid steady demand, particularly among consumers, whose spending accounts for about 70% of the economy. Jobless claims continue to hover near 4-decade lows, consistent with the labor-market progress that persuaded Federal Reserve policy makers to raise interest rates last month. Since early Mar, claims have been below the 300K level that is typically consistent with an improving job market.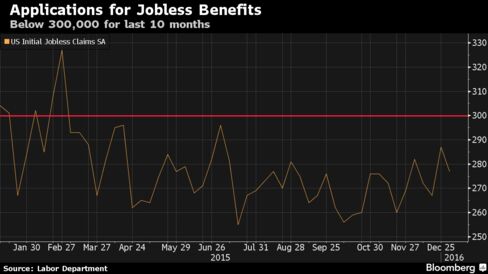 The 4-week moving average decreased to 275K last week from 277K. The number continuing to receive jobless benefits rose 25K to 2.23M & the unemployment rate among people eligible for benefits held at 1.6%.
Federal Reserve Bank of Richmond pres Jeffrey Lacker expressed confidence that inflation will return to the central bank's target after oil prices & the dollar stabilize & called for a continued tightening in monetary policy. "While there is uncertainty about the pace at which monetary policy rates will rise, the case for an upward adjustment in rates should be clear," Lacker said. The Fed's expectation that rate increases will be gradual suggests a 1 percentage point increase a year in rates, though the actual path will depend on how economic data come in. Lacker said he remained confident, "barring subsequent shocks," that inflation will move back to 2 percent "over the near term." "In short, inflation has been held down by two factors, the falling price of oil and the rising value of the dollar," he said. "But neither factor is likely to depress inflation indefinitely. After the price of oil bottoms out, I would expect to see headline inflation move significantly higher. And after the value of the dollar ultimately tops out, core inflation should move back toward 2 percent." If oil prices & the $ stabilize, but inflation doesn't quickly respond, "a shallower path for interest rates would make sense," Lacker said. "If inflation moves rapidly back toward 2 percent, however, a more aggressive path would be in order." In his remarks, Lacker said he expects growth this year of about 2.2%, in line with the pace since 2009, as stronger consumer spending & increased gov outlays are offset in part by weakness in exports. That would be enough to generate further job growth & a decline in unemployment.
Stocks keep slipping & sliding in the new year. Dow has fallen almost 700 & the first week is not over. Chaos in the Chinese stock market is behind some of the selling. At the same time, fundamentals in the US are not great. Today, there was a fresh reminder that GDP growth in 2016 should be mediocre (as has been the case for this long "recovery"). Jan has the makings of a gloomy start for stocks.
Dow Jones Industrials