Dow sank 153, decliners over advancers almost 2-1 & NAZ lost 62. The MLP index dropped 6+ to 239 & the REIT index fell 3+ to 310. Junk bond funds were mixed to lower & Treasuries were sold. Oil pulled back & gold is also lower.
AMJ (Alerian MLP Index tracking fund)
| | | | | | |
| --- | --- | --- | --- | --- | --- |
| CLH16.NYM | ...Crude Oil Mar 16 | ...30.76 | ...0.69 | (2.19%) | |
| | | | | | |
| --- | --- | --- | --- | --- | --- |
| GCF16.CMX | ...Gold Jan 16 | .......1,119.00 | ...2.70 | (0.2%) | |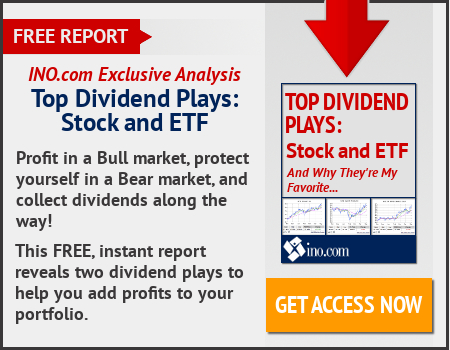 Apple, a Dow stock, fell after forecasting a sales decline for the first time in more than a decade, adding to evidence that the market for smartphones is becoming saturated & that expansion in China is no longer enough to maintain the company's unprecedented run of growth. Revenue in its Q1 will be $50-$53B, the first quarterly drop since 2003 & below estimates for $55.5B. That follows a holiday qtr in which overall sales & iPhone shipments fell short of projections, reinforcing concerns that AAPL is reaching the limits of iPhone growth & that a push in China won't make up for a slowdown in the rest of the world. While it remains immensely profitable, it's no longer benefiting as much from the rapid adoption of smartphones around the world. CEO Tim Cook has expanded in China & released new services & products such as Apple Watch to help broaden the business, but its dependence on the iPhone leaves it vulnerable to any deceleration in demand. In addition to the iPhone, other product lines are also stalling. iPad purchases continued to decline, falling to 16.1M tablets during the holiday qtr, compared with a projection of 17.3M & Mac sales fell to 5.31M, compared with the 5.8M estimate. IPhone sales rose to 74.8M units, compared with 75M predicted.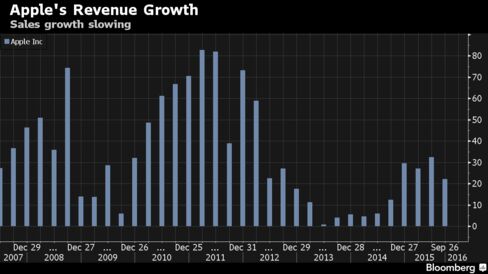 CFO Luca Maestri said the company is feeling the effects of a "very different" economic environment around the world. AAPL is beginning to see "softness" in China, particularly in Hong Kong. "You need to take into account the business opportunities that we have, but also the realities of an economic environment that is not ideal right now," he added. Brazil, Canada, Japan & Russia also are showing signs of slowing down & "there are a lot of economies around the world that are in recession." For Q1, ended in Dec, EPS was $3.28 & analysts had projected $3.23 on sales of $76.5B. The company got a boost from an earlier release in China of the latest iPhone models, the 6S & 6S Plus, but the trade-off is that sales in the current period may take a hit. Overall sales in greater China rose 14% to $18.4B, & Cook said the company would continue to invest there despite an economic slowdown. "We remain very bullish on China," Cook said. "I don't subscribe to the doom-and-gloom predictions." The stock sank 5.12 & has a very dreary chart. If you would like to learn more about AAPL, click on this link:
club.ino.com/trend/analysis/stock/AAPL?a_aid=CD3289&a_bid=6ae5b6f7
Apple (AAPL)
The US has experienced a record-breaking total US net worth every qtr since 2012. That string was broken in Q3-2015, according to the recent Flow of Funds according to the Federal Reserve. Collective net worth fell by $1.2T to $85.2T. The drop was attributed to the difficult qtr in the stock market. More than $2.3T in corp stock value was wiped out during the Aug market correction, & that loss could not be overcome by increases in other sectors such as the $482B in real estate gains. Barring an end-of year collapse, this quarterly drop in net worth should be an aberration. For 2015, the US averaged a net worth of $85.8T, well above the $84.1T registered at the end of the 2014. While bet worth may have suffered, the domestic non-financial debt picture looks a bit better compared to the previous qtr. Total domestic outstanding debt (non-financial) at the end of Q3 was $44.2T, representing a 2% annualized growth. That is down from a 4.6% annualized rate in Q2. Consumer credit grew by 7.2%, but that is not necessarily a bad sign, it could signal increased demand & future economic growth. On the subject of growth, the Fed report shows GDP at $18.06T. Personal consumption expenditures increased by $130B, down from the $173B increase in Q2. The US continues to export more than it imports, with a steady annualized shortfall of between $500-$600B.
Boeing, another Dow stock, tumbled after the planemaker said profit this year would miss estimates by more than a dollar a share as it delivers fewer jetliners. EPS adjusted for pension expenses will probably be $8.15-$8.35 this year. That compared with a prediction of $9.42. Its sales forecast of $93-$95B fell short of projections of $97.3B.
Aircraft deliveries this year will fall from a record in 2015, fueling concerns that revenue growth may be hampered by a saturated market & a sluggish global economy. Planemakers typically receive the bulk of payment for their products when they are delivered to customers. Aircraft deliveries should taper to 740-745 jetliners this year as BA cuts production of its iconic 747 jumbo jet & begins manufacturing a new version of the 737, its all-time sales leader. Executives are studying a similar production cut for the best-selling 777 jetliner amid a transition to an upgraded model. BA said it was reaffirming already announced manufacturing increases for its aircraft, without elaborating. The stock plunged 12.85. If you would like to learn more about BA, click on this link:
club.ino.com/trend/analysis/stock/BA?a_aid=CD3289&a_bid=6ae5b6f7
Boeing (BA)
Stocks are being sold once again. Those 2 Dow stocks are giants & their earnings reports give the same message. Too much optimism can be dangerous for investors. In the PM, Janet will give her speech which is not expected to amount to very much.
Dow Jones Industrials