Dow tumbled 371, decliners over advancers about about 25-1 (amazing!) & NAZ gave up 110. The MLP index plunged once again to the 209s (not that far above recession lows in 2008-9) & the REIT index sank 12+ to the 295s. Junk bond funds sold off, dropping 2% or so, & Treasuries rallied as stocks were sold, taking the yield on the 10 year Treasury below 2%. Oil fell to the 27s (ouch!) & gold found buyers with chaos in the financial markets.
AMJ (Alerian MLP Index tracking fund)
| | | | | | |
| --- | --- | --- | --- | --- | --- |
| CLG16.NYM | ...Crude Oil Feb 16 | ...27.17 | .....1.29 | (4.5%) | |
| | | | | | | |
| --- | --- | --- | --- | --- | --- | --- |
| GCF16.CMX | ...Gold Jan 16 | .......1,102.10 | ...12.20 | | (1.1%) | |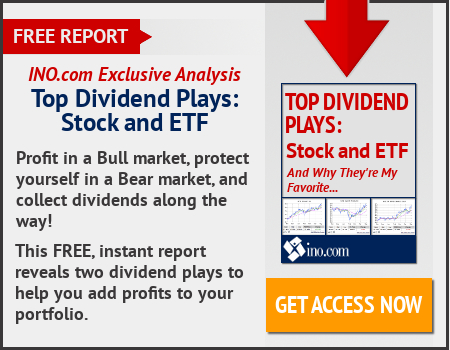 Oil extended its decline from the lowest close in more than 12 years ahead of weekly US gov data that is forecast to show an expansion in crude stockpiles, exacerbating a global glut. Futures lost as much as 4.6% in NY. Inventories probably increased by 2.5M barrels last week, according to a current survey.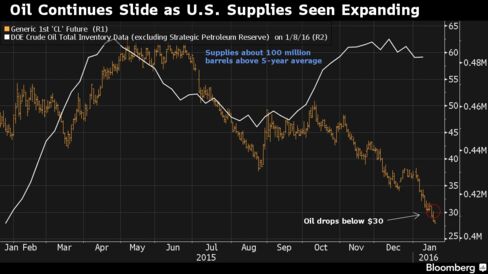 Crude is down more than 25% this year amid volatility in Chinese markets & speculation the removal of restrictions that capped Iran's oil sales will help to prolong a worldwide oversupply.
Oil Extends Drop From 12-Year Low as U.S. Supplies Seen Rising
New-home construction in the US unexpectedly fell in Dec, indicating the industry lost some momentum entering 2016. Residential starts declined 2.5% to a 1.15M annualized rate, from the prior month's revised 1.18M pace, according to the Commerce Dept. The forecast called for an increase to 1.2M. Permits, a proxy for future construction, also fell on fewer applications for multifamily projects. Housing demand would benefit from faster wage growth & more broad-based access to credit, allowing more Americans to take advantage of low mortgage rates. The report showed a pickup last month in applications to build single-family homes, indicating construction will gradually advance in coming months. For all of 2015, housing starts climbed 10.8% to 1.11M, the strongest year for construction since 2007. Permits decreased 3.9% to a 1.23M annualized rate last month, reflecting an 11.4% slump in applications for multifamily projects. Permits for one-family dwellings climbed an annualized 740K units, the highest level in 8 years.
Builders last month faced bigger backlogs, with 150K homes authorized for construction & not yet started, the most since Jun. 981K houses were under construction in Dec, up 1.7% from a month earlier & the most since May 2008. Beginning construction of single-family houses fell 3.3% to a 768K rate after surging 11% in Nov. Work on multifamily homes dropped 1% to an annual rate of 381K.
US consumer prices unexpectedly fell in Dec as the cost of energy goods dropped & services rose moderately, a trend that if sustained suggests inflation could be slow to rise toward the Federal Reserve's target. The Labor Dept Consumer Price Index slipped 0.1% after being unchanged in Nov. Despite the drop last month, the CPI increased 0.7% in the 12 months thru Dec, the biggest increase in a year. The rise followed a 0.5% gain in Nov. The year-over-year inflation rate is rising as the oil price-driven weak readings in 2015 drop out of the calculation. The boost from the base effects could, however, be limited by lower oil prices, which are near 12-year lows. Core CPI, which strips out food & energy costs, edged up 0.1% after rising 0.2% for 3 straight months. In the 12 months thru Dec, the core CPI rose 2.1%, the largest gain since Jul 2012, after climbing 2.0% in Nov. The Fed, which has a 2% inflation target, tracks a price measure that is running well below the core CPI. The soft monthly inflation readings, together with further declines in oil prices suggest it could be harder for inflation to rise toward the central bank's target this year.
What's there to say? Stocks are in a free-fall, making it hard to find any winner. This rout is supposed to be part of a selling climax that brings a sharp rebound. Not this time. Falling oil prices, which should persist, are dragging security prices lower & there is no end in sight for this plunging market. As pointed out in previous comments, energy & high yield securities are leading the sell-off. Falling prices bring buying opportunities, but only for the very, very brave.
Dow Jones Industrials