Dow advanced 68 to a new record, advancers over decliners nearly 2-1 & NAZ went up 18. The MLP index lost 1+ to 302 & the REIT index added 1+ to 328. Junk bond funds remained strong & Treasuries were sold again, taking the 10 year yield to 2.37%. Oil dropped almost 2 to 46 on a gloomy outlook for the OPEC meeting next week (more below) & gold sank another 11 to 1178.
AMJ (Alerian MLP Index tracking fund)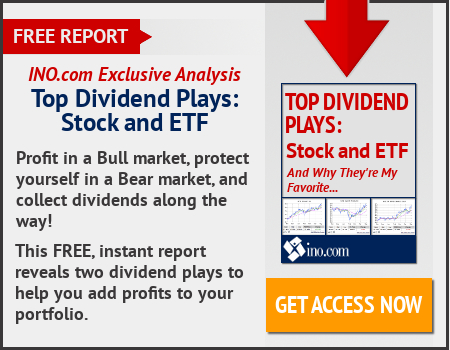 On the surface, the message from the Univ of Mich's final reading of consumer sentiment for Nov is that Donald Trump will fix what ails the nation, & fast. The consumer expectations index of the survey rose by 8.4 points from Oct 85.2, a one-month gain last exceeded in the Dec 2011, a testament to an optimistic view on the outlook for the economy & consumer pocketbooks.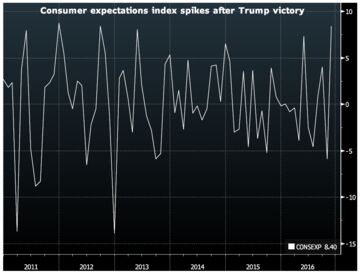 According to the latest report, in some cases, Americans are the most hopeful they have been in more than a decade. For the first time since 2006, 37% of households said they expect their personal finances to improve in 2017. Also hitting decade highs: real income expectations, as wage growth continues to gain strength in a broadening swath of the economy. It's not just on the personal finance front either. The index tracking households' expectations for changes in business conditions over the next year rebounded strongly after tumbling in Oct, with the share calling for an improvement in this area registering its biggest one-month gain last exceeded in 2008. Perhaps the most surprising element of the report is the extent to which it belies what was an incredible polarizing election that saw people vote uniformly on tickets so much so that there were no purple states, in some respects. But the notion that tribal political dynamics are overwhelmingly influencing households' expectations is not something that's borne out by these data. 46% of respondents surveyed agreed the US will have "continuous good times" over the next year, up a whopping 11 percentage points from Oct, while the share who expected "bad times" ahead fell by 7 percentage points to 37%.
Saudi Arabia pulled out of planned talks with non-OPEC nations including Russia as disagreements about how to share the burden of supply cuts stood in the way of a deal to boost prices just days before a make-or-break meeting next week. OPEC officials were scheduled to meet with non-members including Russia on Mon before a ministerial meeting 2 days later. The meeting was later canceled entirely after the Saudis decided not to take part. Instead, the group called another internal meeting to try to resolve its own differences, particularly the question of whether Iran & Iraq are willing to cut production. Saudi Arabia wants an OPEC deal in place before conversations with other producers such as Russia.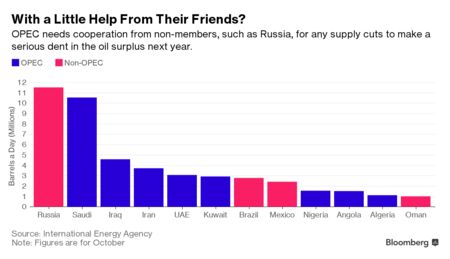 The setback suggests that Saudi Arabia remains split from its 2 biggest Middle Eastern rivals at OPEC. Iran insists it should be allowed to restore output to pre-sanctions levels, while it remains unclear if Iraq is still disputing the OPEC supply estimates that would provide the basis for any cuts. With less than a week until the crucial ministerial meeting, the refusal of just one major producer to participate could scuttle the whole of the agreement reached in Sep in Algiers.
Saudis Quit Russia Talks as OPEC Deal No Closer
The ECB has a long way to go to meet its inflation target so it's "far too early" to discuss the gradual removal of monetary stimulus, Governing Council member Yannis Stournaras said. "Of course monetary policy will continue to be accommodating until inflation is at a desirable level, which is 2 percent or slightly lower," Stournaras, who is also the governor of Greece's central bank, said. "There is still long distance from this target." Monetary policy has made a "quite substantial" contribution to the fact that inflation rate in Europe is rising & growth is better than before, he added. The ECB has delivered on its goal even though "sometimes markets are very impatient, they want it delivered now," according to Stournaras. The Governing Council faces a decision on Dec 8 whether to extend a €1.7T ($1.8T) quantitative-easing program beyond the current deadline in Mar. While pres Mario Draghi said this week that the recovery remains reliant on continued monetary support, some policy makers believe the ECB may have room to put off some decisions on the future of its bond-buying program until early next year. "ECB takes a long term stance, you must have trust in the ECB," he said. "We're doing the right thing and on the eighth we are going to discuss the situation, the new forecast and then we'll decide what to do."
ECB's Stournaras Says 'Far Too Early' to Discuss QE Tapering
The Trump rally continues in what is traditionally a quiet week. Dow shot up almost 300 this week, hard to believe. Consumer confidence is.rising sharply after Trump's election victory which the stock market is hoping will bring a good holiday season for retailers. Dow is up nearly 1K since the election with only a few minor tiny along the way. Sounds good, but overbought markets were not meant to least forever.
Everybody should have a good holiday season.
Dow Jones Industrials