Dow dropped 32, decliners over advancers about 5-4 & NAZ slid back 16. The MLP index was fractionally lower in the 299s & the REIT index was fractionally lower in the 321s. Junk bond funds were little changed & Treasuries saw more selling. Oil drifted lower & gold also declined.
AMJ (Alerian MLP Index tracking fund)
Light Sweet Crude Oil Futures,J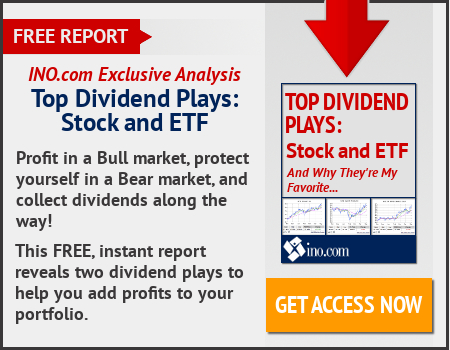 Janet Yellen signaled the central bank is close to lifting interest rates as the economy continues to create jobs at a healthy clip & inflation inches higher. A rate hike "could well become appropriate relatively soon if incoming data provide some further evidence of continued progress toward the committee's objectives," Yellen said. Yellen, who made no mention of the prospective policies of the incoming administration, reiterated the expectation of Fed officials that future rate increases will be "gradual." Yellen's remarks will serve to cement expectations, barring a significant negative shock, for an increase in interest rates when the FMOC meets in Dec 13-14. The Fed chair warned of the risks attached to waiting too long before raising rates. "Were the FOMC to delay increases in the federal funds rate for too long, it could end up having to tighten policy relatively abruptly to keep the economy from significantly overshooting both of the committee's longer-run policy goals," she said. "Moreover, holding the federal funds rate at its current level for too long could also encourage excessive risk-taking and ultimately undermine financial stability." She suggested the danger of that happening soon was low because current policy is only "moderately accommodative." "The risk of falling behind the curve in the near future appears limited," she said.
Federal Reserve Bank of St. Louis pres James Bullard said some of the potential policies of Pres-elect Trump could help restore lagging productivity in the economy. Talks about higher capital spending & tax reform have the "potential" to improve productivity, "and I think that should be the focus," Bullard said. "The infrastructure program done properly could provide some public infrastructure that could improve U.S. productivity and drive medium-term growth. Some kind of tax reform that would repatriate profits from overseas, that could increase U.S. investment and U.S. growth." While analysts & market participants are now effectively convinced that the Federal Reserve will raise interest rates in Dec, the effect of Trump's economic policies on long-term economic prospects is uncertain. A medium term boost from higher spending & lower charges can be expected before curbs on immigration & possible protectionism start taking their toll on potential growth. Their impact would be felt over a "5- to 10-year type of horizon, which is kind of out-of-the-box for day-to-day monetary policy," Bullard said. "Trade is something that requires negotiation, it takes many years and there would be impact on the economy and that would be many ways out, perhaps 10 years. The same with immigration," he said. "For monetary policy purposes I think of these first three items as being the kind of things that might be important for monetary policy over coming years." He also downplayed concerns that the Trump presidency will try to limit the Fed's independence. "Signals from the transition team are they will respect the independence of the Fed; I take them at their word on that," Bullard said. With 2 vacant posts on the Fed board & more openings coming up in the next few years, the new administration will have "a chance through normal channels to exert their influence on the Fed."
Oil recouped losses to head for a weekly gain after OPEC member Algeria said the organization's meeting with Russia gave it confidence a deal can be reached to re-balance global markets. Futures were little changed after falling as much as 2%. The Algerian Energy Minister said he's more optimistic of clinching an agreement after discussions between OPEC & Russia. Russian Energy Minister Alexander Novak said a consensus is emerging & that his country is considering an output freeze of 6 months.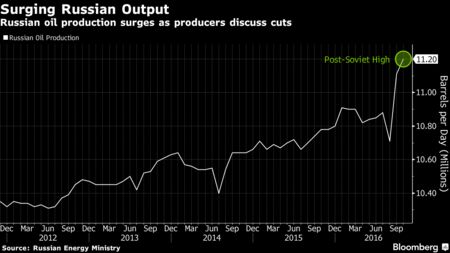 Oil has retreated since reaching a 2016 high last month near $52 a barrel amid skepticism about the ability of OPEC to implement the deal agreed on Sep 28. The group is seeking to trim output for the first time in 8 years, a plan complicated by Iran's commitment to boost production & Iraq's request for an exemption to help fund its war with Islamic militants. Neither country sent ministers to the Doha talks.
A lot of traders must be on holiday. There is not a lot going on in the stock market. The interest rate hike is haunting the market& the change in the administration is causing angst. Nobody knows what the meeting to cut oil production will bring.
Dow Jones Industrials