Dow declined 54, decliners over advancers 2-1 & NAZ index was off 30. The MLP index sank 6+ to 295s & the REIT index was fractionally higher to the 328s. Junk bond funds continue mixed & Treasuries finally rallied, taking the yield on the 10 Year Treasury down to 2.32%. Oil jumped up to the high 46s (more below) & gold was up 12 to 1191.
AMJ (Alerian MLP Index tracking fund)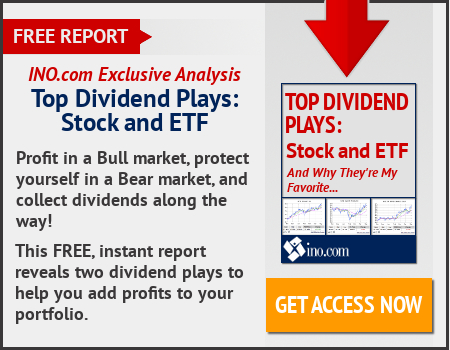 Oil futures climbed, scoring their first gain 4 sessions. Traders continued to weigh the possibility that the Organization of the Petroleum Exporting Countries will be able to finalize a deal to curb output at a meeting Wed. Jan West Texas Intermediate crude rose $1.02 (2.2%) to settle at $47.08 a barrel.
As Cyber Monday kicks off the e-commerce side of the busy holiday shopping season, shipping companies such as UPS (UPS) see a jump in business as well. UPS CEO David Abney weighed in on the company's plans to keep up with the holiday shipping rush. "... we are very confident this year in peak season, we've gotten off to a great start. The reason we are so confident is that we start at the beginning of the year planning," Abney said. Though Abney would not disclose the company's market share of the online delivery market, he did acknowledge the significant impact e-commerce played in the company's busy holiday season. "E-commerce this time of year is over 50% of our business." The stock fell 57¢. If you would like to learn more about UPS, click on this link:
club.ino.com/trend/analysis/stock/UPS?a_aid=CD3289&a_bid=6ae5b6f7
United Parcel Service (UPS)
Caterpillar (a Dow stock) attained a 52-week high of $96.44 on Fri
.
The rise in the stock seems to have been triggered by its monthly sales report for Oct & the Trump victory. Investors expect CAT to gain from Trump's presidency, as he frequently stressed the need to rebuild America's crumbling infrastructure. The company recently released its global retail sales for the 3-month period ending Oct 2016 & sales fell 12%. Despite remaining in the negative territory, the decline rate has improved from the 18% dip in Sep, 17% in Aug & 19% in Jul. Asia Pacific remains a consistent bright spot with 13% increase in October, marking its 8th-consecutive month of growth & the best reading so far this year. During Aug, CAT had witnessed the first positive overall reading in sales in Asia (2%) since Nov 2012. The momentum continued in Sep with a 3% growth & peaked to 12% in Oct. The Architecture Billings Index, which is considered a leading indicator of US non-residential construction, has remained above 50 in the recent months, signaling robust conditions ahead for the construction industry. As per Dodge Data & Analytics, total US construction starts for 2017 will advance 5% to $713B, following gains of 11% in 2015 & an estimated 1% in 2016. The construction industry has now entered a more mature phase of its expansion & construction spending can be anticipated to see moderate gains thru 2017 & beyond. As sales continue to be hampered due to weak end markets, CAT remains focused on reducing costs, such that the decline in operating profit is no more than 25–30% of the decline in sales & revenue. The stock was down 91¢. If you would like to learn more about CAT, click on this link:
club.ino.com/trend/analysis/stock/CAT?a_aid=CD3289&a_bid=6ae5b6f7
Caterpillar (CAT)
The Trump rally has put stocks in a vastly overbought position. Profit taking was in order as reality set in. However 19K looked like it was a distant dream just a couple of weeks ago & today it's above that level. But stocks remain overbought.
Dow Jones Industrials