Dow gave back 39, decliners over advancers almost 3-2 & NAZ fell 12. The MLP index sank 6+ to the 293s & the REIT index recovered 1+ to 321. Junk bond funds dropped again, extending recent selling, & Treasuries were even after selling off this week. Oil is back in the 43s (more below) & gold plunged to the low 1200s.
AMJ (Aleriasn MLP Index tracking fund)
Light Sweet Crude Oil Futures,D
Consumer confidence rose to a 5-month high in early Nov as Americans became more upbeat about the economy in the days before the presidential election concluded. The University of Mich's preliminary index of sentiment for the month climbed to 91.6 from 87.2 in Oct. The projection called for 87.9. The report also showed year-ahead inflation expectations rose the most since early 2015. Job & income gains helped to boost assessments of their finances, underscoring forecasts of sustained consumer spending approaching the holiday-shopping season. At the same time, the survey reflects responses on or before the presidential election, & a "large majority" of respondents based their outlooks for the economy on expectations of a win by Hillary. "Since those who expected a Clinton victory were more optimistic, the fear is that their expectations may be revised downward in a manner that extends beyond a temporary reaction to Clinton's loss," Richard Curtin, director of the survey, said. Respondents expected the inflation rate in the next year will be 2.7%, compared with 2.4% & in Oct, the biggest one-month gain since Feb 2015. Over the next 5-10 years, they also projected a 2.7% rate of price growth, after 2.4% in the prior month. Curtin said that while it's possible price expectations will continue to increase, "it's still not in the troublesome area."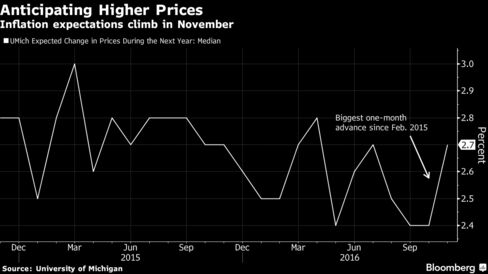 The preliminary survey includes 391 respondents from Oct 28-Nov 8. The final report for this month, released Nov 23, will include additional interviews conducted through Nov 20, offering a picture of how Donald Trump's election as president has affected consumer attitudes.
Fed Vice Chair Stanley Fischer said the central bank has almost reached its goals for maximum employment & price stability, strengthening the case for raising interest rates. "In my view, the Fed appears reasonably close to achieving both the inflation and employment components of its mandate," Fischer sad. "Accordingly, the case for removing accommodation gradually is quite strong, keeping in mind that the future is uncertain and that monetary policy is not on a preset course." Policy makers have signaled that an increase is imminent as employers continue to hire, wages creep up & price pressures climb, & federal funds rate pricing suggests that markets anticipate a hike at the Dec 13-14 meeting. "There is likely to be considerable policy rate divergence for some time," Fischer said. His speech focused on the global fallout from Fed policy. "I am reasonably optimistic that the spillovers from ongoing U.S. normalization will be manageable for the foreign economies."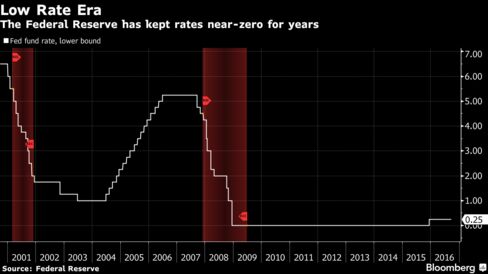 Fischer also expressed confidence that global risks to the Fed's own outlook had diminished. "Financial market conditions have generally improved relative to earlier in the year, with even the initial market turbulence following the Brexit vote appearing fairly short lived," he added, referencing Britain's referendum to leave the EU. "I am cautiously optimistic that the drag on the U.S. economy and inflation from past dollar appreciation may have mostly worked itself out, and that foreign economies are on a somewhat more secure footing that poses smaller downside risks to the U.S. economy." He said the Fed will remove accommodation "only in response to an outlook for improving economic conditions and firming inflation," which should help to support economies abroad. He added that emerging market economies have "markedly improved fundamentals" relative to several years ago, which should help to mitigate spillovers.
Oil dropped on rising OPEC output after a volatile week driven by speculation over the producer group's intentions & the surprise election of Donald Trump. Futures fell as much more than 2½%. Iran & Iraq, which want exemptions from an OPEC accord to cut production, told the group they raised output last month, while Saudi Arabia pumped near record levels. Oil has dropped 15% from its Oct high on growing doubts that OPEC could finalize the accord at its Nov 30 summit amid a refusal to cut output from almost 1/3 of its members.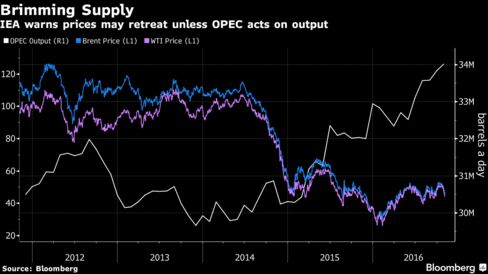 The International Energy Agency said it's waiting to see whether President-elect Trump's rhetoric on Iran hardens into action before revising its market forecasts. While investors took comfort from his conciliatory acceptance speech on Wed, rising US crude supplies served as a reminder of the inventory overhang. West Texas Intermediate for Dec dropped $1.03 (2.3%) to $43.63 a barrel & the contract is down 1% this week. Volume was 19% above the 100-day average.
After a huge advance, stocks are settling down with a little profit taking today. These price swings are difficult for anybody to understand. With more announcements about changes the Trump administration will bring, high volatility should continue. What's puzzling is that safe have investments such as gold & Treasuries are being sold. Confusion reigns in the investment world.
Dow Jones Industrials