Dow rose 39, advancers slightly ahead of decliners & NAZ was off 8. The MLP index edged higher in the 296s & the REIT index fell 2+ to the 318s. Junk bond funds remained weak & selling in Treasuries continued, bringing the yield on the 10 year Treasury to 2.26%. Oil sank to the 43s & gold tumbled to the low 1200s.
AMJ (Alerian MLP Index tracking fund)
Light Sweet Crude Oil Futures,J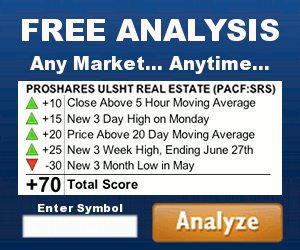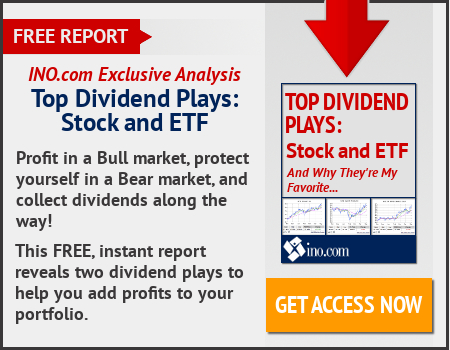 Chinese pres Xi Jinping told Donald Trump in their first conversation that cooperation was the only correct choice for ties between the 2 large economies, with the US pres-elect promising "one of the strongest relationships." Xi told Trump by telephone today that the 2 powers benefited from working together & needed to coordinate efforts to promote global economic growth & the pair agreed to meet soon. "China and the U.S. -- as the world's biggest developing country and the biggest developed country, and the top two global economies -- need to and can cooperate on many issues," Xi said. "At this moment, there is an important opportunity and massive potential for China-U.S. cooperation so that both sides need to strengthen coordination." Trump believed the conversation "established a clear sense of mutual respect"& predicted the 2 sides would build a strong relationship going forward, according to Trump's transition team. The exchange follows a campaign in which Trump accused China of victimizing the US, a message that attracted a big following among voters in traditionally blue-collar states who blame globalization for job losses. Trump has promised to label China a currency manipulator, bring trade complaints against the nation, & impose tariffs if it doesn't halt what he sees as unfair trading practices.
Oil sank to a 3-month low as Iran increased output & US explorers operated the most rigs since Feb, signaling the persistence of a global supply glut. Brent futures more than 1½% to the lowest since Aug 11. Iran raised production at 3 fields fatser than expected, while Saudi Arabia said OPEC must agree to trim output to stabilize markets. US drillers have added more than 130 rigs since May as higher efficiency allowed explorers to continue expanding oilfield work.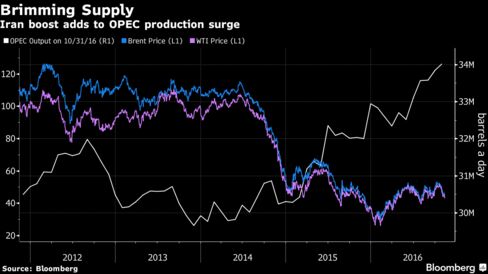 WTI for Dec dropped 43¢ (1%) to $42.98 a barrel. The contract declined 2.8% to $43.41 on Fri, the lowest close since Sep 19. Iran has expanded output at 3 western fields to 250K barrels a day, from 65K in 2013, the Oil Ministry said. The nation told OPEC that it raised total production last month by 210K barrels a day to 3.92M, the biggest increase since sanctions were lifted in Jan. Saudi Arabia's Energy Minister Khalid Al-Falih met Sat with his Algerian counterpart Noureddine Boutarfa & both are optimistic a deal to cut output will be put into effect. The 2 ministers discussed mechanisms to implement the proposed OPEC accord, according to the Saudi Press Agency.
UK Prime Minister Theresa May must decide if Trump's election presents a problem or opportunity for her plan to leave the EU. It could help her in some ways, for example if Trump signs up to a free trade deal with the UK or if security concerns on the continent allow the UK to win some concessions because of its military might. But EU govs seeking to quell populist forces at home may also seek to punish Britain in Brexit talks. Trump-skeptics in Europe may also cool on May if they detect too much warmth toward the new US administration. The PM also needs to decide how far to lean given that Trump views NATO less positively & Russia more warmly, than the UK or EU. There are also differences on topics such as Iran & climate change. The PM will today start feeling her way in public with a speech in which she will ease some her past ant- business rhetoric & tell those who favor economic liberalization & free trade that they have to listen to those who worry about such forces. Post-Brexit Britain will lead the way in showing how to address voter anger without rejecting open commerce, she will say. "We can be the strongest global advocate for free markets and free trade because we believe they are the best way to lift people out of poverty. ... We can also do much more to ensure the prosperity they provide is shared by all."
Brexit Bulletin: Theresa May Tiptoes Into Trumpworld
One week ago, the stock market rallied on expectations of a Hillary win. Oddly, after Trump's victory stocks had a more substantial rally with the Dow around 18.9K World leader have to meet & figure out what next steps need to be taken. These are uncharted waters & nobody knows where the sharp price rise will end. However, the end may not be pretty.
Dow Jones Industrials