Dow jumped up 371 (closing at the high), advancers over decliners 4-1 (about ½ the AM reading) & NAZ jumped up 119. The MLP index added 2+ to the 288s & the REIT index gained 5+ to the 329s. Junk bond funds went higher & Treasuries sold off. Oil shot up to the 45s on the market's bullish sentiment & gold sank, going below 1285.
AMJ (Alerian MLP Index tracking fund)
Former Federal Reserve Chairman Alan Greenspan sees longer-term market interest rates increasing as inflation takes hold in the US. "If the early stages of inflation, which are now developing, would take hold, you could get -- fairly soon -- a fairly major shift away from these extraordinarily low yields on 10-year notes, for example," he said. "I think up in the area of 3 to 4, or 5 percent, eventually. That's what it's been historically." The target range for the Fed's main rate is 0.25-0.5% & the yield on 10-year Treasury remains below 2%. Greenspan reiterated his often-repeated point that such low rates are unsustainable in the longer run & said that he sees nascent inflation as the possible end to the bond bull market. "We're moving into the very early stages of inflation acceleration," Greenspan said. "That could be the trigger."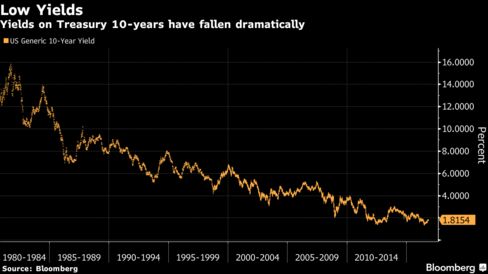 The 3-decade rally when Treasuries set a new record this year, with benchmark 10-year yields falling to an all-time low of 1.32% in Jul. Even though they've climbed since then as the Fed primes the market for another interest-rate increase next month, the broad market has still returned 4.2%. Challenges lie ahead as longer-term rates adjust upward toward a more historically normal level, Greenspan warned. "It's a problem, as in going from where we are now to 4 or 5 percent," he said. "There's a whole structure of adjustments which have taken place, basically since 2008, which have to be unwound, and that's not going to be done without a problem."
Greenspan Sees Bond Yields Climbing as High as 5 Percent Again
Southwest Airlines pilots approved a new contract that will boost pay almost 30% over its term and improve retirement benefits while falling short of recent raises proposed at rival carriers. The agreement was approved by about 84% of those voting. The labor group & the airline negotiated for more than 4 years on the accord. The vote is the 2nd victory in a week for LUV in efforts to nail down labor costs, following the Oct 31 approval of a contract for flight attendants that kept them the best paid in the industry. The airline, which generally seeks productivity improvements in order to hold down expenses, still is negotiating with 3 other unions. The stock rose 1.18. If you would like to learn more about LUV, click on this link:
Southwest Pilots Approve Contract That Boosts Pay Almost 30%
Southwest Airlines (LUV)
As Greek banks struggle to clean up their balance sheets of bad loans, investors have been left pondering another uncertainty: Who will lead the biggest lenders? The General Council of Greece's bank recapitalization fund, HFSF, may convene to discuss whether to call an extraordinary meeting of National Bank of Greece shareholders aimed at forcing the lender's CEO, Leonidas Fragkiadakis, & other board members to resign. Last week, the board of directors of NBG rejected an HFSF request to appoint Dimitris Tsitsiragos as its non-executive chairman, electing instead octogenarian Panayiotis Thomopoulos against the wishes of its biggest shareholder. State-owned HFSF, which holds a 40.4 percent stake in NBG, used its power to delay the board's reconstitution to decide its response. A compromise solution could see Tsitsiragos serving as deputy to Thomopoulos under a clear succession plan. The Bank of Greece opposes the option of an extraordinary meeting of shareholders to topple either Thomopoulos or Fragkiadakis, as it would perpetuate the state of uncertainty in the country's financial system.
Stocks had one spectacular day, with little behind the rally. There was essentially zero economic news behind the rally. Among other things, Clinton's problems relating the e-mails & the foundation have not evaporated. Bullish sentiment should extend tomorrow on hopes for a Clinton victory, even though she has promised high taxes for the wealthy. More curious thinking concerning the rally. This looks like it is setting up a situation for brave traders to profit by going short. However, bulls are happy that the Dow is solidly above 18K & closing in on a record high (extending its long term trend of sideways trading).
Dow Jones Industrials